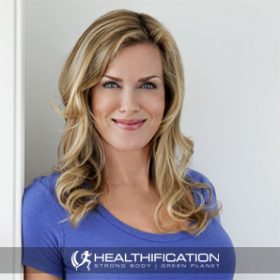 Podcast: Play in new window | Download
Subscribe: RSS
Health activist, best selling author and proud vegan Kathy Freston is a master at modelling just how welcoming, warm, vibrant and fun an animal free diet can be.
However like most of us Kathy grew up loving meat. Joyfully devouring all the animal products and even going hunting with her then boyfriend. 16 years ago while playing with her little dog a lightbulb went off…. In Kathy's latest book co-authored with Gene Stone she shares: 72 Reasons To Be Vegan: Why Plant-based. Why Now. 
Reason 63: Dogs and cats aren't the only loving animals.
Of course we can't cover all the 72+++ reasons to be vegan in this chat however we will get to some of the lessor known / surprising and also super impactful health focused reasons. It's also a chance to observe the attitude and mindset of an animal rights activist who has had huge influence over hugely influential people. Kathy approached her own vegan journey with a spirit of curiosity and adventure. Accordingly, 72 Reasons To Be Vegan is approachable, fun and easy to read. It connects the dots (you know those dots your loved ones might be trying to avoid?) rather than being traumatising.
As co-author Gene Stone puts it, even for the vegans who "have been around this movement for a while… consider this a tool for your advocacy, a book to give your friends, family members, and anyone who is curious about leaning in to being vegan!"
For a little official bio: Kathy Freston is an American four-time New York Times bestselling author of nine books, including The Lean, Veganist, Quantum Wellness, and Clean Protein. She has appeared frequently on national television, including The Oprah Winfrey Show, Ellen, Dr. Oz, The View and Good Morning America.
In fact it was after Kathy appeared on Oprah back in 2011 that Oprah and well over 300 of her team tried eating vegan for a week.
It's so much easier to adopt a vegan lifestyle now and it's my intention that this conversation with
Kathy Freston and 72 Reasons To Be Vegan: Why Plant-based. Why Now
will be a helpful little (or large!) seed in either your vegan journey or perhaps it'll help encourage someone you love to dip their toe in the welcoming and abundant vegan waters.
In this conversation we cover:
Which of the 72 Reasons To Be Vegan surprised Kathy the most AND are many pre-vegans are surprised / or even sceptical of? 
Food is so much about family and community, what in Kathy's experience has been an effective, conflict free way to live true to vegan values without negatively impacting food centred family and community experiences.
The benefits of Soy (as covered in reason 4).
The power of marketing: (19) Eggs are not incredible, or edible AND (36) You want to live longer than a caveman!
Kathy speaks to "self discipline in a loving way."
And so much more!
There is so much goodness in this book. Kathy and I didn't get to talk about Type 2 Diabetes and warding off Alzheimers as you can read about how a whole food plant based diet can assist in preventing both in 72 Reasons To Be Vegan, then dig in further with your own research and importantly I wanted to make room in our short chat – which flew, I loved it – to share with you a little of how Kathy conducts herself with such grace and openheartedness.
As well as 72++ reasons to go vegan… ALL THE WHYS, there are also plenty of ways to do it. I surely don't need to insert the little disclaimer that I (like Kathy) want to be living in a vegan world (ideally yesterday) however that said I genuinely believe with all my heart that those of us who are staunchly vegan for the animals need to get better at welcoming the majority of humans who do not make decisions based on preventing animal suffering.
It's a brutal, hard to understand truth.
Most people won't go vegan over night. Most people won't go vegan the first time they connect the food on their plate with a thinking, feeling, loving animal very similar to yet not the same to look at as the cat or dog they share their home with.
Most people are compassionate at heart though and that's where we need to meet them to be most effective for the animals.
Soy is protective against cancer. (and won't give you man boobs) @kathyfreston #72reasonstobevegan
Click To Tweet
Purchase 72 Reasons To Be Vegan: Why Plant-based. Why Now via Amazon:
Connect with Kathy via http://kathyfreston.com
Connect with Kathy across the socials: Facebook | Instagram | Twitter
Finally podcast friends, if you're loving Kathy as much as me check out her fabulous chat on the Switch4Good podcast via the blog and via iTunes:
That's it for this week in Healthification. I have so many amazing interviews coming up. It's somewhat blowing my mind that individuals like Kathy keep agreeing to come chat with me about how we can create a healthy, happy vegan world! So if you're yet to subscribe wherever you're listening please do and equally awesome, please consider sharing the show with someone you think would find value in it. Big thanks to YOU for sharing this week with me. You rock and I appreciate your support!
The Healthification podcast is proudly bought to you by my FREE 'Easy Vegan' plan. It took me 25 years to transition from a meat eater to a happy, healthy Vegan! You can do it in just 3 days with my simplified 'easy vegan' plan!  Get the fit, strong, and healthy plant based body you deserve… while avoiding ALL the mistakes I made along the way!
To learn more check out: strongbodygreenplanet.com
Till next time, remember Creating a body and life you love is Freedom. (If this ex-carb queen, non genetically gifted, naturally uncoordinated vegan chick can do it – so can YOU!!!)
If you liked "Kathy Freston and 72 Reasons To Be Vegan: Why Plant-based Why Now." you'll also like Look Good, Feel Good and Do Good by Becoming a Fabulous Vegan with Jasmin Singer.
If you liked "Kathy Freston and 72 Reasons To Be Vegan: Why Plant-based Why Now." you'll also like E665: Dotsie Bausch, True Strength and Being A Plant Powered Athlete.