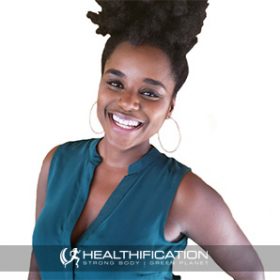 Podcast: Play in new window | Download
Subscribe: RSS
My guest today self taught chef, social justice activist, extreme action taker and truth teller Kimberly Renee believes everyone deserves access to nourishing, healthy food.
Kimberly grew up watching cooking shows with her grandmother and from a young age food was her passion. However instead of attending culinary school she graduated from North Carolina A&T State University with a degree in marketing. After several years working as a consultant for some of the largest corporations in North America Kimberly found her way back to her love of food, and beyond that to a fight for food justice.
She founded, Might Be Vegan a plant-based media and marketing consultancy designed to help people around the world live a more healthful life by eating more plants. Might Be Vegan partners with leading brands that share these values to develop content and experiences that inspire change and leave people hungry for the next thing, both literally and figuratively.
Kimberly is certainly an action taker who will also boldly hold brands accountable for their oppressive attitudes and might well share some truths that are uncomfortable to hear.
This is a conversation I'm grateful to have the opportunity to lean into, to learn from and to share with you.
In this conversation we cover:
Kimberly's vegan journey. 
The history of and current state of soul food and how this impacts the health of Black Americans.
When capitalism took over food and it became less about nourishment and more about numbers. 
CAFO (confined / concentrated animal feeding operations) and slaughterhouses AND the impact on surrounding communities. 
The food Kimberly grew up cooking and eating. Her approach now to cooking healthy plant based dishes.
The background to Might Be Vegan – both the name and the reason Kimberly started the company.
Might Be Vegan's award-winning national COVID-19 hunger relief program, Food Love.
I could have spoken to Kimberly for hours. That time flew. I feel like there is so much that we didn't get to or just touched on and a big part of that is the bold work Kimberly does to hold brands accountable. If you follow Kimberly online you'll see what I mean as she calls out oppressive behaviour that sometimes might be conscious exploitation and sometimes might be unconscious ignorance and yet either way needs to change.
We're not talking about cancel culture, more-so a chance to do better. A question I didn't get the chance to ask Kimberly during our chat however I've heard her speak to in previous interviews is: How can I be more aware so far as the oppressive behaviour I might unknowingly be contributing to and ignorant of?
Kimberly suggests a good place to start is to ask yourself: How has my industry or my community done harm to oppressed groups?
To speak for myself, it's not a quick fix or simple answer. Rather it'll be a constant process of evolving, learning and importantly staying open minded to receive feedback that might not land easily.
Vegan friends, by the very nature of our commitment to avoid animal exploitation while living in a non-vegan world we have chosen the less easy yet right path. I'm committed to follow that path when we talk about the human casualties in the fight for food justice too.
Representation without compensation is exploitation. Kimberly Renee | Might Be Vegan
Click To Tweet
To connect with Kimberly online I have you all linked up below.
Connect with Kimberly via her main site: https://www.mightbevegan.co
Support and help advance the MBV Food Love mission: Might Be Vegan Go Fund Me:
Connect with Kimberly across the socials: Instagram | YouTube
Connect with Might Be Vegan across the socials: Facebook | Instagram | YouTube
That's it for this week in Healthification. If you're yet to subscribe wherever you're listening please do and equally awesome, please consider sharing the show with someone you think would find value in it. Big thanks to YOU for sharing this week with me. You rock and I appreciate your support!
The Healthification podcast is proudly bought to you by my FREE 'Easy Vegan' plan. It took me 25 years to transition from a meat eater to a happy, healthy Vegan! You can do it in just 3 days with my simplified 'easy vegan' plan!  Get the fit, strong, and healthy plant based body you deserve… while avoiding ALL the mistakes I made along the way!
Till next time, remember Creating a body and life you love is Freedom. (If this ex-carb queen, non genetically gifted, naturally uncoordinated vegan chick can do it – so can YOU!!!)
If you liked "Might Be Vegan's Kimberly Renee and The Intersection Of Food and Social Justice." you'll also like Reversing Diabetes and getting Healthy at Last with Brooklyn Borough President Eric Adams.
If you liked "Might Be Vegan's Kimberly Renee and The Intersection Of Food and Social Justice." you'll also like Dr Sailesh Rao, Healing The Earth's Climate and Creating A Vegan World 2026.
If you liked "Might Be Vegan's Kimberly Renee and The Intersection Of Food and Social Justice." you'll also like E640: Sam Marra | Why Veganism Is A Human Rights Issue.