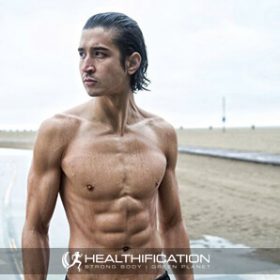 Podcast: Play in new window | Download
Subscribe: RSS
My guest today, Sam Marra is an actor, artist, model and trainer based in Los Angeles, CA.
His television credits include Homecoming, Star Trek: Picard, Awkward, The Catch, The Young and the Restless, Recovery Road, and Jimmy Kimmel Live!
Sam absolutely walks the talk as a fit, strong, buff and lean vegan – check him out via sammyjmarra on Instagram to see for yourself however Sam's not on the show to share how he got his six-pack!
I approached Sam because I heard him speak passionately about,
Why Veganism Is A Human Rights Issue.
I thought it'd be a great opportunity to have a conversation about yet another compelling reason to adopt a vegan lifestyle. As Sam says,
If you love your human brothers and sisters you need to be vegan. #thehealthificationpodcast Click To Tweet

In this chat we cover:
Sam's vegan story and the positive impact adopting a vegan lifestyle has had on his health. 
What Sam does to help prevent future flare ups of Crohn's disease and ulcerative colitis.
Why Veganism Is A Human Rights Issue. 
The impact of animal agriculture on immigrant communities and communities of colour. 
Physical and mental health issues for slaughter house workers. 
The impact of the leather industry on individuals and the environment. 
Sams solutions to stay positive when the extent of animal exploitation globally can be so daunting.
We covered a lot there however as a little overview: Globally we produce enough food to feed 10 billion people – there are less than 8 billion people and yet 800 million people are starving. 
In first world countries we are killing ourselves with lifestyle related diseases that can be prevented and even turned around by adopting a whole food plant based lifestyle. While in developing countries people are starving and their grain crops are fed to livestock animals that are slaughtered for meat sold to first world countries to make us fat and sick as we stubbornly stick to our SAD diets.
It's not only a broken and hugely inefficient food system, it's a vastly selfish food system. 
In our slaughter houses vulnerable animals are slaughtered by the most vulnerable humans. To quote one slaughter house worker (Ed Van Winkle, hog-sticker at Morrell slaughterhouse plant, Sioux City, Iowa)
"The worst thing, worse than the physical danger, is the emotional toll. Pigs down on the kill floor have come up and nuzzled me like a puppy. Two minutes later I had to kill them – beat them to death with a pipe. I can't care."11
Surrounding our factory farms communities are effected by land, air and water pollution and do you know what? As demand for cost effective meat, dairy, eggs and fish increases – these factory farms and their lakes of waste and their polluted waterways will only grow larger and encroach on more and more communities. More and more individuals will be adversely affected.
There's only so long we can turn a blind eye to it. Like Sam, I think that time is well past. Whether you're personally affected yet or not – if you're demanding animal products you're actively perpetuating the cycle of both cruelty to animals and cruelty to your human brothers and sisters.
I share this information as fuel and encourage not to induce guilt. 
For the existing vegan or the vegan curious this sort of information will hopefully have a two-fold impact. The first is to recognise the power and responsibility we have to wherever possible and practical remove ourselves from the cycle of animal exploitation and suffering which is also so deeply connected to human exploitation and suffering. The second is to recognise that if we are compassionate enough to care about human rights hopefully we can do our very best to extend that compassion, patience and encouragement to the humans who are still caught up in the belief that to eat, use and abuse animals as we desire is natural, normal and necessary.
That's a tough one right? I think Sam's a little further down the road on that one than me. I'm working on it though.
For coaching connect with Sam via: Resourceful Trainer:
Or check out his imdb:
Via Instagram:
Via his home website:
That's it for this week in Healthification. If you're enjoying these chats I'd really super appreciate it if you'd please share this podcast with someone you think would find value in it or rate and review it in iTunes. It takes a couple of minutes and it means so much to me. It 100% makes my day.
Huge thanks to YOU for sharing this week with me. You rock and I appreciate your support!
The Healthification podcast is proudly bought to you by my FREE 'Easy Vegan' plan. It took me 25 years to transition from a meat eater to a happy, healthy Vegan! You can do it in just 3 days with my simplified 'easy vegan' plan!  Get the fit, strong, and healthy plant based body you deserve… while avoiding ALL the mistakes I made along the way!
Till next time, remember Creating a body and life you love is Freedom. (If this ex-carb queen, non genetically gifted, naturally uncoordinated vegan chick can do it – so can YOU!!!)
If you liked "Sam Marra | Why Veganism Is A Human Rights Issue" you'll also like Jacy Reese and The End Of Animal Farming.
If you liked "Sam Marra | Why Veganism Is A Human Rights Issue" you'll also like E542: Myths About Farming and The Drought.
If you're yet to share the Healthification love – just click here to zip over to iTunes and leave an honest rating and review. It'd help me out big time. With gratitude, Kate.