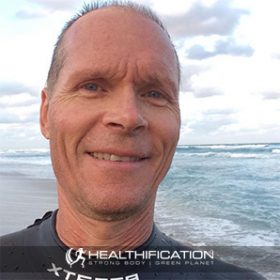 Podcast: Play in new window | Download
Subscribe: RSS
Scientist, Author and Speaker Jonathan Balcombe joins me today to discuss the genuinely fascinating yet often forgotten individuals in both animal rights activism and absolutely in human society as a whole.
Balcombe reveals: Although there are more than thirty thousand species of fish―more than all mammals, birds, reptiles, and amphibians combined―we rarely consider how individual fishes think, feel, and behave. That was absolutely my experience pre-vegan and I'll also admit my circle of compassion since going vegan was disappointingly slow to expand to our underwater cousins.
As with any prejudice and in this case "speciesism" my lack of caring came from ignorance. I had no idea fishes plan, hunt cooperatively, use tools, curry favour, conduct elaborate courtship rituals, develop lifelong bonds, deceive one another, and punish wrongdoers.
In What a Fish Knows Jonathan draws on the latest science to present a fresh look at fishes in all their breathtaking diversity and beauty.
For a little official bio:
Jonathan Balcombe is a biologist with a PhD in ethology, the study of animal behaviour. 
He is the author of four popular science books on the inner lives of animals, including Pleasurable Kingdom, Second Nature, and the New York Times best-seller, What a Fish Knows. He has published over 60 scientific papers and book chapters on animal behaviour and animal protection.
Formerly Department Chair for Animal Studies with the Humane Society University, and Director of Animal Sentience with The Humane Society Institute for Science and Policy, Jonathan now works as an independent author. He also serves as an Associate Editor for the journal Animal Sentience, teaches a course in animal sentience for the Viridis Graduate Institute and has lectured on six continents.
I learnt so much in this conversation, I'm excited to share it with you.
In this conversation we cover:
What does the science say so far as a fishes ability to suffer?
What do fish and humans have in common – both biologically and also so far as their mental world. 
Evolutionary differences due to aquatic living.
Some fascinating fishes featured in What A Fish Knows.
The fish pet industry, what's involved? What is this doing to the natural ecosystem? 
Intelligence manifests in different ways and animals tend to be good at what's useful to them. 
How "So many of the world's ills, both past and present – racism, terrorism, war, sexism, climate change, speciesism –have roots in the arcane mindset that one group (one's own, of course) is better than another."
The (often inhumane) tests that have given us some of these insights.
Although What A Fish Knows is a book written "on behalf" of fish, I hope you'll agree Jonathan's insights are not only fascinating and enlightening however also confronting in I trust a way that inspires change.
As Jonathan points out, so many of the issues we struggle with globally begin with the belief that one group (our own of course) is better than another.
To quote Jonathan: "Nowhere is our superiority complex more apparent than in our attitude toward other animals. We would do well to consider that no beings have any say in whether they are born manatees, bats, hornbills or betta fish, and that they all have an equal desire to live their lives in freedom."
As we know better we can do better and I believe it is our responsibility as individuals with moral agency who know the difference between right and wrong to align our actions with our beliefs and not cause unnecessary harm. It's not only the morally right thing to do – it also just feels good – and humans definitely excel at doing what feels good, right?
The problem in our relationship with animals is that our treatment of them hasn't evolved to keep up with our knowledge. Jonathan Balcombe #fishfeel #fisharefriendsnotfood @Jonathanpb1959
Click To Tweet
Connect with Jonathan via jonathan-balcombe.com or check all relevant links below.
Purchase What A Fish Knows via Amazon:
Connect with Jonathan Balcombe via https://jonathan-balcombe.com
Connect with Jonathan Balcombe across the socials: Facebook | Instagram | Twitter | YouTube
Connect with What A Fish Knows across the socials: Facebook | Instagram
More of Jonathan Balcombe's books:
The Exultant Ark and Pleasurable Kingdom and Second Nature.
Stay tuned for Jonathans upcoming books, Super Fly: The Unexpected Lives of the World's Most Successful Insects and Jake and Ava: A Boy and a Fish.
That's it for this week in Healthification. Big thanks to YOU for sharing this week with me. You rock and I appreciate your support! Quick note, we've heard from a few amazing gents in recent weeks – I have some powerhouse ladies coming soon too!
The Healthification podcast is proudly bought to you by my FREE 'Easy Vegan' plan. It took me 25 years to transition from a meat eater to a happy, healthy Vegan! You can do it in just 3 days with my simplified 'easy vegan' plan!  Get the fit, strong, and healthy plant based body you deserve… while avoiding ALL the mistakes I made along the way!
To learn more check out: strongbodygreenplanet.com
Till next time, remember Creating a body and life you love is Freedom. (If this ex-carb queen, non genetically gifted, naturally uncoordinated vegan chick can do it – so can YOU!!!)
If you liked "Jonathan Balcombe, What A Fish Knows The Inner Lives of Our Underwater Cousins." you'll also like Dr. Will Tuttle and The World Peace Diet.
If you liked "Jonathan Balcombe, What A Fish Knows The Inner Lives of Our Underwater Cousins." you'll also like Dr Sailesh Rao, Healing The Earth's Climate and Creating A Vegan World 2026.