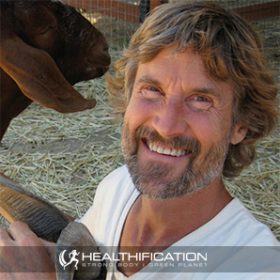 Podcast: Play in new window | Download
Subscribe: RSS
Visionary author, educator, speaker and 40+ year vegan, Dr. Will Tuttle is joining me today to discuss some of the main ideas in his best-selling book, The World Peace Diet, which has been called one of the most important books of the 21st century, and has been published in 16 languages. It provides the foundation of a more conscious and peaceful society based on understanding the horrific and wide reaching consequences of animal agriculture.
Friends, this conversation blew my mind. There is so much here. And yet, Dr Tuttle and I just touch on his extensive spectrum of provocative, challenging and inspiring work. I will definitely invite Dr Tuttle back for round two!
For a little official Bio:
Dr. Will Tuttle, has presented widely throughout the world, in all 50 US states and over 50 countries over the past 40 years, sharing the vegan message in many thousands of lectures, arguably more than anyone in history.
A recipient of the Courage of Conscience Award and the Empty Cages Prize, he is also author of Your Inner Islands: The Keys to Intuitive Living, as well as editor of Circles of Compassion: Essays Connecting Issues of Justice and Buddhism and Veganism: Essays Connecting Spiritual Awakening and Animal Liberation.
Devoted to cultural healing and awakening, he is a former Zen monk and Dharma Master in the Zen tradition, and his Ph.D. degree from the University of California, Berkeley, focused on educating intuition and altruism in adults. He has taught college courses in creativity, humanities, religion, and philosophy and is featured in many documentary films, including Cowspiracy; A Prayer for Compassion; Vegan: Everyday Stories; and HOPE: What You Eat Matters.
A vegan since 1980, his presentations offer a uniquely broad and deep understanding of the profound consequences of our culture's routine mistreatment of animals for food and other uses. Dr. Tuttle is committed to raising awareness about the interconnections between animal liberation and social justice, peace, health, ethics, spirituality, and environmental sustainability.
As I said there's a lot here. I loved this conversation and I'm sure you will too!
In this conversation we cover:
Tuttle's becoming vegan story. 
Learnings from Dr. Tuttle's time as a Zen monk.
The cultural messages that we consume with our daily meals. 
Every meal is teaching us disconnectedness. 
How the violence on our plates boomerangs in remarkable ways.
What does Dr. Tuttle mean by "the domination of the feminine" and how is that related to our food choices?
The intersection of social justice, animal liberation, and environmental, health, spiritual, and peace issues.
Before deep doing into the work of Dr Tuttle in preparation for this conversation I felt like the pieces fit together so far as ALL the reasons to live a vegan lifestyle. And yet, I now feel awakened to a whole other dimension of utterly compelling rationale to just leave our animal friends alone.
Not that I needed any further convincing however it's additional incentive to keep relentlessly (and with compassion!) spreading the vegan love and also the perfect example that: The more you know, the more you know you don't know. I have so much to learn.
Compassion is ethical intelligence: it is the capacity to make connections and the consequent urge to act to relieve the suffering of others. @WillTuttlePhD #animalrights #compassion #thehealthificationpodcast
Click To Tweet
If you too are inspired to further explore the work of Dr Tuttle I have you linked to his abundance of resources below.
During the pandemic he's certainly not slowing down and is doing a lot of online speaking events too:
Purchase The World Peace Die via Amazon:
Connect with Dr Tuttle via www.worldpeacediet.com
Connect with Dr Tuttle across the socials: Facebook | Instagram | Twitter | YouTube
Connect with World Peace Diet across the socials: Facebook | Instagram | Twitter | YouTube
More of Dr Tuttle's extensive work:
Circles of Compassion – book;
Buddhism & Veganism – book;
Your Inner Islands – book;
Bursting Light – book;
Daily VegInspirations – book;
Conscious Eating – DVD, and
10 CDs of original piano music, guided meditations, and spoken word.
That's it for this week in Healthification. I have so many amazing interviews coming up. It's somewhat blowing my mind that individuals like Dr Tuttle keep agreeing to come chat with me about how we can create a healthy, happy vegan world! So if you're yet to subscribe wherever you're listening please do and equally awesome, please consider sharing the show with someone you think would find value in it. Big thanks to YOU for sharing this week with me. You rock and I appreciate your support!
The Healthification podcast is proudly bought to you by my FREE 'Easy Vegan' plan. It took me 25 years to transition from a meat eater to a happy, healthy Vegan! You can do it in just 3 days with my simplified 'easy vegan' plan!  Get the fit, strong, and healthy plant based body you deserve… while avoiding ALL the mistakes I made along the way!
To learn more check out: strongbodygreenplanet.com
Till next time, remember Creating a body and life you love is Freedom. (If this ex-carb queen, non genetically gifted, naturally uncoordinated vegan chick can do it – so can YOU!!!)
If you liked "Dr. Will Tuttle and The World Peace Diet." you'll also like E653: Debunking Religious Justifications To Eat Animals: Main Street Vegan Is Introducing Vegan Living To People Of Faith.
If you liked "Dr. Will Tuttle and The World Peace Diet." you'll also like Dr Sailesh Rao, Healing The Earth's Climate and Creating A Vegan World 2026.