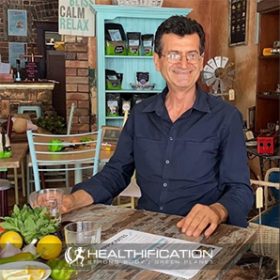 Podcast: Play in new window | Download
Subscribe: RSS
Todays conversation with Hippocrates Restaurateur Harry Tsoukalas covers a remarkable personal health transformation with a gent passionately committed to sharing delicious vegan food and also both the Ancient Greek philosophies and newfound beliefs that inspire these healthier food alternatives.
At Hippocrates Healthy Eatery Harry and chef Derek Yannik bring you food gloriously abundant with taste, health and integrity.
The bland or boring misconception in relation to vegan food or even just "healthy food" is one I'm eager to eradicate. You can eat delicious plant based food, that's great for your body, sustainable for the environment and of course involves no animal exploitation.
In fact as we will discuss, like so many people Harry became plant based first for his health before his heart opened to the plight of the environment and the animals. He then went a HUGE step further and made this lifestyle his career. A step undertaken in the middle of the Covid-19 epidemic at the ripe young age of almost 60. Though in fairness, Harry admits he feels decades younger than 60 since he decided to: Let food be his medicine.
Let's discuss,
Let Food Be Your Medicine with Hippocrates Restaurateur Harry Tsoukalas.
In this conversation we cover:
How much animal products factored in Harry's diet growing up on a small farm in Greece.  
Harry's personal health transformation. 
Fish is often mistakenly believed to be the healthy "flesh" to eat and their suffering is often also discounted. 
Hippocrates Healthy Eatery, unofficially the healthiest restaurant in Sydney!
Opening a restaurant in the middle of Covid-19. 
How at any age you can make a huge lifestyle shift.
Harry went vegan for his health and then his heart opened to the animals and the environment.
And so much more!
We were on a tight timeline there as Harry understandably and deservedly had a busy cafe to return to!
So I just want to tie up some important threads… the mould that Harry mentioned as something that caused health issues for him is very common and in fact prior to opening Sydney's healthiest restaurant (!) Harry worked as a remedial builder, repairing homes plagued by damp and mould. 
In fact Harry first discovered the site that was to become Hippocrates Healthy Eatery while working to remove mould at a restaurant which later became available for sale. Now the walls are painted with lime to prevent mould and bacteria. The 100% plant based food is sourced from organic growers and they recycle most of the waste.
I think the most important learning from this remarkable man is the openness to make a huge lifestyle shift at any age.
We don't have to get more closed minded, stuck in our ways and perhaps tied to ego as we age. 
Equally the right decision, might take a little (or A LOT) of fine tuning. Your body might give you feed back that you need to keep trying, keep experimenting and even seek expert advice if you struggle with reactions to (for example) oxalates in spinach and beetroot or lectins in nightshade vegetables and legumes.
There's not one size fits all in food or health. Though your individualised version of a whole food vegan diet will indeed be a good fit for your health, the environment and the animals.
To connect with Harry, and dine in or order out from Hippocrates Healthy Eatery (it's at 129 Avoca st. Randwick, Sydney) I have you all linked below.
Sydney friends come check out Hippocrates Healthy Eatery, 129 Avoca st. Randwick, Sydney. A little more info straight form their website:
You can order online via UberEats and all the other providers however ordering directly through Hippocrates Healthy Eatery is best:
* The menu is 100% plant based.
* Certified Organic or organically grown ingredients.
* Our ingredients are mostly Australian made, produced and owned.
* Free filtered still water to all customers either cold or room temperature.
* We use super foods such as chia, cacao, turmeric, garlic, ginger, linseed and more.
* Gluten and dairy free ingredients.
* We don't use refined sugars, flours, preservatives nor anything artificial.
* We don't use deep fryers for our food preparation.
* We recycle most of our waste.
Connect with Harry on Facebook
Connect with Hippocrates Healthy Eatery across the socials: Facebook | Instagram
That's it for this week in Healthification. Big thanks to YOU for sharing this week with me. You rock and I appreciate your support!
The Healthification podcast is proudly bought to you by my FREE 'Easy Vegan' plan. It took me 25 years to transition from a meat eater to a happy, healthy Vegan! You can do it in just 3 days with my simplified 'easy vegan' plan!  Get the fit, strong, and healthy plant based body you deserve… while avoiding ALL the mistakes I made along the way!
To learn more check out: strongbodygreenplanet.com
Till next time, remember Creating a body and life you love is Freedom. (If this ex-carb queen, non genetically gifted, naturally uncoordinated vegan chick can do it – so can YOU!!!)
If you liked "Let Food Be Your Medicine with Hippocrates Restaurateur Harry Tsoukalas." you'll also like Intuitive Eating For Healthy Vegan Kids and Peace At Your Dinner Table with Dr Yami Cazorla-Lancaster.
If you liked "Let Food Be Your Medicine with Hippocrates Restaurateur Harry Tsoukalas." you'll also like E709: Reversing Diabetes and getting Healthy at Last with Brooklyn Borough President Eric Adams.
If you liked "Let Food Be Your Medicine with Hippocrates Restaurateur Harry Tsoukalas." you'll also like E598: Reversing Rheumatoid Arthritis Using A Whole Foods Plant Based Diet with Clint Paddison.