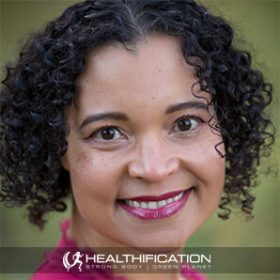 Podcast: Play in new window | Download
Subscribe: RSS
My guest today, Dr Yami is a primary care paediatrician and a passionate promoter of healthy lifestyles, especially the power of plant-based diets for the prevention of chronic disease. 
She's also mum to two healthy and active boys who have been dairy free their entire lives. Because I know raising vegan kids from pregnancy through teenage years and into adulthood can be a delicate subject lets cover a little of Dr Yami's official bio first!
Dr. Yami Carzola-Lancaster (Dr. Yami) is a board-certified pediatrician based out of Washington where she runs her own private practice, Nourish Wellness. Dr Yami a medical degree (D.O.), a Master of Public Health and a Master of Science in Clinical Research and Education. She's also a fellow of the American Academy of Pediatrics as well as a member of the American College of Lifestyle Medicine.
I could go on so far as Dr Yami's extensive qualifications however hopefully you get the idea we have one very qualified guest today.
Importantly, Dr Yami is so incredibly warm, open and genuine! I discovered her via her awesome podcast Veggie Doctor Radio and if you're a parent or health care provider I also recommend her resource VeggieFitKids.com where she provides information on plant-based diets for children including recipes, videos, and tips on nutrition and lifestyle.
Whether you have kids or not, are vegan or not – irrespective I think you'll find this to be a valuable conversation. We really do dive into the phycology of food. Why we often make it so very hard and how instead we can make food enjoyable, simple, fun and intuitive as it should be – for both ourselves and our children.
Let's create,
Intuitive Eating For Healthy Vegan Kids and Peace At Your Dinner Table with Dr Yami Cazorla-Lancaster.
In this conversation we cover:
Dr Yami's book: A Parent's Guide to Intuitive Eating. .
The 5 Pillars of Healthy Eating.
Honour hunger and satiety.
Emphasise whole plant foods.
Establish a positive environment.
Be flexible.
Relax and have fun.
Lifestyle habits that support healthy eating and body image.
What foods to offer your child at different stages of development / Nutrients of concern.
Negotiating the conversation of not feeding your kids cows milk.
What advice would Dr Yami give to the parent keen to do their own due diligence / how do we know who to trust online and IRL?
Some of Dr Yami's advice that parents might be surprised by.
I loved that chat and I feel like it came full circle. When we consider fostering intuitive eating in children we must first learn and practice it ourselves. In freeing ourselves of the "restriction or dieting mindset" the "fat shaming and hateful self talk" and the "unsupportive comparison game" we can also free future generations of the same unnecessary hardship and struggle surrounding food and body image.
It's one of those many easier said than done occasions, however it comes back to trusting your body. To treating your body with love and respect and wanting the very best for it because you and your body are a team!
As Dr Yami pointed out, on occasion "the very best" might just be that vegan donut however at least 80% of the time it's the plant based whole food you feel good about before you eat, during eating and ALSO after eating.
Back to "full circle" I believe generally we know intuitively when a food is right for our body in the same way that if we listen, genuinely to our body and to our heart we know when new information is good information. When perhaps it's time – or well past time – to open our minds to the advice of professionals such as Dr Yami who suggest that milk does not do a body good and that YES you can get everything you need to be fit and healthy at any stage of life following a well planned plant based diet.
I really do recommend you check out more of Dr Yami's rational, wise and relatable advice online and I'll have all the goodness linked up below.
Connect with Dr Yami via her main website: https://www.doctoryami.com
Grab Dr Yami's FREE resources: https://www.doctoryami.com/free 
Buy her book: A Parent's Guide to Intuitive Eating.
Also check out: https://www.veggiefitkids.com
And of course her podcast: Veggie Doctor Radio. Here's the Vitamin D episode:
Also connect with Dr Yami across the socials: YouTube | Facebook | Instagram
Finally, Dr Yami's TEDx: Chicken to Chickpeas: A 30-Day Experiment Changed my Life | Yami Cazorla Lancaster | TEDxYakimaSalon
That's it for today in Healthification however before you go – have you checked out my NEW PODCAST Plant Positive yet?
It's, a weekly fix of everything good for my vegan friends and the plant based curious.
Plant Positive is also for you (or your loved ones) if you know there are benefits to eating more plants however it all seems a little overwhelming, hard or restrictive. My intention is to share with you how simple, sustainable and of course DELICIOUS a #plantstrong lifestyle can be.
To get plant positive with me, simply search Plant Positive wherever you listen to podcasts!
If you're a long term Healthification friend or a new Plant Positive friend now is the time to rate, review, subscribe and share.
I desperately, passionately want more plant strong representation in the iTunes health, fitness and nutrition categories! If you do too, then this is your chance to help make it happen and help make my day, week, year!
Till next time, remember Creating a body and life you love is Freedom. (If this ex-carb queen, non genetically gifted, naturally uncoordinated vegan chick can do it – so can YOU!!!
If you liked "Intuitive Eating For Healthy Vegan Kids and Peace At Your Dinner Table with Dr Yami Cazorla-Lancaster" you'll also like The Plant Trainers Shoshana and Adam Chaim Will Help You Thrive On Plants
If you liked "Intuitive Eating For Healthy Vegan Kids and Peace At Your Dinner Table with Dr Yami Cazorla-Lancaster" you'll also like E665: Dotsie Bausch, True Strength and Being A Plant Powered Athlete.