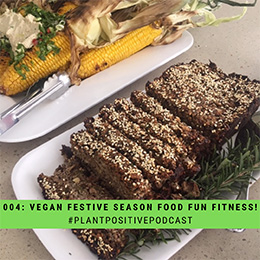 Podcast (plantpositivepodcast): Play in new window | Download
Subscribe: RSS
Hey plant friends,
Welcome to Plant Positive where my intention is to share with you how simple, sustainable and of course DELICIOUS a #plantstrong lifestyle can be.
I wasn't sure how to start todays show as it'll go live in peak festive season – however not everyone celebrates Christmas and certainly for many of us conversations (and meal times!) can be fraught. And yet I want to keep today both actionable and positive.
So let's say, the goal today is to share what I wish I knew when I first became vegan and also what I've learnt and am trying to implement so far as vegan festive season food, fun, fitness and fabulous family gatherings… five years on!
There will be food including 3 keys to maintain your best eating habits while traveling, last minute present ideas, 7 tips to increase your energy levels (because who doesn't need more energy right now!) and of course the weekly good news stories and self-care.
Wherever in the world you are, I hope this finds you well and that the struggle-street year that has been 2020 has also provided you with love, learnings and a lot to look forward to in 2021.
First up a much needed refresher for ME that I trust is of value for you too so far as communicating with loved ones who are not vegan.
This is actually tip 5/6 from my mega-post/s: E569: Vegan Foodies: 6 Steps To Prevent Weight Gain Over Christmas and New Year (Part 1) and  E570 (Part 2)  that I published on the Healthification podcast feed last year.
I first designed these 6 Steps many years ago for myself and my clients when I got absolutely fed up with the weight I would gain each holiday season. Fat that would seem "to land" on my body after just a couple of weeks of indulging and take a few months to rid myself of! 
The Vegan Foodies mega blog post / podcast is for you if you LOVE LOVE LOVE food and yet, have zero desire to roll into the new year feeling less fit, strong, healthy, energised and confident due to over-indulging in ALL the deliciousness.
It's not just about food though. I chat exercise and also some of the emotional considerations that you'll likely be encountering if you're an ethical vegan with non-vegan friends and family. Ok, onwards with tip 5: 
FIVE. Be Proud To Be Contrary & Communicate Why Effectively. 
To enlist the support of all those close to you it's important that you are able to communicate exactly why you're choosing contrary.
The person who no longer has the pudding they never even loved anyway or stops at one big serve of roast veg rather than stuffing themselves to the point of discomfort or asks for an adjustment to the menu when eating out. This person who perhaps gets up early to get a walk in or buys vodka when beer and bubbles are part of the bar tab… will INITIALLY have to deflect some questions.
We teach others how to treat us. The first couple of times you take a new habit for a spin, it'll likely attract some attention. As you stick with it it'll become normal, for you and for the people closest to you – who are likely just trying to justify their own indulgences by drawing attention to your choices.
In saying this I am labouring choices. What you eat and when you exercise is your business. As is what the people closest to you eat and whether they exercise. ZERO JUDGEMENT. And yet… on the matter of Communicating Why Effectively – I can't let this step go by without addressing the questions you'll likely face if you're the only vegan in a non-vegan household.
Two previous Healthification podcast interviews in particular have really helped me in this regard.
E538: Vegan Psychologist Clare Mann and Vystopia: the anguish of being vegan in a non-vegan world.
E552: Dr Melanie Joy, Carnism and Creating Effective Communication Between Vegans and Non-vegans.
Here are a few considerations I'll be getting (even more) clear on before sitting down to dine with my non-vegan loved ones.
Be the vegan you wish you met. Honest, passionate, happy, healthy and to the best of your ability calm, compassionate and non-judgemental.
Recognise someone's intention first. It likely demonstrates they are trying to be more compassionate even if many of their actions are not yet aligned with that intention. Remember, they've been indoctrinated into a "Carnist" world (as coined by Dr Melanie Joy) as you likely were too.
Meet the person where they are and recognise everything counts. Rather than presenting veganism as an exclusive, extreme – all or nothing – unattainable ideal.
Get educated on the questions you know you'll likely encounter. But what about the farmers? Don't plants feel pain? But personal choice? BUT cavemen? And just as importantly be sure someone is up for a calm, respectful conversation rather than pouncing on them with ALL the facts at the slightest sniff of a chance to "go there" (I'm absolutely speaking from "pouncing" experience here!)
If it's important to you to fuel your body the food that is aligned with your values and beliefs. That best helps it look and function as you would love it too – to prove to yourself that you can – then there is no shame in that. It's not fussy, it's a simple decision to take the actions that allow you to live congruently and to achieve your goal.
Finally, it does not matter whether you've just decided a few days ago or whether you've maintained your goal physique for years and are committed to continuing that path. Likely you're in between – my point is if you were to fear judgment in the form of 'why is she/he even bothering' then you'd never start anything new and positive.
Back your ability to achieve this goal (this is applicable to a body composition goal OR to an intention to live a vegan lifestyle) and feel confident communicating its importance to those who love you.
Let's move onto plant based deliciousness and continuing with my 10 Tips To Make Adopting A Vegan Lifestyle Easy (we covered tips 1-3 in previous shows and the complete 10 are available as a free PDF via the show notes). Today let's dig in with tip four.
Four: Don't Be Disheartened By A Recipe Flop!
You've had plenty of bad meat meals over the years right? It'll take a little a patience to find your winning plant based recipes.
Action step: Find a few websites or YouTube channels to turn to for guaranteed recipe wins!
Christmas Day 2 years ago I courted disaster and tried 6 new recipes in our first "almost all" vegan family Christmas. Luckily everything worked out however the more sensible thing is to find a few Go2 recipe wins that are sure to impress your loved ones that you know will not flop!
A couple that I'm super tempted to roll out again this year are Hot For Foods cauliflower buffalo wings and the Wholy Goodness nut loaf both easily searchable online and also linked. The Bosh Portobello Mushroom Wellington is front runner for a new main meal recipe to try followed by their Ultimate Vegan Pecan Pie!
Great channels / sites for recipes:
Or listen to my podcast interview with these amazing chefs!
Lauren Toyota from Hot For Food in E586: Vegan Comfort Food Classics with Lauren Toyota (blog link).
Megan Sadd from Carrots and Flowers in E614: 30 Minute Vegan Dinners You're Going to Crave with Megan Sadd. (blog link).
Nikki Vegan in E634: Nikki Vegan and Eating Delicious, Easy to Prepare, Affordable Food Without Harming Animals or the Environment. (blog link).
This show is fairly chocka so I'm keeping the Good News Stories brief, however as always there was plenty to choose from!
From Plant Based News: Vegan Meat Brand Eyes 'Huge Scale-Up' After Sales Skyrocket Nearly 600%.
The Very Good Food Company says its e-commerce says 'kind of went through the roof' amid the COVID-19 pandemic.
There are so many articles like this, it'd be boring in audio format to dig into them all.
However Veg News also reports: Plant-based Meat Market Predicted To Double To $8.3 Billion By 2025.
As much as I'm excited people are buying meat substitutes it's perhaps even more fabulous to learn that (according to Nielsen data) plant based whole foods have also seen a sharp increase, including dried beans (140 percent), kidney beans (102 percent), and chickpeas (91 percent)… I'm hopeful Covid times has encouraged more of us to embrace to goodness of beans and that this trend will continue.
Let's move on to one of the questions I regularly get asked by clients struggling to stick to meal planning and exercise, and that is: How do I increase my energy levels? It's especially applicable at this time of year.
Over the years I've experimented with plenty of ways to increase my energy levels.
A lot were fairly ineffective. Like my old Go2-afternoon-tea of a 600ml diet coke and a huge low-carb protein bar. Some were a little scary… like the time a lovely gent in the supplement store gave me a caffeine tablet which my body responded to not with "a heap of energy" as promised but with a heap of hot, angry, bright red stripes traveling down my arms and legs!
Energy is something most of us would love more of so I've got 7 tips for you:
A little caveat first. Tip number one is vital – perhaps my fav – however it will not work on it's own and is not safe on it's own.. Are you curious?
Fake it till you make it.
When I first became a Personal Trainer I decided I wanted to be the trainer with the bouncing outta her skin energy and positivity. I made this decision because I wanted to motivate, inspire and even entertain my clients and I knew the last thing they need when they're tired and sluggish first thing in the am or after a long day at work is a tired and sluggish trainer.
The thing is, even though it benefited my clients – I've only had one lady over 15 years who asked NOT to train with me because I was too happy first thing in the morning (Yes, I still remember her!) – anyway, the true benefit was to me.
I discovered that if I act like I've got energy as I rock into the studio each morning – the funny thing is I actually do have energy. Motion creates emotion.
And the reverse is true. You've met the person you almost get tired just looking at right? They move slow, they hang their head, slump their shoulders, drag their feet and even speak slow… everything is just such an effort – the temptation is to bound right up and shake some life into them (!) however that's probably a little extreme.
Get enough sleep… and an off to bed routine that works for you. 
Enough sleep may sound easier said than done however like everything it comes down to priorities.
Also to treating your body with respect rather than pushing and pushing it – with work – with social – even with exercise… without giving it the adequate rest and recovery it needs and deserves.
Each night you will have triggers that either work in your sweets dreams favour or make it that much more likely you'll have an UN-sound nights sleep.
It's a matter of being intentional with your evening ritual.
=> commit to the time you want to get to bed by.
=> disconnect from the devices that stimulate your thoughts well before that time.
=> create the calming and comfortable bedroom environment that supports your sleep.
=> Yes, with young kids a lot of these ideals will not always (or ever) be possible… however some will be possible some of the time and there's still value in that.
Get up at a set time.
This is about making it easier on you. Letting your body clock get into a routine is a lot easier than getting up at 5am one day, 8 the next and 6.30 the day after. 6 days I'm up by 4am because I find that easier. If I don't have clients or an interview early I'll get some super productive work done early. On the 7th day – Sleep in Sunday – I often find myself getting up early for a bit and then crawling back to bed later just because I can.
Getting up at a set time also allow you to escape that draining "will I" "won't I" self negotiation when deciding whether to get up now or not. Talking of draining…
Avoid negative – draining – input.
This is the biggest, most worthless ENERGY SAP. No matter how much sleep you're getting if you allow yourself to be consumed by negative input – be it from negative people, depressing Netflix / Youtube / News or whatever, then you're just throwing good energy down the drain.
And what you focus on expands. I genuinely cannot imagine the person fixated on negative, draining input who is also full of energy. It's just incongruent.
Prioritise energy giving food and water.
You knew I was going to go here right? Let's get specific. I'm talking unprocessed, micronutrient rich, primarily one ingredient plant foods. Such as:
=> a green juice or dairy free smoothie
=> a huge greens and beans salad with substantial fibrous veg
=> a piece of fresh fruit with nuts or seeds
Nothing too tough to find there so lets cover the food that will sap your energy levels while nurturing your fat levels…
Ditch energy sapping food…and drinks.
As I shared, I struggled with this for years… I'd have the fake crap-o-la that although it didn't 'make me fat' – it didn't help me feel awesome either. Here are some foods that will sap your energy:
=> Refined carbohydrates like white flour and sugar.
These 'foods' will cause your blood sugar levels to soar, which your body will scramble to process by producing insulin. The insulin then causes blood sugar to drop, which results in your energy levels crashing… and it's time for that next sugar hit.  The vicious cycle continues.
=> Zero value diet and sugar free processed rubbish that fuels your desire for the sweet fix and deprives your body of the micronutrient rich foods that actually give you energy.
Prioritise your exercise.
We're back to motion creates emotion here and that simple fact that moving gives energy rather than sapping energy. Look at the evidence around you. The people that make time to exercise just have more energy. The people that are too exhausted to exercise and slump onto the couch in front of T.V. each night have less energy… it's a cycle so let's make sure the cycle is spinning in your favour.
And that brings us to action step time. I'm going to suggest you pick the tip that you believe would have the most impact on your energy levels and to make that tip a part of your routine for one week. Just take it for a spin and see if you like the results.
So to recap it's:
Fake it till you make it.
Get enough sleep… and an off to bed routine that works for you. 
Get up at a set time.
Avoid negative – draining – input.
Prioritise energy giving food and water.
Ditch energy sapping food and drinks.
Prioritise your exercise.
I'm including this segment "3 Keys To Maintain Your Best Eating Habits While Traveling" because it's super applicable to short trips / road trips since obviously international travel isn't a thing right now.
One: Travel Pack Of Protein Pimps.
When traveling interstate I always carry a few essentials, to keep my important bases covered and easily add to any light-weight meal.
Back in those times of traveling overseas I'd recommend simply googling a health food store / supermarket at your destination prior to leaving and visit it on arrival. My pack of protein pimps looked like this:
Vegan protein powder.
Spirulina or other (more delicious!) greens powder.
Chia and pumpkin seeds.
Nutritional yeast.
Consider packing them into a handy shaker.
Two: Pick Your Battles / Choose Your Compromises.
This key concedes (or perhaps celebrates!) that Yes travel will from time to time present challenges beyond your control or simply just opportunities where you want to indulge.
The important thing is to make your choices with volition not out of laziness or a lack of preparation.
So perhaps you:
Enjoy your most fav dessert, mums comfort food, baked delicious'ness or cocktail. Not every dessert, all mums comfort food, baked deliciousmess and cocktails.
Declare portion size matters. So just because you're having a less than ideal meal that is no reason to give in to multiple serves of a less than ideal meal.
In a similar vain…stop the spiral of poor food choices as soon as you're aware, as everything counts and you're only ever one great food choice away from being "Back on track."
Three: Perfect Your Pre and Post Travel Meals.
This key recognises the importance of ensuring every meal you are in control of is on goal.
It also acknowledges the law of recency which states the action you most recently took is the one you are more likely to take again. So if that is the case a good prevention strategy for outsmarting a pre and post travel spiral into off goal meals is to cook the great meal before you leave (even if it means a whole 5-10 minutes less sleep) and have the house stocked with great food that will last till you get home (like some frozen cauliflower-curry, bean burgers, frozen fruit and veg, dried herbs and of course everything in the pack of protein pimps).
Let's talk holiday season gifts and I feel like many of us are becoming more conscious in our consumerism and that has to be a good thing. I will admit, I do find giving presents fun! I'm not ready to relinquish that tradition yet however I do want to move well away from the purchasing just for the sake of it. With that in mind, here are some simple, last minute gifts: 
Platter with vegan cheese and fruit. Find a beautiful platter first, it's part of the pressie. Now adorn it with a variety of fresh fruit and a couple of those amazing vegan cheeses that seem to be popping up all over the place right now. This is perfect for the family member that declares "I could be vegan BUT cheese!" For a more cost effective option or if you live somewhere where sadly the soft indulgent dairy free bries etc are not yet available, choose a couple of vegan dips and crackers to go with your fruit instead.
Mug full of your fav teas. First step is a mug with a message personal to your loved one. Or maybe just a gorgeous mug! Now fill it with the teas you love – my fav is liquorice root – bought from bulk bins not in little less flavourful sachets. Time and creativity permitting your could really go to town with a variety of cute tea parcels tied with ribbon and labeled with a personalised message like: "for that 3.30-i-tis sugar quick UN-fix time" (that's when I like my liquorice tea) or "for a great nights sleep and sweet dreams."
Homemade Vegan Baileys. This was a HUGE Christmas win for me a couple of years ago. We still can't get the official vegan baileys here in Aus however thankfully many recipes are free online and it's crazy quick and delicious. You could serve your beverage gift in a lovely water jug / bottle, gift it with a couple of pretty glasses or recycle another bottle and dress it up to look all festive.
Membership to an amazing non-profit. With such an abundant of organisations to choose from, shout out to Sentient Media a non-profit journalism organisation seeking to create transparency around the role of animals in our daily lives. I chatted with Sentient Media's Executive Director Ana Bradley in E713 of The Healthification podcast (due to go live just a couple of days after this!) In mainstream media, the role of animals in our food system is massively underrepresented, however the team at Sentient Media are changing the narrative. This year, their content has reached over 25 million people. Support from individuals like you and I is what allows Sentient Media to keep telling the stories that matter and build a better future for animals. Become a monthly supporter and automatically join the Sentient Media membership here:
Virtual farm sanctuary tour. Yes, this is a thing!To find participating sanctuaries google "virtual farm sanctuary tour December 2020" or I'll have you linked up to a couple of options in the show notes. Luckily location is no problem here! Virtual Visit to an Animal Sanctuary – Airbnb
Which leads me perfectly to my Self Care recommendation, Visit a Farm Sanctuary! 
Now of course this is not doable right now for all of us however there's the virtual tour option and there's also my HUGELY recommended Facebook Live option for somewhere like Edgars Mission. I had the enormous pleasure of chatting to Pam Ahern from Edgars Mission Farm Sanctuary in The Healthification Podcast E695 and it's been one of my most downloaded shows. 
Ever since discovering Edgars Mission I've tuned in to have a little tour with Pam and vet nurse Ruby (a gorgeous dog) either Live or after live whenever I'm feeling a little down and disheartened by the extent of animal exploitation globally. It's such a simple yet uplifting little act of self care. I recommend you join the almost 400,000 people following Edgars Mission on Facebook or via Instagram. 
Tuning in to watch a live video of sheep racing each other across a paddock for their evening fix of hand fed Weetbix is surprisingly heart warming and such a simple, healthy, quick fix of positivity and hope. I'll finish todays show with a short snippet of my chat with Pam.
That's it for today in Plant Positive. I'd super appreciate hearing from you if you have any feedback. Is there anything you'd like more or less of? I'm here to support you and I'm super open to any constructive criticism as to how I can get better at doing that. You can reach me via kate@strongbodygreenplanet.com or @strongbodygreenplanet across the socials.
If you enjoyed this episode then please share the love with a friend or family member that needs to hear it. It's quick to share and it'll mean a lot to your loved one and so very much to me. Sending you so much love and wishes for a happy, healthy, successful and compassion filled end to 2020 and a 2021 that explodes all our expectations in only the very best ways.
Finally, please stay tuned for a quick snippet from a super inspiring episode of the Healthification podcast – that's my interview style show where I have conversations with amazing athletes, activists, authors and generally passionate and compassionate individuals! Today as mentioned my chat in E695 with: Pam Ahern from Edgars Mission Farm Sanctuary who Is Creating A Kinder World For Farmed Animals. 
Pam and her team at Edgars Mission are committed to telling the stories of each individual animal. These stories serve to remind us that the animals' lives matter. They matter to them and they should matter to us.
Pam Ahern from Edgars Mission Farm Sanctuary Is Creating A Kinder World For Farmed Animals.
Plant Positive was proudly bought to you by: Energybits.
I was merely a causal Spirulina consumer prior to chatting with Energybits Founder Catharine Arnston who has spent the last ten years educating consumers and wellness professionals about algae. Now I'm a huge fan of this cultivated one ingredient power algae known for aiding performance and energy. I'm an even bigger fan of the lessor known algae on the block, Chlorella.
US customers can purchase Energybits online and use the code "Healthification" for 20% off.
Check out: www.strongbodygreenplanet/deals to find all the sponsors of this show listed on one page. Again, that's www.strongbodygreenplanet/deals.
With love and compassion plant friends.
If you liked "Vegan Festive Season Food, Fun, Fitness and Fabulous Family Gatherings… They Can Coexist!" you'll also like E568: Vegan Athlete Fiona Oakes Is Running For Good.
If you liked "Vegan Festive Season Food, Fun, Fitness and Fabulous Family Gatherings… They Can Coexist!" you'll also like E655: Festive Season Vegan Deliciousness with Annie Galli (Mum's Top Christmas Tips!)
If you liked "Vegan Festive Season Food, Fun, Fitness and Fabulous Family Gatherings… They Can Coexist!" you'll also like 624: My Mums Plant Based Journey, How To Transition To Plant Based Without Restriction Or Conflict!