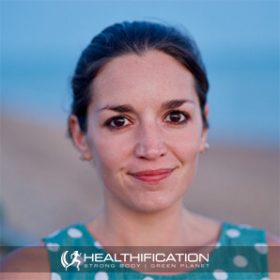 Podcast: Play in new window | Download
Subscribe: RSS
In mainstream media, the role of animals in our food system is massively underrepresented, however the team at Sentient Media are changing the narrative. This year, their content has reached over 25 million people.
Sentient Media is a non-profit journalism organisation seeking to create transparency around the role of animals in our daily lives. Their work is designed to encourage people to question the corruption within industrial animal agriculture.
I hope that doesn't sound controversial. When you consider that the vast majority of humans are compassionate (I have to believe that), the vast majority of humans are opposed to unnecessary animal cruelty… and yet 95-99% of humans still actively perpetuate the cycle of cruelty that is animals agriculture with their eating actions multiple times every single day, then there must be MASSIVE dishonesty at play cleverly and relentlessly enforced by those who profit from it (Animal Ag) that assures consumers: "nothing to see here" "our animal live a happy life and die humanely" and of course, "you cannot be healthy without animal products!"
Today I'm chatting with
Sentient Media's Executive Director Ana Bradley.
We also cover Sentient Media's 3 part strategy to create transparency around farmed animal lives:
Bring fact-led information about farmed animals' lives to the first page of Google.
Commission journalists to create content about farmed animal lives that can get published in non-vegan mainstream publications.
The writers fellowship program: training incoming journalists about how to write about farmed animal lives.
This chat was such a joy! The subject could be overwhelming as we discuss the current state of play – the misinformation, agendas and vast power of animal ag when compared to non-profits fighting to make the world a better place for animals and humans alike. And yet Ana is such a sweet heart we actually chatted a lot about our personal experience with family members who are super keen to keep their heads in the sand, their hearts closed and their mouths full of meat.
In this conversation we cover:
Effectively bringing animal rights issues into the mainstream to achieve social change.
The current state of play so far as how mainstream media tends to report on / present animal rights issues?
Corruption within industrial animal agriculture.
What sort of power does industrial animal agriculture wield? 
Sentient Media's work to coach and amplify writers who defend the many wordless species on this planet.
The need to be evidence based and fact driven as animal advocates.
How social justice causes can come together to be stronger.
Ranking in Google and the $$ spent by the meat and dairy industries to place misinformation at the top of Google.
Steps individuals can take to more effectively curate and negotiate their experience online with so many competing agenda's vying for our attention and our data.
I'm back on my own and I don't know that I personally have anything of value to add beyond letting you know that all the resources Ana mentioned and how you can connect with and support Sentient Media will be linked below.
However as I'm such a huge fan of the work that Ana and team Sentient Media do, I'd like to finish the show with an excerpt from Mikko Jarvenpaa founder of Sentient Media as he so perfectly articulates the urgency and the importance of telling the stories of the billions of animals trapped within our horrific and broken food system.
Letter From Our Founder: MIKKO JARVENPAA. (Full letter published September 28th 2020)
The systematic, industrial-scale use of non-human animals by humans is one of the major moral failures of our time, up there with the destruction of the planetary biosphere, the perpetuation of systems oppressing the global majority, and the human inequalities leading to the death of the poorest and the gain of the richest.
While the climate crisis, racial injustice, and inequality are finally being openly discussed, and at least some corrective actions are being taken, the massive suffering of sentient non-human animals is continuing almost entirely without mention.
In an age in which we desperately need more humanity and humanness, the exploitation of non-human creatures can be easy to discount and dismiss. But that makes their suffering neither less real nor unimportant.
We cannot deduct from what is that which ought to be. We have in many ways transcended our biology, and many of those developments have been due to our sense of right and wrong.
Those who take on the cause of championing the end of the use of non-human animals quickly realise how varied but intertwined are the rationales for abolition. Factory animal farming—which accounts for nearly 100 percent of modern animal agriculture—is one of the key drivers of the climate crisis. Intensive farming creates ideal conditions for both viral pandemics and antibiotic-resistant bacteria to emerge. Animal products degrade human health and reduce life expectancies. And the animal agriculture industry profits by producing these ills. All of these interconnections are woefully under-reported by mainstream media. (End of excerpt)
If you'd like to support Sentient media and in turn help get visibility for animals in mainstream media and transparency in animal agriculture please know that every donation counts. You can even become a monthly supporter and automatically join the Sentient Media membership via https://sentientmedia.org/donate/.
Check out the main Sentient Media website:
Become a monthly supporter and automatically join the Sentient Media membership here. Your support means that Sentient Media can keep telling the stories that matter and build a better future for animals. Every donation counts, and in December, your gifts will be matched.
Read the, Encompass Essays: Pursuing Racial Equity in Animal Advocacy:
Watch the Sentient sessions, especially Nothing But the Facts with Christopher Sebastian.
Ana mentioned the Netflix films: Mank (youtube trailer) and The Social Dilemma (youtube trailer).
Also the News outlet DeSmog.
Also connect with Sentient Media across the socials: YouTube | Facebook | Instagram | Twitter
That's it for today in Healthification however before you go – as you listen to this, at least the first 4 episodes of my NEW PODCAST all about rockin a #plantstrong lifestyle focusing purely on the POSITIVES are live! 
Plant Positive is, a weekly fix of everything good for my vegan friends and the plant based curious.
I chat training tips, self care, good news stories, recipes wins, inspirational vegans plus plenty of eating and exercising motivation.
To get plant positive with me, simply search Plant Positive wherever you listen to podcasts!
If you like the show (either Plant Positive or Healthification!) now is the time to rate, review, subscribe and share because there is only one chance for any new show to hit New and Noteworthy and that is what gets a show visibility in the mass of 1.6 million podcasts! If you'd like to help get the plant strong message out there, then this is your chance to help make it happen!
Till next time, remember Creating a body and life you love is Freedom. (If this ex-carb queen, non genetically gifted, naturally uncoordinated vegan chick can do it – so can YOU!!!
If you liked "Sentient Media's Ana Bradley and Creating Transparency Around The Role Of Animals In Our Daily Lives" you'll also like Hogwood: A Modern Horror Story with Viva!'s Juliet Gellatley.
If you liked "Sentient Media's Ana Bradley and Creating Transparency Around The Role Of Animals In Our Daily Lives" you'll also like E619: Ex Ranchers Wife and Rowdy Girl Sanctuary Founder Renee King-Sonnen.
If you liked "Sentient Media's Ana Bradley and Creating Transparency Around The Role Of Animals In Our Daily Lives" you'll also like Jo Anderson and Faunalytics Are Empowering Animal Advocates.
If you liked "Sentient Media's Ana Bradley and Creating Transparency Around The Role Of Animals In Our Daily Lives" you'll also like Photojournalist Jo-Anne McArthur Brings Visibility To Hidden Animals Worldwide.
If you liked "Sentient Media's Ana Bradley and Creating Transparency Around The Role Of Animals In Our Daily Lives" you'll also like Dr. Will Bulsiewicz and How To Become Gut Healthy Through A Plant Based, Fiber Rich Diet.