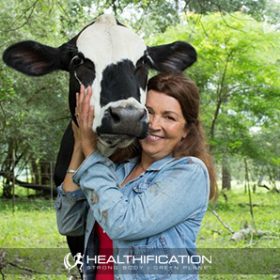 Podcast: Play in new window | Download
Subscribe: RSS
We're in for a high energy ride today friends!
10 years ago head strong and entrepreneurial city girl Renee King-Sonnen married a rancher and did not adjust so well to life on her husbands Texas ranch. Seeking to make the transition a little easier Renee's husband gave her a young calf and so began a heart breaking struggle with a happy ending for that young calf: Rowdy Girl and 29 members of her cow family.
I'll let Renee share more of how Rowdy Girl Sanctuary came to be with you however the happy ending for those cows destined for slaughter on her husbands ranch is just one part of this inspiring and evolving story.
Rowdy Girl Sanctuary came across my radar via multiple previous podcast guests. I know farmers work hard. I appreciate the connection they feel to their land and often their animals. I can imagine the pressure they feel to feed their own families, to belong in their communities and the desperation / lack of opportunities to make a living in other industries especially given the suffocating burden of dept they are often under. I acknowledge they've been conditioned (indoctrinated) to believe feeding the world is honourable and killing animals to do so is normal, natural and necessary. Because most of us have been indoctrinated to believe eating animals is normal, natural and necessary.
In exasperation I've asked: "So who is helping farmers transition from animal exploitation to crop farming?" and Rowdy Girl Sanctuary has been the only resource anyone has been able to share with me.
I've got to believe there are more however it's blatantly apparent that governments aren't doing the work. Governments around the world are propping up our broken food system with propaganda, marketing, subsidies and terrifyingly harsher penalties for activists looking the share the reality of animal agriculture.
Meanwhile,
Ex Ranchers Wife and Rowdy Girl Sanctuary Founder Renee King-Sonnen is ceasing
the opportunity to have an incredible impact on the ranching community as a whole, on individual families and consumers and of course on individual animals just like the original energetic little cow Rowdy Girl who stole her heart.
Let's learn a whole lot more about Rowdy Girl Sanctuary, its residents, its unstoppable founder and her huge plans for the future!
In this chat we cover:
Renee's vegan journey. Was she ill at ease from the first time cows left in the red trailer?
How to talk to ranchers and farmers.
The veganic farming developments / opportunities Renee is most excited about.
What would Renee say to the animal farmer who is concerned with the financial viability of transitioning out of animal farming and who also fear how they will be judged by their community?
The importance of compassion for animals, for fellow humans and especially self-compassion.
The Rancher Advocacy Program and Families Choosing Compassion program.
What an absolute powerhouse right?
Renee has so much happening I almost feel like we tried to cover too much in one little chat. Luckily there's so much you can check out online via https://rowdygirlsanctuary.org and via the 2 Rowdy Vegans podcast and of course via Renee's newsletter which I've just signed up to.
I especially recommend you check out this podcast episode: Organic Is Not Vegan?! Let's Talk About It. (Feat. Greg Litus)
You can also connect with Renee and Rowdy Girl Sanctuary via:
We bi-passed an important part of Renee's journey which I want to share with you now.
Rowdy Girl Sanctuary started when Renee purchased her husband Tommy's last 30 cows from him. Amazingly Renee used crowdfunding to raise the $30,000 she needed to save those cows and save her marriage.
I find this so incredibly heartening. Regularly I hear excuses such as: "Eating vegan would be too hard with my husband."
Really, is your husband a cattle rancher?
Although I can't begin to understand what it's like for anyone else inside their relationship and inside their lifestyle I can and do hope that this conversation might inspire Aussie farmers and families of Aussie farmers (actually farmers and ranchers ANYWHERE) and give them hope that they too have options and opportunities to live a life of compassion rather than exploitation.
It's not simple however every single person who puts their hand up to ask for help in transitioning away from animal agriculture is making it easier for the people to follow them. Equally every single person who as a consumer moves their demand away from animal products to consume plant products instead is also making it easier for the generations of plant farmers I want to welcome into this world.
As we discussed Renee and Tommy have now expanded their efforts with the goal of turning other ranches into sanctuaries.
Their Rancher Advocacy Program focuses on helping ranchers who want to get out of the animal agriculture industry. Individuals who "see the reasons (health, ethics, environmental and social) for abandoning the practice of raising animals to fuel animal agriculture and factory farms, but don't have viable solutions or strategic partnerships and wish to convert their ranch so that it collaborates with the growing world trends towards a plant-based future."
However I'm guessing my primary audience are not ranchers or farmers. More likely you're vegan or vegan curious?
If that's you then I guarantee you'll still find huge value in checking out the work of Ex Ranchers Wife and Rowdy Girl Sanctuary Founder Renee King-Sonnen online because Renee is out there every day connecting with ranchers and sharing their stories and in doing so teaching us vegans and animal rights activists how to connect more effectively and compassionately ourselves.
I know I have a lot to learn. The latest episode of Renee's podcast 2 Rowdy Vegans asks: True or False: Ranchers Love Their Animals and Kill Them Too? 
My gut reaction was FALSE!
Ranchers Love Their Animals and Kill Them Too? (Ex Ranchers Wife and Rowdy Girl Sanctuary Founder Renee King-Sonnen shares her thoughts in #thehealthificationpodcast E619)
Click To Tweet
How can you love someone and kill them? However I now know that was an ignorant judgement on my behalf.
That's it for this week in Healthification. Huge thanks to YOU for sharing this week with me. You rock and I appreciate your support!
The Healthification podcast is proudly bought to you by my FREE 'Easy Vegan' plan. It took me 25 years to transition from a meat eater to a happy, healthy Vegan! You can do it in just 3 days with  my simplified 'easy vegan' plan!  Get the fit, strong, and healthy plant based body you deserve… while avoiding ALL the mistakes I made along the way!
Till next time, remember Creating a body and life you love is Freedom. (If this ex-carb queen, non genetically gifted, naturally uncoordinated vegan chick can do it – so can YOU!!!)
If you liked "Ex Ranchers Wife and Rowdy Girl Sanctuary Founder Renee King-Sonnen" you'll also like Jacy Reese and The End Of Animal Farming
If you're yet to share the Healthification love – just click here to zip over to iTunes and leave an honest rating and review. It'd help me out big time. With gratitude, Kate.