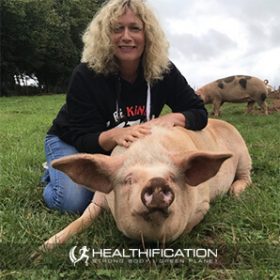 Podcast: Play in new window | Download
Subscribe: RSS
In 30 harrowing minutes HOGWOOD: A Modern Horror Story takes you beyond the factory farm walls of one unspeakably cruel yet sadly standard pig farm hidden in the British countryside where profit is prioritised above everything else. It is the culmination of months of investigative work by the Viva! team who worked relentlessly to expose the kind of horrific cruelty to animals many mistakenly think no longer exists in our "evolved" societies.
Viva! is the UK's leading vegan campaigning charity, specialising in undercover investigations and high-profile animal campaigns. Founded in 1994 by Juliet Gellatley – who saw at that time nobody was really "banging the drum" for farmed animals and for veganism – Viva! has spent more than 25 years creating a kinder, more sustainable world for humans and animals alike. 
Today I'm chatting with Juliet and we cover Hogwood the film, Viva!'s investigation, the appalling industry PR campaign and spoiler (!) Viva!'s eventual "win". 
However Hogwood is part of a bigger story. Thinking, feeling individuals are exploited for their flesh and viewed as disposable commodities in farms all over Britain, my home Australia and the world. The vast majority of people would be appalled to learn the truth behind the legal standards allowed for farmed animals globally.
Juliet and I discuss several of Viva!'s most recent campaigns including End Factory Farming Before It End Us and Slash the Risk (of severe Covid) and also the less heavy more hopeful recent campaigns to get excited about and to support those going vegan.
In this conversation we cover:
Juliet's vegan journey.
Hogwood the film: Viva!'s investigation, the industry PR campaign and eventual "win". 
The recent campaign: End Factory farming Before It End Us.
An antibiotic resistance apocalypse driven by the overuse of antibiotics in farmed animals.
That time went so fast!
I'm conscious that Juliet and I mainly got to touch on the Hogwood investigation and the campaign to End Factory Farming and yet there is so much more that Viva does.
We didn't make it to: Slash the Risk (of severe Covid) however I have you linked up to that campaign.
I do want to touch briefly on the 3 in 4 campaign named because, Three in four of the world's new or emerging diseases come from animals.
Just let that sink in. Not purely animals in live markets in China, animals enslaved and kept in horrific conditions all around the world. To quote viva.org.uk: "Responsible for nearly three million deaths a year, these diseases are largely transmitted through trading wildlife (legally and illegally) and factory farming."
Then of course there's the matter of antibiotic resistance. Scientists are warning that we're on the edge of an antibiotic resistance apocalypse and that antibiotic resistance is driven by the overuse of antibiotics in farmed animals. We're on track to enter a post-antibiotic world, which will result in millions of preventable deaths every year. More people will die through antibiotic resistance than from cancer.
When you look at the conditions inside Hogwood, inside Flat House Farm and indeed inside any factory farm anywhere in the world you know why the farms could not exist without the antibiotics as the individuals Juliet and team Viva! fight so hard for live in such utter filth and misery.
I'll have all the resource mentioned linked up in the show notes today including of course how to watch Hogwood A Modern Horror Story online.
It's obviously tough to watch. And yet I think it's vital we bare witness to the suffering of these individuals as that is the fuel that can help us push through beyond the apathy and ignorance with volition so regularly encountered as a vegan living in a non vegan world.
I can see why Juliet has a soft spot for pigs! When you look into their eyes it would be impossible not to acknowledge the thinking, feeling, loving and suffering individual looking back at you. If you ever think that individual action – that your personal eating choices – or your advocacy as one person is insignificant or hopeless then please remember the fiercely protective mother pig Hope that Juliet speaks of with such love and joy because for each individual animal your actions really do count.
Learn more about the Viva! Hogwood investigation here:
Watch Hogwood A Modern Horror Story here:
Connect via the Viva.org.uk website:
Also connect with Viva! across the socials: YouTube | Facebook | Instagram | Twitter
Because people are so brainwashed into thinking that it's normal to consume animals, they are much more uncomfortable with confronting what happens to those animals because they are part and parcel of that cruelty. Juliet Gellatley @vivacampaigns…
Click To Tweet
That's it for today in Healthification however before you go – as you listen to this, fingers crossed my NEW PODCAST all about rockin a #plantstrong lifestyle focusing purely on the POSITIVES should be live!
Plant Positive is, a weekly fix of everything good for my vegan friends and the plant based curious.
I'll chat training tips, self care, good news stories, recipes wins, inspirational vegans plus plenty of eating and exercising motivation.
My launch date is / was intended to be 1st Dec however there's a chance there will be a delay from the iTunes end so I hear! I got all excited for a launch on the first day of summer here down under and didn't realise that was holiday time over in the US! That means it's even more important if you want to know when Plant Positive goes live AND to help me out big time to please subscribe to The Healthification Podcast on iTunes as I'll drop the introduction on this podcast feed first:
Beyond that, simply search Plant Positive wherever you listen to podcasts! If you like the show (either show!) now is the time to rate, review, subscribe and share because there is only one chance for any new show to hit New and Noteworthy and WOW, I want more plant strong representation in the health, fitness and nutrition categories so much! If you do too, then this is your chance to help make it happen!
Till next time, remember Creating a body and life you love is Freedom. (If this ex-carb queen, non genetically gifted, naturally uncoordinated vegan chick can do it – so can YOU!!!
If you liked "Hogwood: A Modern Horror Story with Viva!'s Juliet Gellatley." you'll also like E561: The Last Pig Film with Allison Argo.
If you liked "Hogwood: A Modern Horror Story with Viva!'s Juliet Gellatley." you'll also like Photojournalist Jo-Anne McArthur Brings Visibility To Hidden Animals Worldwide.