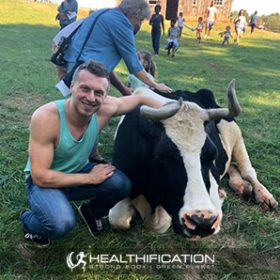 Podcast: Play in new window | Download
Subscribe: RSS
Social media activist and professional speaker John Oberg is prolific online and has certainly been hugely effective as an animal rights activist. John and I first spoke a couple of years ago on Healthification E595: John Oberg and Effectively Harnessing The Power Of Social Media To Make The World A Kinder Place For Animals.
At that point I'd been vegan a few years, was deep into both face to face activism and online activism and was starting to realise with growing disappointment that sharing the atrocities inflicted on animals was not enough. Often it was ineffective and would push both loved ones and strangers away.
John's advice was sound yet as with much sensible advice, not always easy to implement.
For example: I can be "all doom and gloom" and prone to NOT showing my outside interests… it takes effort, LOTS OF EFFORT to consider what content the non-vegan might be receptive to and to be the relatable, fun person they might want to listen to.
I've invited John back on the show to discuss: relationships with non-vegan loved ones, longevity as an animal rights activist, Infighting with the vegan movement and more. 
Quick technical side note, sadly John's AirPods died early on in our chat. So there's a slightly echo'y middle section and then he's back with the AirPods once they've charged a bit. Also my mic is surprisingly quiet for once – I usually get way too loud and excitable – I know my amazing editor Sten has helped out as much as he can though so, I hope you hang on in there with us! Alright, let's discuss: How To Maintain Relationships with Non-vegan Loved Ones Without Conflict and so much more with John Oberg!
In this conversation we cover:
How to maintain relationships with non-vegan loved ones without conflict.
Longevity / sustainability as an animal rights activist.
How to manage the pressure / desire to "always be advocating."
How vegans can be more strategic to be more effective on social media and beyond.
The importance of celebrating small steps and not being held back by perfection and purity.
Infighting with the vegan / animal rights activist movement – why do we waste so much time and energy on this?
It's dawning on me just how much is involved in being both an effective and a happy (!) animal rights activist.
The tight rope to walk between the urgency and colossal scale of horror endured by animals at hands of humans AND the need to patiently meet non-vegans where they are so as not to repel them for ever. 
It could feel a little overwhelming. Like a never-ending evolution. As with health and fitness I really do believe we can make this journey as complicated or as simple on ourselves as we like. Simple, is constantly asking ourselves: Is this approach the most effective for the animals?
To learn more from an approach that surely is very effective connect with John Oberg online and for all the specific links I have you covered below.
Check out my first chat with John Oberg here via the blog and via iTunes:
Here's a recap, of my top takeaways from John:
Don't get caught in the vegan bubble. Post with the non-vegan in mind. Consider what content the non-vegan might share.
Your impact is not just impacting the person you're directly communicating with. Most people on social just lurk – however they're there and they're listening! Be the person they want to listen to. Don't be a jerk! 
Don't be all doom and gloom. It's ok to laugh and feel joy.
Show you have outside interests. This makes us relatable.
Connect with John via his home site:
Connect with John across the socials: Facebook | Instagram | Twitter
Support John in creating a kinder world for animals through social media advocacy via https://www.johnoberg.org/donate and Patreon:
When I first became vegan, I was great at winning debates. But now I know that the key is the winning people's hearts and minds. @JohnOberg #animalrights #thehealthificationpodcast
Click To Tweet
That's it for this week in Healthification. Big thanks to YOU for sharing this week with me. You rock and I appreciate your support!
The Healthification podcast is proudly bought to you by my FREE 'Easy Vegan' plan. It took me 25 years to transition from a meat eater to a happy, healthy Vegan! You can do it in just 3 days with my simplified 'easy vegan' plan!  Get the fit, strong, and healthy plant based body you deserve… while avoiding ALL the mistakes I made along the way!
To learn more check out: strongbodygreenplanet.com
Till next time, remember Creating a body and life you love is Freedom. (If this ex-carb queen, non genetically gifted, naturally uncoordinated vegan chick can do it – so can YOU!!!)
If you liked "John Oberg and How To Maintain Relationships with Non-vegan Loved Ones Without Conflict." you'll also like E536: Vegan Lifestyle Fears And Benefits.