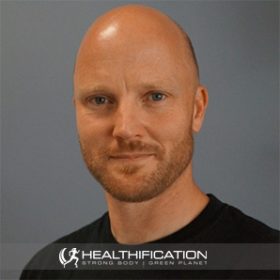 Podcast: Play in new window | Download
Subscribe: RSS
British-born author, educator, and consultant Glenn Murphy is the Director and Chief Instructor of STRESSPROOF where they teach a holistic, scientific approach to self-mastery that builds awareness, control, and agency over your physical and behavioural stress responses.
To quote from stressproof.net: "Our stress responses – designed for short-term, emergency action – are now being triggered far too easily, and staying active far too long."
Easily triggered and long active stress responses? Yep, that resonates with me!
Vegan friends, this is a slight deviation away from my normal conversations however I feel confident you'll find the insights Glenn has to share so very valuable in negotiating your relationships with non vegans. In fact as you'll see this chat turned into a little coaching session for me!
For a little official bio: Glenn studied Genetics and Immunology at the University of Aberdeen, and earned a Masters in Science Communication from Imperial College, London. He has written news and feature articles for the science journal Nature, and managed operations and training at the National Museum of Science and Industry (UK). He spent 12 years studying Aikido in Scotland and Japan, and the last 10 years studying conflict, conditioning, and combat with elite, military trainers. Glenn is the author of more than 17 popular science books, published in more than 20 languages worldwide.
This is a really fun and a little personal chat – by now you're likely getting used to hearing snippets of the vegan : non vegan family dynamics and corresponding struggles that I tend to share / overshare!
Let's discuss,
The Physiology Of Stress and How To Manage It With Glenn Murphy:
In this conversation we cover:
The importance of embracing physical discomfort.
How we can better self-regulate our emotions and actions.
The relationship between fear and outrage.
On a neurological level when you try to shame people it just won't work.
Empathy is Stronger than Fear: What can we do to both cultivate empathy and manage fear.
And so much more!
So much implementable goodness there!
I found Glenn to be such a generous guest especially in making that chat so applicable to vegan : non vegan relationships. Examining outrage and the fear that lies behind it as well as the logic behind why shame always backfires as a strategy really rang true for me.
In relation to outrage: I'm thinking of ALL the instances where I'm boiling over with outrage and yet, if I were to calmly share the fear lurking behind that outrage, the result – the conversation – might well be so much more effective and positive.
I have an opportunity to try this new approach very soon as I travel home to see the fam and I'll let you know how I go. Likely in a podcast episode with dear mum, Annie Galli!
If you want to learn more about the work Glenn and team StressProof do simply head to www.stressproof.net. The training is now available online so wherever you are in the world you can get StressProof. Alternatively, check all relevant links below.
Connect with Glenn Murphy via his Main Site: www.stressproof.net
Take the StressProof Online Course:
Connect with Glenn Murphy and StressProof across the socials: Facebook | Instagram | YouTube
Listen to the StressProof Podcast:
Here's the episode of Plant Yourself (Empathy is stronger than fear) podcast that I referred to in this chat with Glenn:
That's it for this week in Healthification. Huge thanks to YOU for sharing this week with me. If you've enjoyed this show and gotten value out of it I'd super appreciate it if you pop over to iTunes or wherever you listen to the show and leave me a review.
The Healthification podcast is proudly bought to you by my FREE 'Easy Vegan' plan. It took me 25 years to transition from a meat eater to a happy, healthy Vegan! You can do it in just 3 days with my simplified 'easy vegan' plan!  Get the fit, strong, and healthy plant based body you deserve… while avoiding ALL the mistakes I made along the way!
To learn more check out: strongbodygreenplanet.com
Till next time, remember Creating a body and life you love is Freedom. (If this ex-carb queen, non genetically gifted, naturally uncoordinated vegan chick can do it – so can YOU!!!)
If you liked "The Physiology Of Stress and How To Manage It With Glenn Murphy." you'll also like How To Change Your Behaviour and Make It Stick with Howard Jacobson.
If you liked "The Physiology Of Stress and How To Manage It With Glenn Murphy." you'll also like E659: How To Build Good Habits & Break Bad Ones with James Clear (Encore Episode).