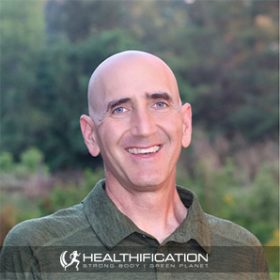 Podcast: Play in new window | Download
Subscribe: RSS
My guest today, Howard Jacobson, is host of the Plant Yourself Podcast where he provides plant based inspiration, guidance, and support and interviews fascinating practitioners, researchers, and DO'ers.
In his day job, as an educator and coach, Howard helps clients implement lifestyle changes that support vibrant health and fitness and yet, 15 years ago he was overweight, unhealthy and stressed out. His blood pressure was through the roof – though ironically Howard got a PhD studying stress management.
As we will cover in todays conversation, knowing what to do is not enough!
I encounter this so frequently in my own work as a personal trainer and vegan health coach. Generally it's not a lack of knowledge holding us back – despite the strategies of confusion and propaganda perpetuated by animal agriculture!
Over a couple of years Howard discovered how to lead first himself and then his family to fitness and health. He became a role model and cheerleader rather than judge and jury and focused on the positives rather than the negatives.
This cheerleader aspect of adopting a vegan lifestyle is something I'm especially excited to explore. I want to get better at supporting my loved ones towards a healthy vegan lifestyle… because although the horrific facts about animal exploitation convinced me to change my behaviour and make it stick I know that's not enough for most people.
If you can relate. If you have someone in your life (especially if that someone is YOU!) that you'd love to lead (cheerlead!) towards a fit, healthy, #plantstrong lifestyle then I feel confident this casual yet actionable chat will be of value.
In this conversation we cover:
Howard's personal health transformation since adopting a plant based lifestyle. 
Why knowing isn't enough.
What Howard learned / implemented regarding behavioural know-how to change behaviour and make it stick.
Howard's Three Necessary Tools.
How individuals can effectively support loved ones towards a healthy (vegan!) lifestyle.
And so much more!
So many A-Ha moments in that conversation for me. I have such respect for how generous and open Howard is with sharing his personal experiences and even initial failures… or better put, struggle-street areas to improve on.
I'm especially intent on coaching both myself and my clients to better embrace those 2 vital components of "Know How" or how to get yourself to do it and to recap they were:
Strong ties, that's the community and people around you. Without this you'll have to work that much harder – every single day – to make a new behaviour stick. And,
Belief that you can. It's more than "back yourself 100%." It means doing the work to really drill down on what is involved, how you'll do it, when you'll do it AND of huge importance it might just mean lowering the bar or reducing your expectations so that you DO believe you can.
I guess it's another way of ensuring you have hope. I'm a firm believer that's it's not a lack of discipline that makes an individual give up, it's a lack of hope that things can be different. When really, if you lower the bar – like I'm going to when I start with 4 minutes interval training tomorrow – when you nurture strong ties, and when you believe you can, that's when you are able to change your behaviour and make it stick.
If like me, you feel like you want to spend more time listening to and learning from Howie's wisdom then I recommend checking out Plant Yourself podcast on iTunes.
I particularly enjoyed E416: Empathy Is Stronger Than Fear with Glen Murphy.
I also loved E425: with Steven C Hayes especially regarding the difference between pain and suffering and also the dictator within.
Grab a FREE copy of Howards eBook Sick To Fit:
Connect with Howard via his home site:
Connect with Howard / Plant Yourself podcast across the socials: Facebook | Instagram | Twitter
Listen to Plant Yourself podcast:
Howard mentioned T. Colin Campbell's book The China Study.
Also, Diet for a New America by John Robbins.
That's it for today in Healthification however surely you've heard – however have you listened yet? My NEW PODCAST all about rockin a #plantstrong lifestyle focusing purely on the POSITIVES is live!
Plant Positive is, a weekly fix of everything good for my vegan friends and the plant based curious.
I chat training tips, self care, good news stories, recipes wins, inspirational vegans plus plenty of eating and exercising motivation.
Simply search Plant Positive wherever you listen to podcasts! If you like the show (either show!) now is the time to rate, review, subscribe and share because there is only one chance for any new show to hit New and Noteworthy and WOW, I want more plant strong representation in the health, fitness and nutrition categories so much! If you do too, then this is your chance to help make it happen!
Till next time, remember Creating a body and life you love is Freedom. (If this ex-carb queen, non genetically gifted, naturally uncoordinated vegan chick can do it – so can YOU!!!
If you liked "How To Change Your Behaviour and Make It Stick with Howard Jacobson" you'll also like E592: James Clear and Atomic Habits, Why True Behaviour Change Is Really Identity Change.
If you liked "How To Change Your Behaviour and Make It Stick with Howard Jacobson" you'll also like 348: Little Habits That Keep You Stuck.
If you liked "How To Change Your Behaviour and Make It Stick with Howard Jacobson" you'll also like Vegan Lifestyle: Top 5 Discipline and Willpower Podcasts / Blogs.
If you liked "How To Change Your Behaviour and Make It Stick with Howard Jacobson" you'll also like E591: '5′ 5 Minute Health Habits To Stop Fighting You!
If you liked "How To Change Your Behaviour and Make It Stick with Howard Jacobson" you'll also like 319: Monday Motivation, How To Master Your Habits.
If you liked "How To Change Your Behaviour and Make It Stick with Howard Jacobson" you'll also like 170: Friday FAQ, Keystone Habits (daily and weekly most effective actions).