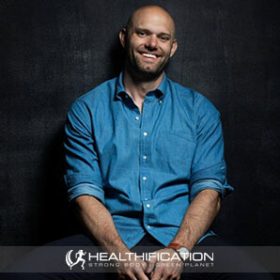 Podcast: Play in new window | Download
Subscribe: RSS
Today's encore podcast is one of my favourite interviews to date. Although I'm of the belief that any time of year is the perfect time to learn How To Build Good Habits & Break Bad Ones, the start of a new year – a new decade no less (!) is an especially perfect time.
I've cover "Atomic Habits" author James Clears impressive bio in the original introduction to our chat to come however I have a few thoughts up front first.
As I publish todays show I'm painfully aware that my good habits are the only thing keeping me somewhat sane right now. Wherever YOU are in the world, I hope you don't feel the same anxiety, fear and frustration that I manage daily however I strongly suspect you do.
You're listening to a podcast about living a happy, healthy, vegan lifestyle that's sustainable for you and the planet… and yet right now, here in Sydney, Australia and I know in so many other areas around this beautiful planet, the environmental devastation we're bringing upon ourselves feels incredibly dire. The greed, selfishness and apathy of those in power – be they governments, industry or heartbreakingly even loved ones, clients and colleagues we interact with daily can be hard to comprehend.
Smart people tell me that "humane meat" is a thing. That climate change isn't a thing. That "we've always had fires" and yet, when I woke up this morning I could just see the sea from my window and now, again it's covered by a thick haze of smoke. Smoke that is seeping in through my closed windows. The smoke is infecting our privileged little bubble in the eastern suburbs of Sydney so what on earth must it be like where the fires are actually burning?
For the first time I'm starting to understand why people stick their heads in the sand when something is just too terrifying to face. Though really, taking animal flesh off your plate is pretty low on the scale of "terrifying" when compared to it feeling like your whole country is on fire and your government does not give a damn.
Let me turn this around because I imagine you're not up for hopeless talk as you finish 2019 and approach 2020!
Your good habits can help you cope with whatever you're facing right now. They can keep you sane in a seemingly insane time. 
Equally, ditching your bad habits can be just as impactful and James Clear is exactly the man to help us with both.
Recently a dear client shared with me what "a positive" person I am. It's absolutely my intention to be that person – especially at work, however it's also absolutely NOT my natural tendency. Here are 5 of the good habits I make happen to stay as sane and as positive as possible:
Prioritise 7-8 hour quality sleep.This help me be more effective and efficient. I also see it as an absolute necessity to replenish your daily discipline quota. Just how great are your eating and exercising choices when you've short changed yourself on sleep?
Plan my day to come the night before. This helps me power into the most impactful / important tasks and steer clear of those things that belong on my Not To Do list.
Meditate. I'm not exaggerating when I call this the most important 10 minutes in my day. The power of meditating is in the 23 hours and 50 minutes each day I'm not doing it and yet I still feel an increased sense of calm and an ability to pause before reacting.
Meal prep and #plantstrong food. 
Daily exercise. 
I could continue on about powerful Keystone Habits such as these 5 – that other good habits form around – however really we should get to the encore show.
This time last year I purchased James Clears book Atomic Habits and I highly recommend it and also his super high value weekly "3 ideas, 2 quotes, 1 question" newsletter. His goal is to be: "The most wisdom per word of any newsletter on the web" and I think he's smashing it. It's the ONLY weekly email I'm excited to open. You can subscribe via jamesclear.com.
You can listen to the original interview, E592 Atomic Habits and Why True Behaviour Change Is Really Identity Change with James Clear here:
James Clear writes about habits and human potential. He's a regular speaker at Fortune 500 companies. His work is used by teams in the NFL, NBA, and MLB. His website jamesclear.com receives millions of visitors each month. Nearly 500,000 subscribe to his weekly e-mail newsletter (including me – I love it) and 1,000's have created better habits at work and home via his online Habits Academy.
Now those numbers are impressive and deservedly so. Who doesn't want to live a better life?
In his New York Times best selling book: Atomic Habits: An Easy & Proven Way to Build Good Habits & Break Bad Ones, James shares evidence-based self-improvement strategies. Atomic Habits will teach you how to make the small changes that will transform your habits and deliver remarkable results.
In this chat we cover:
The event that forced James to start small in rebuilding a lot of his behaviour from scratch.
The problem with goals. 
The importance of tribe in habit change. 
Effective habit feedback loops and the 4 Stages of Habits: 
4 Laws of Behaviour Change.
Gateway habits. 
Never miss twice.
Again, I strongly recommend you check out James articles via https://jamesclear.com and of course Atomic Habits the book via atomichabits.com.
To get actionable today, as you listened to today show did a habit or two jump out at you as something worth revisiting with the Atomic Habits blueprint?
That's it for this week in Healthification. Huge thanks to YOU for sharing this week with me. You rock and I appreciate your support!
The Healthification podcast is proudly bought to you by my FREE 'Easy Vegan' plan. It took me 25 years to transition from a meat eater to a happy, healthy Vegan! You can do it in just 3 days with my simplified 'easy vegan' plan!  Get the fit, strong, and healthy plant based body you deserve… while avoiding ALL the mistakes I made along the way!
Till next time, remember Creating a body and life you love is Freedom. (If this ex-carb queen, non genetically gifted, naturally uncoordinated vegan chick can do it – so can YOU!!!)
If you liked "How To Build Good Habits & Break Bad Ones with James Clear" you'll also like 396: 3 Keys To Maintain Your Best Eating Habits While Traveling (Weekly Wrap 5)
If you liked "How To Build Good Habits & Break Bad Ones with James Clear" you'll also like E591: '5′ 5 Minute Health Habits To Stop Fighting You!
Finally, if you liked "How To Build Good Habits & Break Bad Ones with James Clear" you'll also like 348: Little Habits That Keep You Stuck.