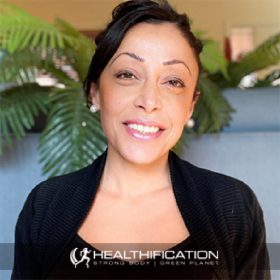 Podcast: Play in new window | Download
Subscribe: RSS
From the abundance of vital and urgent campaigns team Animals Australia work on, today I'm choosing to focus on Australia's Live Export trade and the investigations into this abhorrent practice. Our guide is Animals Australia's Legal Counsel Shatha Hamade who has on the ground experience as an undercover investigator following Australian animals to places they should not be and witnessing cruelty no animal in any country should ever experience.
Plant friends you might expect this conversation to be harrowing and heart breaking.
Certainly there are elements of both and yet also Shatha is so lively, compassionate and I would say wise, that I came away from this chat with both a greater understanding of the existing codes of practice for "farmed" animals here in Australia – that have nothing to do with animal welfare and everything to do with protecting industry – and also a deep hope and gratitude for the work Shatha and indeed the entire team at Animals Australia are doing.
As Shatha and I discuss the difference is not so great between the horrors of live export and the suffering of animals here in Australia. We can all do better. And yet guilt and shame is not the way to get our non vegan loved ones to do better.
For a little official bio: Before coming to Animals Australia, Shatha was a former National Coordinator of the Barristers Animal Welfare Panel, and the Legal Counsel for RSPCA SA, where she ran animal cruelty prosecutions and trials. Shatha's outstanding work as a lawyer has been recognised by the Law Council of Australia by being awarded the Australian Young Lawyer of the Year.
Ok lets discuss
Animals Australia's Live Export Investigations with Shatha Hamade.
In this conversation we cover:
The horrifying long sea journeys and brutal death awaiting Australian animals in destination countries.
Shatha's personal experiences as an undercover investigator.
The current status of the Australian governments regulation of live trade.
The conflict of interest that animal welfare in Australia is governed by the department of agriculture. 
Differing protections offered to animals as "pets" v "livestock."
The Festival of Sacrifice and what it means for animals in the live export industry.
Parallels between the horrors of live export and the suffering of "food animals" here in Australia. 
Underlying mental health, addiction, economic issues prevalent when Shatha was acting as legal counsel for the RSPCA.
And so much more!
When we hear and see such horrific cruelty its tough not to feel anger and despair. I feel it, Shatha feels it and I'm sure you feel it too. It's not a healthy, happy or sustainable place to get stuck in though. 
The more I see everyday Aussies get outraged at animal abuse in "other countries" be it live export, bear bile farming, bull fighting or dog meat… the more I school myself to recognise the shared compassion and subsequent potential we all have to expand our circle of compassion. It means there's hope. Even though the super vast majority of people are moving slower than we would like – the way we hurry them along is with support not shame.
That's one of the many reasons I'm so very grateful to have these conversations and to be able to share them with you.
Not just to spend time with like minded vegans and animal rights activists I respect, ALSO to have that chance to vent – to release – to share how much from time to time I'd just like to shake the head in the sand non-vegans even though I know it's not the effective approach! If you can relate, then I hope these conversations help and I also strongly recommend you reach out to other vegans either online or in person and have the open, honest and uncensored conversations you might prevent yourself form having with non vegans.
I'm sure you know where to find Animals Australis online – they are huge – and yet, as always I'll have all the relevant and useful resources linked up in the show notes below.
Animals Australia website:
Across the socials: YouTube | Instagram | Facebook | Twitter
Watch that Four Corners episode, A Bloody Business.
Animals Australia Live Export FAQ: https://animalsaustralia.org/about/faqs.php#liveanimalexport
That's it for this week in Healthification. Huge thanks to YOU for sharing this week with me. If you've enjoyed this show and gotten value out of it I'd super appreciate it if you pop over to iTunes or wherever you listen to the show and leave me a review.
The Healthification podcast is proudly bought to you by my FREE 'Easy Vegan' plan. It took me 25 years to transition from a meat eater to a happy, healthy Vegan! You can do it in just 3 days with my simplified 'easy vegan' plan!  Get the fit, strong, and healthy plant based body you deserve… while avoiding ALL the mistakes I made along the way!
To learn more check out: strongbodygreenplanet.com
Till next time, remember Creating a body and life you love is Freedom. (If this ex-refined-carb queen, non genetically gifted, naturally uncoordinated vegan chick can do it – so can YOU!!!)
If you liked "Animals Australia's Live Export Investigations with Shatha Hamade." you'll also like 638: PETA's Ingrid Newkirk | Animals Are Not Ours To Experiment On, Eat, Wear, Use For Entertainment or Abuse In Any Other Way.
If you liked "Animals Australia's Live Export Investigations with Shatha Hamade." you'll also like Hogwood: A Modern Horror Story with Viva!'s Juliet Gellatley.
If you liked "Animals Australia's Live Export Investigations with Shatha Hamade." you'll also like Exploding The Myth That Animal Abuse Doesn't Happen In Australia with Farm Transparency Project.