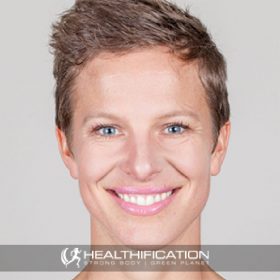 Podcast: Play in new window | Download
Subscribe: RSS
This conversation is about playing a bigger game. Living an un-compromised life.
My guest today is 3x world record cyclist, entrepreneur, business strategist, tedx speaker, world champion triathlete, philanthropist and plant powered adventurer, Kate Strong. That's a lot right? Kate has a fascinating and truely inspiring story and yet she wasn't always so adept at living outside of society's comfort zone and enjoying the extraordinary results that makes possible.
For over 2 decades Kate tried to fit in. At university, she studied Engineering – to please her parents. She also found herself trapped in an incredibly controlling, abusive relationship and then saddled with a massive business debt.
So how did Kate break free, how does it relate to playing a bigger game as a vegan athlete and how can we all prove that we are bigger than our excuses and what society expects from us. Importantly, how can we do this without having to hit rock bottom?
Let's find out, in this fun and insightful chat with plant powered athlete, Kate Strong…
In this conversation we cover:
Kate's becoming vegan story.
The importance of being fit, strong, healthy and happy as a powerful form of advocacy for a vegan lifestyle.
Busting nutrition myths about being a strong, healthy vegan athlete.
Living an un-compromised life! 
How can people awaken a self awareness and drive to challenge what they are capable of without hitting rock bottom? 
Getting out of your comfort zone. What to you tell yourself when you feel like playing it safe.
Switching "beat me up" language for more supportive language. 
In June 2022, Kate is embarking on a world first: The Limitless Challenge all in a 12 month period! It will involve: Cycle coast to coast of USA covering 3,000 miles in the Race Across America. Swim 21 miles across the English Channel. Summit Everest.
Do you know so much in this conversation make me think of "releasing the pressure." The sale imposed pressure we lump on ourselves. And yet Kate is anything but a bludger! She does a lot. She achieves a lot. The learning (for me!) is that you can still be effective – even break world records – without saddling yourself with huge amounts of pressure.
Some times we can switch significance for joyous and curious and be ok with: "No more world changing, it's just a day!"
Ok the 6 core needs that I can't believe I forgot number 6. Certainty. Variety. Love and Connection. Significance. Growth. Contribution.
If you're curious you can search Tony Robbins 6 Core Needs online and I'll also link to the shows I've covered them in below.
Creating A Positive Addiction To A Plant Based Lifestyle (6 core needs)
422: Food Addiction And The 6 Core Needs.
046: Monday Motivation, 6 Core Needs.
Kate's main website:  (Stay tuned to follow Kates work coming soon with her charity: The Limitless Foundation)
Check out the Strong Voice podcast:
Connect with Kate across the socials: LinkedIn | Instagram | Facebook | Twitter | YouTube
That's it for this week in Healthification. Big thanks to YOU for sharing this week with me. You rock and I appreciate your support!
The Healthification podcast is proudly bought to you by my FREE 'Easy Vegan' plan. It took me 25 years to transition from a meat eater to a happy, healthy Vegan! You can do it in just 3 days with my simplified 'easy vegan' plan!  Get the fit, strong, and healthy plant based body you deserve… while avoiding ALL the mistakes I made along the way!
To learn more check out: strongbodygreenplanet.com
Till next time, remember Creating a body and life you love is Freedom. (If this ex-refined-carb queen, non genetically gifted, naturally uncoordinated vegan chick can do it – so can YOU!!!)
If you liked "Kate Strong is Playing a Bigger Game as a Plant Powered Athlete." you'll also like E568: Vegan Athlete Fiona Oakes Is Running For Good.
If you liked "Kate Strong is Playing a Bigger Game as a Plant Powered Athlete." you'll also like E665: Dotsie Bausch, True Strength and Being A Plant Powered Athlete.