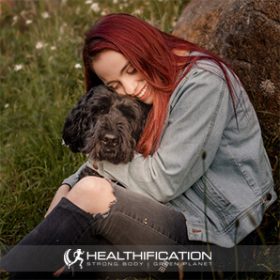 Podcast: Play in new window | Download
Subscribe: RSS
Farm Transparency Project, formerly Aussie Farms, seeks to show Australia exactly what happens behind closed doors, advocating for the rights of animals and debunking the myth that there can be such a thing as the "humane" slaughter of sentient animals who do not want to die.
A perfect – brutal, heartbreaking example is Dominion. Have you watched Dominion? 
This feature-length film explores the morality and validity of our dominion over the animal kingdom. Dominion exposes the dark underbelly of modern animal agriculture through use of drones plus hidden and handheld cameras. It's free to watch online.
Today I'm chatting with Alix Livingstone, the Campaign Director at Farm Transparency Project.
Alix and I discuss how animal agriculture industries rely on secrecy, deception and marketing ploys like "free range" "humanely slaughtered" and "happy cows." The truth is the biggest threat to animal exploitation globally. Accordingly, information – freely and readily accessible – is our greatest and most powerful tool.
Of course it's not a simple or fair fight. Tightening Ag Gag laws are making it even tougher for animal rights activists to get the truth out to consumers regarding the atrocities inflicted on animals in animal agriculture. In FTP's most recent campaign 'The Finish Line,' (horse) Racing NSW has been exposed for extreme animal cruelty. Sadly rather than investigating the cruelty, they are choosing to instead go after the media outlet that exposed the cruelty.
I guess Horse Racing like Animal Agriculture are slow learners. Aussie Farms' (now FTP) Executive Director, Chris Delforce, faced court in 2017 over charges relating to the publication of footage captured inside intensive pig farms and world-first footage of the carbon dioxide gas chambers used in pig slaughterhouses. Those charges were dropped on a technicality. Chris is all too aware that publishing this type of footage will probably end up in court, maybe even with jail time, but that's a battle he's more than willing to fight. 
Whether it's exploiting animals for entertainment, for food, or for anything else none of it is necessary or acceptable. You deserve to know the truth. If you believe That Animal Abuse Doesn't Happen In Australia (or, in your country) please listen to this conversation with an open heart and an open mind.
In this conversation we cover:
Alix's becoming vegan story.
I have so many non-vegan loved ones who refuse to watch Dominion. Alix's advice on how to effectively encourage them to take the blinders off.
Ridiculous marketing ploys such as "humanely slaughtered" and "free range."
The horse as a "gateway" animal for people to understand that animals don't want to be caged and abused.
Alix's thoughts on tightening Ag Gag laws and how animal rights activists can still effectively get the truth out to the public regarding the atrocities inflicted on animals in animal agriculture.
FTP's campaign The Finish Line: NSW racing's retirement plan.
An investigation into the fate of ex-racing thoroughbred and standard bred horses in NSW led to two Sydney knackeries, where hidden cameras captured their brutal slaughter and sale as pet meat.
An investigation into two additional NSW knackeries revealed the ongoing slaughter of ex-racehorses despite the industry's assurances, with numerous breeders including billionaire Gerry Harvey implicated.
The Kindness Project FTP campaign launching in January. This is an exciting initiative that will see FTP expand their scope of advocacy.
I'm so excited to hear of everything FTP have planned for the years to come.
I genuinely cannot think of an organisation that I have more respect for. Time and time again, team FTP have taken on the huge players be it government, corporations or individual billionaires such as Gerry Harvey. They have proven to be utterly uncompromising in sticking to their mission and values and this has at times been in the face of significant public scrutiny and more than that, outrage.
It's not a popular position to point out the blatant cruelty behind the myths and misconceptions and misleading marketing of animal agriculture.
Especially when most people still think it's natural, normal and necessary to eat animals.
You find an abundance of hard-hitting truth via the Farm Transparency Project website.
It's a public repository / gallery for videos, photos, documents and campaign materials (fliers, posters, etc); a knowledge base; and a centre for innovative and creative tools, relating to the animal rights movement in Australia. I regularly refer people to the site when they assure me: "Our animals are killed humanely here in Australia!" because you can basically search for any animal slaughter at any slaughterhouse and see for yourself how humane the deaths are.
Follow Farm Transparency Project across the socials: YouTube | Facebook | Instagram | Twitter
Follow Dominion Movement on Facebook | Instagram
That's it for today in Healthification however before you go…
Are you ready for some good news? A frustration and disappointment free zone?
I'm launching a NEW PODCAST all about rockin a #plantstrong lifestyle however importantly, we're going to focus purely on the POSITIVES!
A weekly fix of everything good for my vegan friends and the plant based curious.
I'll chat training tips, self care, good news stories, recipes wins, inspirational vegans plus plenty of eating and exercising motivation.
To know when this new podcast goes live AND to help me out big time please subscribe to The Healthification Podcast on iTunes as I'll drop the trailer on this podcast feed first:
Till next time, remember Creating a body and life you love is Freedom. (If this ex-carb queen, non genetically gifted, naturally uncoordinated vegan chick can do it – so can YOU!!!
If you liked "Exploding The Myth That Animal Abuse Doesn't Happen In Australia with Farm Transparency Project" you'll also like 624: My Mums Plant Based Journey, How To Transition To Plant Based Without Restriction Or Conflict!
If you liked "Exploding The Myth That Animal Abuse Doesn't Happen In Australia with Farm Transparency Project" you'll also like E619: Ex Ranchers Wife and Rowdy Girl Sanctuary Founder Renee King-Sonnen. 
If you liked "Exploding The Myth That Animal Abuse Doesn't Happen In Australia with Farm Transparency Project" you'll also like Meat The Victims with Animal Activist Leah Doellinger.
If you liked "Exploding The Myth That Animal Abuse Doesn't Happen In Australia with Farm Transparency Project" you'll also like E606: Vegan Rising Campaign Director Kristin Leigh and Debunking Media Propaganda.