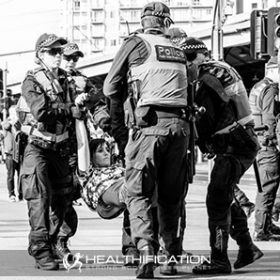 Podcast: Play in new window | Download
Subscribe: RSS
Over 20 year ago when I first moved to Sydney I remember volunteering at the RSPCA. I assumed as many animal lovers do that they were indeed there "for all creatures great and small."
Not long after I secured a job working as a fundraiser on behalf of Greenpeace and that was a proud moment because I had to overcome my debilitating fear of role plays to land that role!
A couple of decades on I still have a lot of respect for the work of Greenpeace. That's despite my colossal disappointment in their resistance to publicly acknowledge the uncomfortable truth that to avoid the worst effects of some of their most prominent campaigns such as climate change and deforestation the world must adopt a plant based diet.
Mortifyingly I harbour no such continued respect for the RSPCA. In fact their financially driven support of the animal harming industry is one of the many things I'm keen to cover in my chat today with animal liberation activist and Vegan Rising campaign director, Kristin Leigh.
Kristin is dedicated to grassroots advocacy, non-violent direct action and politics. She has coordinated many direct actions including rescues, truck blockades and slaughterhouse lockdowns. Kristin was in fact an organiser of the extensively publicised and admittedly polarising Melbourne animal rights actions in response to the Dominion Documentary anniversary.
Let's chat Debunking Media Propaganda with Vegan Rising Campaign Director Kristin Leigh.
In this interview we cover:
The particular catalyst or moment Kristin knew she needed to be vegan.
Media "spin" on animals rights actions and activists / Debunking media propaganda.
How actions like the Dominion anniversary animal rights actions are targeting the system not the farmers.
The RSPCA's relationship with the animal slaughter industry.
How even if you're trying to do "the right thing" you're still perpetuating the cycle.
The unique benefits of direct actions – benefits that we can't achieve with less disruptive forms of animal rights activism.
I'm back on my own and I'd like to apologise for the less than perfect sound quality in this one. Kristin has so much quality advice and experience I wanted to persist though. I couple of points we touched on that I really want to emphasise.
On the matter of: "Why can't people be on the fence"? Can you think of any other social justice movement, or any other form of exploitation and discrimination where it's cool to be "on the fence"?
You're racist or you're not. You're sexist or you're not. You don't just abuse kids or rape women "some of the time" and you don't support other people doing it "some of the time." I genuinely believe in a matter of such horror, urgency and scale you're either part of the problem or part of the solution.  
Equally, a point close to my heart is the crucial truth that vegans are "pro farmer anti animal abuse."
The animal farmer or slaughter house worker is no more a part of the problem than the consumer who chooses to purchase that product and in doing so demand more animal abuse. As a consumer I'm super pro crop farmers. It's actually really simple. If you believe that vegans or animal rights activists are out to ruin the lives of hard working Aussie farmers then you're falling for mainstream media propaganda hell bent on creating the conflict that sells stories and the magnifying the myth that vegans are the extreme ones.
Is the individual who does not want another individual to needlessly suffer for their personal taste, entertainment or convenience the extreme one?
Connect with Kristin online via:
Kristin's home site: VeganRising.org.au and especially Debunking Media Propaganda:
Kristin and I recommend the Dominion Documentary. Watch it at: watchdominion.com
That's it for this week in Healthification. Huge thanks to YOU for sharing this week with me. You rock and I appreciate your support!
The Healthification podcast is proudly bought to you by my FREE 'Easy Vegan' plan. It took me 25 years to transition from a meat eater to a happy, healthy Vegan! You can do it in just 3 days with  my simplified 'easy vegan' plan!  Get the fit, strong, and healthy plant based body you deserve… while avoiding ALL the mistakes I made along the way!
Till next time, remember Creating a body and life you love is Freedom. (If this ex-carb queen, non genetically gifted, naturally uncoordinated vegan chick can do it – so can YOU!!!)
If you liked "Vegan Rising Campaign Director Kristin Leigh and Debunking Media Propaganda" you'll also like, E580: Effective animal rights direct actions and advocacy with Isy Veira.
If you're yet to share the Healthification love – just click here to zip over to iTunes and leave an honest rating and review. It'd help me out big time. With gratitude, Kate.