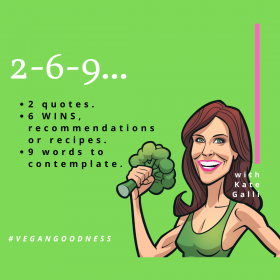 In this weekly email series I'm sharing vegan goodness and good news:
2 quotes.
6 WINS, recommendations or recipes.
9 words to contemplate.
My intention is to provide a little spark of positivity for us both (!) to take into our weekend.
As I write this I've just returned from the most stunning walk in a local park. Time in nature is one of the "Big Rocks" I structure into my weekly routine to stay happy… and sane!
With that in mind this 2-6-9 email is focused on, Self-care.
Often my self-care is reactive, like meditating if I'm feeling a little off however I'm committed to getting better at being proactive. Seeing self-care as an investment. Whatever self-care means to YOU, can you take some time today to prioritise it?
2 Quotes.
"The heaviest things in life are unmade decisions." – Alex Hormozi
"Self-care is an investment in your well-being and happiness." – Deborah Day
6 WINS, Recommendations or Recipes. 
My extra recommendation is to check out vegconomist.com and search "News by Region" to make it relevant to you.
Win: From Vegconomist, Hong Kong's Vitasoy Launches Dairy-Free Greek Yogurt Range in Australia. I used to LOVE yoghurt and it's something I stopped eating when I became vegan. I tried too many disappointing alternatives. And yet, I do love Vitasoy and you can bet I'll be trying their Greek Yoghurt. It is is fortified with calcium, vitamin D and vitamin B12 and has 6.7 grams protein per 100g.
The lesson, as I tell anyone who will listen: Don't give up on a vegan product or recipe just because you had a few bad experiences or a recipe flop! The range of available products is only improving and I am here for it!
Win: Nonprofit research organization Faunalytics analyzed transcripts from interviews with jurors of the Smithfield Foods criminal trial—in which two animal rights activists were found not guilty of "stealing" two piglets from a factory farm in Utah.
Now this is a WIN, because Faunalytics are amazing, because the activists were found not guilty, because the participants all reported being more receptive to animal advocacy and animal welfare after the trial AND because: This qualitative analysis will help advocates understand why jurors sided with the defense, how to potentially apply these findings to future trials, and what forms of animal activism are most convincing.
Faunalytics conducts research and shares knowledge to help advocates help animals effectively. Check them out here:
Recommendation: My 8-Step Guide to Cultivating Self-Care in Your Vegan Lifestyle.
If you follow a vegan lifestyle, practicing self-care can be a sanity saver and at the very least will significantly enhance your overall well-being. Just for FUN I am also getting my S.E.L.F. C.A.R.E. acronym on!
The seventh step is possibly my FAV… Step 7: Realistic Expectations of Yourself and the People You Love. 
Your relationships with loved ones are potentially the toughest most fraught aspect of any big lifestyle change. Consider is your bar of expectation for those around you too high?
My current Go2 so far as lowering the bar to raise my chance of success is: Focus on what I have in common with my loved ones rather than the reverse.
Here is a brief overview of all the steps:
Step 1: Self Talk.
Step 2: Elicit Your Values and Beliefs and use them as a daily filter for your decision making.
Step 3: Lock and Load The Big Rocks That Keep You Happy and Healthy.
Step 4: Filter the People You Spend Time With.
Step 5: Create a Not To Do List.
Step 6: A 24 Hour Digital Detox.
Step 7: Realistic Expectations of You and the People You Love.
Step 8: Easy 5 Minute Fixes.
Check out the FULL post across at the blog:
Recommendation: Highway To Health is a plant-based travel show, with a Rock 'n' Roll twist. Hosted by international touring performers Derrick Green and Tanya O'Callaghan, the show follows these two rock stars on their travels to fascinating locations, meeting incredible guests and eating some outstanding plant-based food! Watch it now via, UnchainedTV:
I had the HUGE pleasure of interviewing Tanya in E746 of The Healthification Podcast. It's a conversation about following your gut, saying Yes and living your life aligned with your values.
RECIPE: My self-care step, Filter the People You Spend Time With refers to both in real life and online. It means filtering out the people that drain you and also filtering IN the people that replenish you. 
One such online individual I turn to is the ever calm and positive Nikki Vegan. Here she shares her Beet and Walnut Veggie Burgers packed with plant protein and fibre: Nothing says self-care like a freezer full of delicious vegan burgers!
NON-RECIPE: If you've been seeing Frozen Yogurt Berry Bark all across your socials, this is a delicious use of dairy free Greek Yogurt!
9 Words to Contemplate.
Vegans, looking after YOU enables sustainable animal rights advocacy.
If you enjoyed this email please share the LOVE with someone who would also find value in it.
They can subscribe to the 269 weekly email here:
See you next week!
Kate Galli
Author of Plant Positive Journal and host of Healthification Podcast.
P.S. Each Sunday the Plant Positive Journal shares a self-care suggestion! Aussie friends right now there is FREE POSTAGE via Etsy!