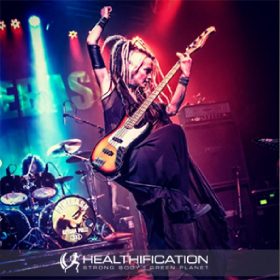 Podcast: Play in new window | Download
Subscribe: RSS
Friends I was so excited to recently discover the work of fabulous touring bassist Tanya O'Callaghan – which funny story, happened when I saw Damien Mander (founder of International Anti Poaching Foundation) post a picture on Instagram and share how at that meal a car pulls up and a guy says:  "you guys look like a team of superheroes or something."
Great call from the random stranger. Aussie former special ops sniper, Damien + former clearance diver Paul de Gelder dining with Tanya and Sepultura frontman Derrick Green. All passionate vegan activists, this foursome are indeed on a mission to save the world and they look the part!
This conversation is about following your gut, saying Yes and absolutely living your life aligned with your values.
Tanya has such fascinating story and exciting life. Get ready for a fun and inspiring ride with a touring musician who uses her considerable platform, influence and connections to advocate for the animals. We discuss Tanya's new project and dream job a culture, plant based food and travel show with Derrick Green. The trailer is out now and once you watch it you'll be as eagerly awaiting the full release as I am.
For a little official bio: Tanya O'Callaghan is a globally established freelance musician, speaker and activist with an eclectic impressive career to date. A lifelong advocate and activist for animal, human and environmental issues. Tanya has toured the world with some of the biggest names in music and continually uses her platform to influence positive change in the world. An entrepreneur and woman on a mission, she also produces and co-hosts an exciting new TV show Highway to Health and is founder and CEO of Plant Potential.
Ok, let's get to it, time to Rock a Highway to Health with Touring Bassist Tanya O'Callaghan!
In this conversation we cover:
Tanya's becoming vegan story.
Staying in great shape as a touring musician.
Tanya's personal approach to sharing the plant based lifestyle with fellow musicians.
The plant based, rock n roll TV series Highway to Health.
Filming (and eating delicious vegan food!) on one of the Sea Shepherd ships
The power of conscious consumerism and the opportunity / responsibility each to us has to make a change. 
Touring the US and the conditions for communities surrounding hog / factory farms.
I hope you loved that chat as much as I did. I hugely recommend you check out Tanya online – and of course stay tuned for the launch of TV series Highway to Health. I cannot wait!
I've always wanted to be wrong! If we woke up in the morning & someone was like we did a study, animals don't feel anything. The environments fine. Nobody's being hurt. I'd be like great, now I can go & have a normal life! Tanya…
Click To Tweet
Tanya's main website:
News on Highway to Health: https://www.highwaytohealthshow.com
Connect with Tanya across the socials: Instagram | Facebook | Twitter | YouTube | LinkedIn
(stay tuned via Instagram to learn about Tanya's new project Plant Potential)
That's it for this week in Healthification. Big thanks to YOU for sharing this week with me. You rock and I appreciate your support!
The Healthification podcast is proudly bought to you by my FREE 'Easy Vegan' plan. It took me 25 years to transition from a meat eater to a happy, healthy Vegan! You can do it in just 3 days with my simplified 'easy vegan' plan!  Get the fit, strong, and healthy plant based body you deserve… while avoiding ALL the mistakes I made along the way!
To learn more check out: strongbodygreenplanet.com
Till next time, remember Creating a body and life you love is Freedom. (If this ex-refined-carb queen, non genetically gifted, naturally uncoordinated vegan chick can do it – so can YOU!!!)
If you liked "Touring Bassist Tanya O'Callaghan is Rocking a Highway to Health." you'll also like Sea Shepherd's Captain Paul Watson and Protecting Marine Wildlife Worldwide with Aggressive Non-violence.
If you liked "Touring Bassist Tanya O'Callaghan is Rocking a Highway to Health." you'll also like E568: Vegan Athlete Fiona Oakes Is Running For Good.