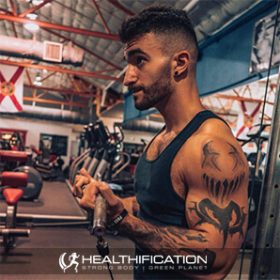 Podcast: Play in new window | Download
Subscribe: RSS
My guest today, Danny Ishay published a unique and insightful video I needed to see! Danny AKA Lifting Vegan Logic is a vegan activist and personal trainer who uses logic, reason, and sarcasm to combat, and cope with, anti-vegan nonsense.
If you find yourself getting increasingly frustrated, disillusioned and disappointed by the attitude of smart, compassionate and generally open minded, even compassionate people that you maybe love or potentially respect from a far who seem to lose their minds (and their intellect) when it comes to eating animals, then I think Danny's video "Why veganism makes smart people stupid" could well be something you need to see too!
Danny and I discuss the cognitive dissonance and potentially the laziness at play in the in congruencies between values and actions of mighty minds like Sam Harris, Jordan Peterson and even my favourite anti vegan, podcast powerhouse: Joe Rogan. 
Danny shares "name the trait" one of the most effective logic tests I've encountered when it comes to the morality of animal abuse.
This is a timely chat. So many of us will be facing conversations with non-vegan loved ones this holiday season who trot out pathetic excuses and perform mental gymnastics to justify why "personal choice" "taste" and even "but, apex predator!" mean more than a thinking, feeling and suffering individuals entire life.
I'm learning (slowly) my worst responses – those most judgemental, hostile and extreme – explode out of my mouth when I'm caught either unprepared and unaware or with even more regularity, when the level of "smart people stupid" I'm hit with, leaves me speechless.
Vegan friends, I hope today's conversation will help you feel both seen in your frustration and better prepared in your calm and effective responses to all those ridiculous dumb excuses we'll sadly continue to encounter for as long as we live in a non vegan world.
Let's discuss, Why veganism makes smart people stupid with Danny Ishay…
In this conversation we cover:
Danny's vegan journey. Did he have some stupid excuses?
Why Veganism Makes Smart People Stupid.
"Name the trait." A super helpful strategy for animal rights activists.
True health being a matter of not just personal health also the health of your family, your community and the planet.
The importance of compassion for animals, for fellow humans and especially self compassion.
Connect with Danny / Lifting Vegan Logic across the socials: YouTube | Facebook | Instagram | Twitter
I especially recommend: All Arguments Against Veganism FULLY DEBUNKED | EVERY SINGLE ONE
And of course: Why Veganism Makes Smart People Stupid.
Also Danny and I discussed the work of Cosmic Sceptic:
I find it to be such a frustrating and infuriating reality that so many smart people are stupid (lazy, greedy, apathetic) when it comes to veganism.
However, that's not very helpful for ME, for the non vegans I interact with OR for the animals is it?
I'm grateful to have individuals such as Danny and Paul Kerton AKA Hench Herbivore pumping out the content that so clearly and often with a decent dose of humour puts the thoughts scrambled in my mind into video. It actually helps to have your thoughts articulated even if (maybe especially if) you're not always the one having to articulate them and deal with the backlash from people you love and respect.
I want to finish 2020 and power into 2021 focused on love and respect. Also compassion and abundance. If you can relate, if you're looking for a little more positivity then you're in luck!
As you listen to this, the first 5 episodes of my NEW PODCAST all about rockin a #plantstrong lifestyle focusing purely on the POSITIVES are live! My intention in the latest, E005 is to share what I wish I knew when I first became vegan and also what I've learnt and am trying to implement so far as vegan festive season food, fun, fitness and fabulous family gatherings… five years on!
To get plant positive with me, simply search Plant Positive wherever you listen to podcasts!
If you like the show (either Plant Positive or Healthification!) now is the time to rate, review, subscribe and share because there is only one chance for any new show to hit New and Noteworthy and that is what gets a show visibility in the mass of 1.6 million podcasts! If you'd like to help get the plant strong message out there, then this is your chance to help make it happen!
Till next time, remember Creating a body and life you love is Freedom. (If this ex-carb queen, non genetically gifted, naturally uncoordinated vegan chick can do it – so can YOU!!!
If you liked "Why Veganism Makes Smart People Stupid with Lifting Vegan Logic" you'll also like E608: Gary Francione, Anna Charlton and Eat Like You Care: An Examination of the Morality of Eating Animals.
If you liked "Why Veganism Makes Smart People Stupid with Lifting Vegan Logic" you'll also like Meat The Victims with Animal Activist Leah Doellinger.
If you liked "Why Veganism Makes Smart People Stupid with Lifting Vegan Logic" you'll also like Hench Herbivore, Ex-Vegans and Being On The Right Side Of History