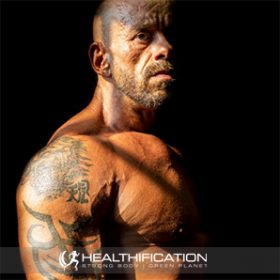 Podcast: Play in new window | Download
Subscribe: RSS
Today I'm chatting with a gentle giant with a fascinating story and somewhat dark past who has become a powerful and passionate voice for the animals.
Personal Trainer and Nutritionist Paul Kerton, aka Hench Herbivore brings a unique blend of science backed hard hitting health and nutrition facts, whole food plant based deliciousness especially geared towards those of us who love to lift (!) and a fair dose of humorous yet brutal response videos to those Ex-Vegans we all know and don't love.
Paul is prolific online and I love the content he's pumping out on his mission to show the world the amazing power of vegan whole foods for both athletic performance and prevention of – even reversal of – chronic disease.
This is a high energy ride with a gent who is leading with strength and love as he proves anyone can be vegan and beyond that, thrive as a fit, strong, happy and healthy whole foods plant based vegan!
Let's chat with Hench Herbivore about Ex-Vegans, Being On The Right Side Of History and so much more…
In this conversation we cover:
Paul's journey into fitness and then later into plant based eating and finally veganism.
Plant Based Gains! What does a day of eating look like when Paul is in more of a bulking phase? How does this compare to what he used to eat? 
Vegan Fat Loss. What does a day of eating look like when cutting?
Paul speaks to some of the things happily missing from a vegan diet.
Paul's health since adopting a whole food vegan lifestyle.
5 things always in Paul's fridge / freezer / pantry.
Ex-Vegans and being on the right side of history.
Who's at the top of Paul's Vegan wish list and WHY?
That was such a fun conversation. If you're yet to check out Paul on YouTube I really do hugely recommend you do. He's nailed that perfect mix of edutainment and as hinted at he has big things coming so stay tuned.
I particularly loved Paul's insights regarding Joe Rogan. Yes, dear long term listeners I do tend to bang on about Joe! However WOW whether there's truth to it in Joe's case or not, I'm sure plenty of us can relate to the loved one that is compassionate in every other way except for their insistence on eating the flesh and excretions of animals.
Loved ones that might generally be well read, loyal to science – even in some regards, open minded AND YET they remain stubbornly resistant to hearing about animal rights or the ethics of veganism.
Humans cling so desperately to our identity beliefs. Those beliefs we know to be true about ourself. We want to believe we are living in alignment with those beliefs.
However as Paul proves we can change our tightly held beliefs, even our identity beliefs. We can also choose that to be strong and to be compassionate is best demonstrated not in the gym yet rather in our respect for and protection of those weaker and more vulnerable than us.
Check out the Hench Herbivore website:
Keep your eyes out for that OIL FREE Vegan Dessert Recipe book coming early December 2020!
Connect with Paul across the socials: YouTube | Facebook | Instagram | Twitter
Tune in to his live streams at 6pm BST Monday, Wednesday, Friday.
A few of the resources and vegan athletes Paul mentioned,
Check out The China Study: The Most Comprehensive Study of Nutrition Ever Conducted And the Startling Implications for Diet, Weight Loss, And Long-term Health via Amazon.
Here's the graph Paul mentioned: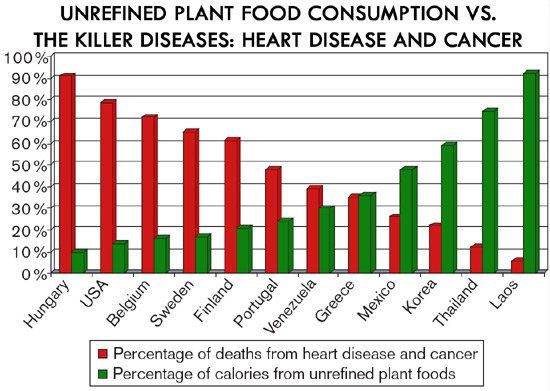 Check out vegan bodybuilder Nimai Delgado and vegan strongman Patrik Baboumian via Instagram:
E706: Are YOU on the Right Side Of History? #ExVegans @HenchHerbivore #vegan #podcast #veganfortheanimals
Click To Tweet
That's it for today in Healthification however before you go – I have exciting news!
Are you ready for some good news? A frustration and disappointment free zone?
I'm launching a NEW PODCAST all about rockin a #plantstrong lifestyle however importantly, we're going to focus purely on the POSITIVES! A weekly fix of everything good for my vegan friends and the plant based curious.
I'll chat training tips, self care, good news stories, recipes wins, inspirational vegans plus plenty of eating and exercising motivation.
To know when this new podcast goes live AND to help me out big time please subscribe to The Healthification Podcast on iTunes as I'll drop the trailer on this podcast feed first:
Till next time, remember Creating a body and life you love is Freedom. (If this ex-carb queen, non genetically gifted, naturally uncoordinated vegan chick can do it – so can YOU!!!
If you liked "Hench Herbivore, Ex-Vegans and Being On The Right Side Of History" you'll also like E644: Torre Washington and Thriving On Plants as a Vegan Bodybuilder.
If you liked "Hench Herbivore, Ex-Vegans and Being On The Right Side Of History" you'll also like E665: Dotsie Bausch, True Strength and Being A Plant Powered Athlete.
If you liked "Hench Herbivore, Ex-Vegans and Being On The Right Side Of History" you'll also like E643: Why Joe Rogan Will Become Vegan (Busting The Meathead Myths)