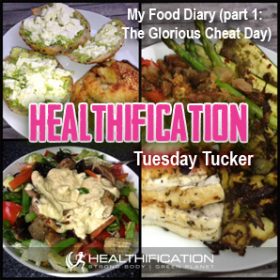 Podcast: Play in new window | Download
Subscribe: RSS
There are a few common assumptions shared in almost every conversation I have with someone who is looking to shed some fat.
Whether it's a new client. A friend who hasn't spent a full day with me. Or even a random stranger in a pub.
These assumptions are lethal to leanness. They are friends to fat.
And if YOU share them, they will absolutely limit your ability to achieve your body gain goal.
So I decided to document a couple of days in my regular eating week.
In todays Tuesday Tucker show I'll cover part one: The Glorious Cheat Day:
Download Top 10 Tuesday Tucker FREE PDF
I stick to an extended cheat meal every Sunday… so Yes, it's more a MEAL rather than a DAY…  I cover why I don't risk a whole day of over-indulging in the #047 show.
In next weeks Tuesday Tucker show I'll cover part two: An Ideal Fat Burning Day:
That's the approach I follow Monday to Friday with a similar yet more relaxed approach Saturday… anyway that'll be the #232 show.
A couple of caveats before we begin:
One: this is Kate in 'maintenance mode' (which is my goal around 50 weeks a year).
About once every 12 months I get caught up in the 'get in my best shape EVER' hype and try to stick to a stricter regime which produces negligible to non-existant results… you'd think I'd learn right?
=> Having said that, unless your goal is the same as mine body fat % wise (and most people I meet tell me their goal is not the same as mine), an approach such as this followed 80-90% of the time will get you awesome results.
Two: I choose to include my most fav #1 VICE, SHIRAZ in my regular eating week… if I didn't my food could be more relaxed. An attraction to vice is natural and human and FUN. I believe your vices can and should be worked into your regular eating week. What is too much of a good thing?
=> When your immediate-gratification-love-of-vice is detracting from the things that are long term most important to you or necessary to function and contribute. Your relationships. Your career. Your health.
Ok, let's roll with Sunday: Rest day AND Cheat Day.
Breakfast: A large cape-seed roll cut into 2-3 slices, toasted and spread with avocado, salt, pesto.
plus a spelt scone, usually apple, some sort of berry and almond.
=> fresh bread is my most fav thing. I love it. It'll always be a generous serve. I'd rather have the equivalent of 6 pieces of bread over Sat and Sunday than 1 piece a day over 6 days. That's just how I work. If I was a chocolate person I'd have a bar or two on the weekend rather than 2 torturous squares each night!
I also have a couple of coffees. Usually one home made with almond milk and natvia… and one almond flat white. Most places finally sell almond milk now.
Morning tea: another coffee with almond milk and natvia + 2 protein pancakes. The protein pancakes are 4 egg whites, a heaped scoop of protein powder and 1/2 a sachet of Natvia. Beaten (egg whites alone first then all together) till super stiff and cooked like a big fluffy pancake in a frypan wiped with coconut oil.
=> I'm not hungry at this point, I just like to eat, and on Sunday I'm ok with it.
I'd like to drink only 1-2 coffees a day however currently they are 'that little treat' that does not affect my body composition and gives me great pleasure, so for now the 'liquid gold' stays.
I've toyed with the idea of dropping protein powder (except straight after my weights sessions as it's the most reliable fast fuel for your muscles). Yes, I preach one ingredient foods and protein powder is really fake.
Here's the thing:
I don't believe there is a PERFECT BALANCE so far as perfect food and total satisfaction and enjoyment and loving the way your body looks.
Letting go of 'perfect food' 100% of the time and having a tiny bit of fake in my routine let's me eat till I'm full and satisfied. It allows me to get away with some emotional eating. Finally, I genuinely believe it's the only way I can stay as lean and muscly as I want without eating meat.
I've recently swapped to raw vegan protein powder (it's still yum) so I feel a LOT better about that.
Lunch: a massive salad. Green leaves with undressed coleslaw plus tomato, avocado, spring onion, capsicum, coriander. Topped with mixed frozen veg and some fresh baked veg like mushroom and cauliflower. Dressed with balsamic, pesto (80% of the time dairy free) and my home made zucchini hummus. This salad will often have 20+ different veg… and the serve is huge enough that when I make it for others they tell me to stop adding to their bowl!
Followed by 2 more protein pancakes… and often another coffee.
(Yes, I'm pretty stuffed by now)
Enter… 'Danger Time'
4/5PM = VINO O'CLOCK: I often catch up with mates on a Sunday afternoon. My local is a short 15 minute walk, as it happened this Sunday the vino's were going down especially well!
I won't lie to you. I had 6 glasses of Shiraz.
This used to be my DANGER TIME. Most of my Sunday buddies drink beer, which on a gorgeous Sunday arvo, in a pumping beer garden is somewhat more appealing than red wine. However for a couple of years I've stuck to no beer and alternate between wine and vodka soda fresh lime. I made the change when I decided I love being my goal shape more than beer.
Like most body gain choices it may not initially be easy, however it is simple.
This week it was pretty rubbish weather… so the wine was more appealing.
The hot chips were also pretty appealing!
Once I start I become an outta-control-chip-gobbling-monster because fresh golden crispy fries truly are a trigger food for me. So now I just don't start. Not even one. (I promise!)
I always walk hom from the pub (it brings my Sunday exercise to a total of 60 minutes incidental walking because I also walked to the bakery for breakfast) For the walk home I might grab a 50 gram bag of roasted salted cashews.
=> I was pretty starving and aware that I wanted to wake up fresh at 4.30am so although salted cashews are not a normal part of my Sunday evening, I'm totally ok with them.
Dinner: fresh barramundi and veg.
=> regardless of what I've had to drink I will always have a proper dinner.  120-180 grams of fresh Barramundi or Snapper fillet with an assortment of baked/roasted/stri-fried veg is my most common Go2Dinner.  Sundays' exhibit may not always look as pretty as a normal dinner (!) however it's still going to consist of plenty of fibrous veg and lean protein cooked with some good fat in the form of olive oil and coconut oil.
Dessert: 2 more protein pancakes. Yes, I'm addicted.
=> I don't 'need' these after 150 grams of fish, however I want them.
I'm a fan of finishing 'Cheat Day' with the awesome fuel you regularly fuel your body. To be honest I now crave fresh and micronutrient rich food anyway. However it wasn't always that way. You crave what you eat and I used to be a processed-carb-demolishing-machine. I'm conscious that bad habits are really easy to let back into your routine.
As quick as you can say, "pop into the bakery for a couple of extra cape-seed rolls" I'd be back at bread for breakfast and lunch, pasta and bread for dinner and cereal or bread (!) for snacks.
Ok, that bring us to the end of my Glorious Cheat Day… and if perhaps you're thinking, WOW that sounds pretty damn UN-cheaty (!) you're probably right.
I've upgraded my cheat days as I've upgraded my ideal fat burning days over the years. Always at the pace I was ready for and that's what I recommend to you. I simply don't want the stuff I used to want… and believe me Cheat Day used to mean extra crispy hot chips, Golden Gaytime ice-cream (I think only my Aussie friends will know the joy of this ice-cream!) and Malteser's…
To get actionable today I'd love to know: What is your #1 Vice and do you successfully work it into your regular routine or save it up for cheat day?
That's it for today… in tomorrows Wednesday Weigh-in show I'm covering: Self Respect.
If you liked this you'll also like: My Food Diary: Cheat Day + Ideal Fat Burning Day. (part two)
If you're yet to share the Healthification love – just click here to zip over to iTunes and leave an honest rating and review. It'd help me out big time. With gratitude, Kate.