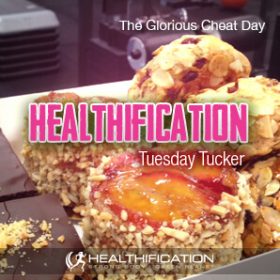 Podcast: Play in new window | Download
Subscribe: RSS
Have you met that rare person for whom food is just a fuel?  A necessity to live yet sometimes an inconvenience.  This person has zero emotional attachment to food and this person is absolutely NOT me!  I LOVE food.
If you have a strong emotional attachment to food, if you are completely unable to stop at just one torturous square of chocolate or 6 measly cashews and yet you want both the results of eating the food that best fuels your body AND also the enjoyment of devouring generous quantities of your most favourite foods… then todays tucker show is for you. Today is devoted to: The Glorious Cheat Day.
From a purely hormonal point of view the cheat day is worth considering. Here's Why:
After just a week of dieting your levels of natural appetite suppressant hormone leptin can drop significantly. This can explain those times when you know you should be full – however you don't feel full.
One day of cheating and leptin levels are back to baseline and effectively signalling to your stomach when you'll full.
I believe of far greater importance are the emotional and habit forming benefits of a cheat day:
1. No matter where you are in your week, you know you're only a few days from your cheat day. This will help you stay focused.
2. You appreciate cheat day food so much more when it's once a week rather than every day… and you get to enjoy a generous serving that does not just tease you and leave you feeling restricted and unsatisfied. 
3. Equally you get into a clean eating routine during the week in which your taste-buds adjust to how good fresh food can taste… rather than letting fake flavour enhanced food corrupt every meal which leaves you craving more vicious-cycle continuing crap-o-la.
4. You have clear structure and guidelines and don't have to waste energy thinking "can I get away with eating this?" or "what should I cut out so I can have this?" …further to your guidelines you're not creating bad habits and then struggling to break them each week.
So the scenario may look like this:
You worked late last night and slept a little longer this morning leaving no time for breakfast at home… when passing the cafe outside work the self negotiation starts with "can I get away with grabbing a quick muffin and cappuccino?" You see flavour of the day is apple cinnamon and they look extra deliciously decadent and you convince yourself "I'll cut out the bread at lunch" as you grab one. Whether you skip the bread or not and whether you work back late tonight again or not the fact remains that muffin you see at the cafe tomorrow is going to be a little tougher to decline.
The rule with habits is: bad habits are super easy to make… and hard on your body to keep.
and good habits are hard to make… and easy on your body to keep.
So schedule that muffin for cheat day ok?
It's probably an easy sell on why you should give cheat days a go.  Here are 3 keys to make them work for you:
1. By cheat day I really mean cheat meal or 2.  
Have a time-frame and a quantity of food that allows you to feel satisfied yet not stuffed, sick and sorry. So perhaps it's dinner and dessert Saturday or breakfast and morning tea Sunday… however if you start with an excessive meal out Friday night which quickly gathers momentum into an all-out-weekend-binge-fest then:
A) You're going to undo all the awesome clean eating progress you're made this week.
B) You're going to find it super tough to put the breaks on that binge-fest come Monday morning.
2. Talking quantities… either eat out or buys enough only for the serving you intend on having. If you have any tendencies to emotional eating whatsoever then there is not place for tempting cheat days left-overs living at your house.
3. Quality counts… and you crave what you eat. So even though cheat day is the day you indulge in the foods that do not form a part of your regular eating routine you're going to make it much easier on yourself if you still choose high quality food. Carbie, fatty gourmet pizza, hot chips and dark chocolate are awesome. However that certain fast food bucket of fried chicken with cola with mashed potato and gravy… or any of it's fake-food equivalents are 100% not. WHY?
The potato alone contains over 25 ingredients, most of wish I can't pronounce. That's not even with gravy, add another 29 ingredients at least for gravy. To be blunt: your body does not deserve that excuse for food.
If you're curious to see what sort of foods and quantities can work well on a cheat day check out the link to a popular food diary post below in which I share a cheat day of mine.
Time to get actionable.
What is ONE food that you currently consume daily that you know you'd see results for allocating to a once a week cheat day indulgence instead of an every day habit?  Maybe 3.30-i-tis chocolate or biscuits? Possibly more'ish chips or nuts before dinner? Perhaps crackers and cheese or ice-cream after dinner?
If you liked this you'll also like: My Food Diary: Cheat Day + Ideal Fat Burning Day. (part one)
If you're yet to share the Healthification love – just click here to zip over to iTunes and leave an honest rating and review. It'd help me out big time. With gratitude, Kate.