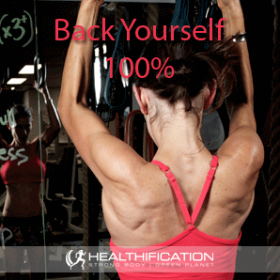 Podcast: Play in new window | Download
Subscribe: RSS
Today I'm weighing in on a weighty subject!
Let's chat: Self Respect and first up a question, Do You Expect Others To Respect You More Than YOU Respect YOU?
The thing is, we teach others how to treat us.
So the lead, the example so far as the respect you are due, needs to come first from you.
It's been a while since I've done an acronym based show and you know I love a good acronym… so I have one for you today!
Let's roll with, 7 Self Respect Essentials that absolutely apply to achieving your body gain goal:
1). RECOGNISE That You Are Unique and that rocks AND as such, let go of the comparison game.
Ahhhh, the comparison game… it's absolutely something I find myself playing from time to time.
The thing is we've all been dealt different cards – it'd be boring if we hadn't – and as natural as it is to compare… as Sally Hogshead so rightly puts it in her book Fascinate: "The greatest value you can add is to become more of yourself."
That's actually really comforting to hear right?
Because the one thing that no one can ever do better than you is to be you.
2). EXPAND On Your Success's.
I'm back on my old what you focus on will expand hobby horse.
I dedicated the very first 001 show of Healthification to Focus. I'll even go so far as to say the ability to focus on what you want and your success's is the number one law of weight loss or as I prefer, Body Gain.
It's natural to respect successful people… so 'E' is to expand on by focusing on, Your Success's. If that doesn't come naturally – ME TOO! – I'm still at the point where I have to do it consciously. So each night I write down one reference point for success. It'll become natural to focus on all I'm succeeding in at some point… however till then I'll stick to my habit of making it happen one reference for success as a time.
3). SELF-TALK.
That's the lil devil on your shoulder thoughts that muscle their way into your mind and eat away at your resolve.
Those thoughts that you would not accept if your sisters boyfriend directed them at her… "Do you really think you should be eating that fatso?" Likely you wouldn't even stand for them levelled at you by your best friend. "Ok, so ummm how long do you think you'll be able to stick with it this time – 24 hours maybe?" Yet the way you talk to yourself?
The lil devil UN-supportive-thoughts do not deserve air-time in your mind and it is 100% your responsibility to show them the door.
4). PRIORITISING Daily Health Habits.
Now this may be a little brutal… however I'm going to roll with it anyway: the time for ignorant bliss expired around 5 maybe 10 maybe 20 years ago… except some of us are still clinging to the "I'll pretend I don't know clause."
I remember when Maccer's was my most fav meal. The one I'd request when mum offered to cook anything for my birthday. And we ate it once a week… we ate Kentucky Fried Cruelty too (and it was always my least fav). However NOW, now that the we really do know what goes into making our past-fav-fast-foods well the honest question becomes: Would you feed that to your new-born child?
Would you feed it to your dog? If you're wavering: Would you feed it to your Melbourne Cup winning race horse?
I really hope not. And I REALLY hope you wouldn't feed it to YOU either.
The jury is out on regular exercise too. As much as our body really does not need to be fed processed crap-o-la it really does need to engage in regular exercise. We've given the sedentary lifestyle a really good go, and the results are absolutely RUBBISH.
From a place of self respect and more so self love: your body 100% deserves great, natural, nourishing, energy giving food and regular exercise.
5). EVICT Anything/Anyone That No Longer Serves You, Grows You or Makes You Happy.
We've all been here. In hindsight I lived here for a few years.
It's a tough one because of that sneaky little hidden benefit – AKA SECONDARY GAIN – that ALL things that long term don't serve us, grow us or make us happy still give us… however with the painful, slowly learnt wisedom of hindsight I'd now embrace the short term pain of ripping off a bandaid and evicting something or someone from my life any day over allowing a festering self respect eroding pain to build day by ever more miserable day.
6). CLEAN-SLATE So Far As Past Mistakes or Failures.
It's hard to stay motivated when the worst case scenario or past failures are at the forefront of your mind.
It's easy to resort to a "why bother I always stuff it up" or "as if it'll make any difference anyway" mentality.
And, this is where I call FOUL. No More. You can focus on the future and feed your good thoughts and they will grow or your can be defined by your past and feed your destructive-devil-thoughts and they will grow. Your choice.
7). TRUE To Yourself.
Being true to yourself means living aligned with your Values and your Beliefs. Rather than pandering to societies ideals… which is utterly unsustainable AND will leave you feeling both incongruent and unsatisfied.
The hidden benefit to being true to yourself and living aligned with your personal values and ideals is that decision making becomes easy.
You get to break free of any "Will I, or won't I?" self negotiation AND stop wasting energy reasoning yourself into why you don't need to do the do.
=> Will I make my scheduled walk happen – in the wind and rain – this morning?
=> Will I be the odd one out NOT gobbling those golden and crispy hot chips that race straight to my hips and thighs?
=> Will I get up 5 minutes earlier to prepare an awesome breakfast?
The decision making process is eliminated. You simply do the do because that gets you the result that is aligned with your values and your beliefs.
So, there you have it. 7 Self Respect Essentials. To recap:
1). RECOGNISE That You Are Unique and that rocks AND as such, let go of the comparison game.
2). EXPAND On Your Success's.
3). SELF-TALK.
4). PRIORITISING Daily Health Habits.
5). EVICT Anything/Anyone That No Longer Serves You, Grows You or Makes You Happy.
6). CLEAN-SLATE So Far As Past Mistakes or Failures.
7). TRUE To Yourself.
To get actionable today – you've likely guessed – you know my style by now right?
Is there one that stands out for you? Like Recognise and let go of the comparison game stands out for me? That is your (and my) action step today, to practice the self respect essential that needs the most work.
That's it for today. In tomorrows Thursday Training show I share: Fav Work-out This Week #6. I hope you can join me.
If you liked this you'll also like: Will Power: 6 Steps to Build Your Self Control Muscle. (part 2.)
If you're yet to share the Healthification love – just click here to zip over to iTunes and leave an honest rating and review. It'd help me out big time. With gratitude, Kate.