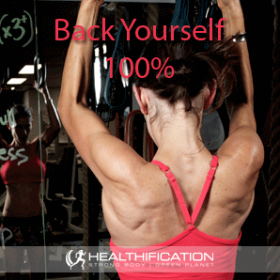 Podcast: Play in new window | Download
Subscribe: RSS
Don't think of chocolate cup-cake.
Easier said than done right?  To NOT think of that delish cupcake gorgeousness… first you must think of the pesky little cupcake right?  Actually I'm not huge on cupcakes… I'm more a hot chips sorta girl myself, however before we get carried away with the most irresistible food treats I'd like to say welcome and thank you, it's awesome to share this time with you.
Today is all about the number one law of weight loss:
Focus. 
For better or worse what you focus on expands.
Now there's the science'y explanation that tells us each moment 3 million bits of info hits our 5 senses and to cope we filter them down to 134 bits and then a further 7 chunks of info.
What we filter in and filter out is based on our unique experiences, values and beliefs… or more so how we choose to interpret our unique experiences, values and beliefs.
The non science'y example is when you're focusing on how awkward, uncomfortable or out of your depth you feel – perhaps it's talking to someone you look up to or maybe when you're about to present to a group of people isn't it just always the way that that brings out the awkwardness in you??? Or perhaps it's when you become an insecure mess in front of that dude or dudette you like. HA, yes I've been there.
If what you focus on expands then doesn't it make sense to focus only on what you want more of?
=> To focus on the firm butt and toned thighs you're sculpting as you do your lunges… rather than dwell on how fat and flabby you're feeling.  Every single repetition I'm thinking firm butt, toned thighs and I can tell you it works!
=> To focus on how much easier it is to get to the gym today then it was when you first started and how much stronger, fitter and less self conscious you're feeling.
=> Perhaps to focus on how much sweeter fruit and vegetables taste once you've upgraded those fake and processed addictive craving causing refined carbs. (more on that in tomorrows show on one ingredient fat fighting foods)
Apart from what you focus on expands – and you want the good stuff to expand… is the simple fact that life is more fun when you focus on what's good.  Or what could be good if you chose to see it that way.
It's my intention to make these daily shows short and actionable so here's today's action step:
At the end of each day focus on 3 things you were AWESOME at today so far as your health.
It doesn't matter how minor, the point is you're building up your reference points for success and what you focus on expands!
I'm going to end each Motivation show with a quote and todays I'll hand over to Brian Tracy and his words of wisdom…
"The key to success is to focus our conscious mind on things we desire not things we fear".
If you liked this you'll also like: How Gratitude Focus And That One Little Thing Will Help With Weight Loss