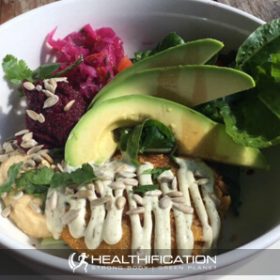 Podcast: Play in new window | Download
Subscribe: RSS
All these fabulous fat fighting foods have something in common… from avocado, brussels, cauli and nuts, to apples, bananas, capsicum and legumes.
Have you guessed it?  These fantastic fuel choices have… One Ingredient.
Today we're making eating to lose weight simple: by eating primarily
One Ingredient Foods.
Knowing what to eat to lose weight can be confusing. Measuring and calorie counting is restrictive and tedious and plain unfun. I've absolutely been there.
For many years I followed a super restrictive low fat – actually closer to a NO FAT diet.
I was definitely a fat-a-phob.
I'd fill up or light this or reduced fat that… generally stuff that advertised to me how 'healthy' it was – that's a pretty good tip in hindsight.  If something needs to tell you how healthy or light or good for you it is… if it needs to have that marketing slapped all over its 'packaging' then it's likely not all that good for you.
And, in truth, I never really filled up either – I was never satisfied and always craving more fake, processed food.
But nothing tastes as good as being thin feels right?
Personally I prefer lean and buff and I wasn't either… I was sorta skinny fat with a scrawny upper body, a chunky lower body and zero energy.
Scrutinising all that tiny print on packaged food is exhausting right?
In all seriousness it took me way too long to discover how easy the one ingredient food approach makes weight loss. Of course it's not doable 100% of the time, however 80% of the time – or 80% of your food is going to get you awesome results… and awesome is good enough for me!
If you're keen to give the one ingredient approach a go here are 3 immediate benefits you'll enjoy: 
=> You get to eat more. Pretty much as much as you want. A big, colourful feast that's appealing to your stomachs eye! My best advice is to build your meals around fibrous veg – substantial, nutrient rich veg like spinach, broccoli, mushroom and capsicum.  Next add 50-100 grams of your #plantstrong protein of choice. Finish with some good fat like avocado, nuts, seeds.
=> You'll feel satisfied… and if you want to – full.  I've never been a fan of that whole don't eat until you're full approach.  Yes, I want to have a tonne of energy however sometimes I also really do just want to devour a massive meal!  That's me.  The mix of filling fibrous veg and satisfying lean protein and good fat will leave you satisfied and happy.
=> Those annoying cravings that used to stalk your every thought when you were stuck on the addictive fake food cycle will disappear.  The reason for this is two-fold.
One: Those fake foods are manufactured to addict you.  Millions of dollars are spent on finding the prefect mix of fatty, salty and sweet to make it near impossible to stop once you start eating them.
Two: Your body is craving the micro-nutrients you are missing when you consume fake foods at the expense of one ingredient foods.  More fake food will only feed the cycle not fix your craving.
Are you sold on the one ingredient approach?
If so, here's todays action step:
Swap one refined food for a one ingredient food or two at each main meal.
Perhaps toast and eggs swaps to tofu scramble with avocado and mushies at breakie.
Maybe some nuts, extra fibrous veg like broccoli or 4 bean mix in your salad rather than the chocolate bar you've been following that light-weight salad with.
How about a dash of balsamic and sprinkle of hemp seeds instead of store bought mayo or dressing at dinner.
Woohoo, and that's a wrap on Healthification #2 – the first Tucker show.
Thank you for spending this time with me… I value your time and would love to hear from you, especially if you have any questions I can help with in the Frequently Asked Questions show each Friday.
If you liked this you'll also like: 7 Sneaky UNHealthy 'Health Foods' (and what I now eat instead)