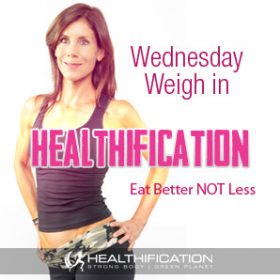 Podcast: Play in new window | Download
Subscribe: RSS
"WOW, so you're the weight loss girl and you're sitting down to a plate of food that size?"
I encounter comments such as this fairly frequently and it still surprises me how many people believe restriction, discipline AND EATING LESS is the way to get or stay fit and lean.
Today I'm weighing in on why you need to ditch restrictive diets to enjoy sustainable weight loss results, specifically lets talk:
Eating Better Not Less.
Perhaps in the past those restrictive diets have gotten you or someone you know results?
The key here is 'in the past' …how you eat needs to be sustainable.  Unless you have zero emotional attachment to food, sustainable does not only apply to the time and cost involved – it also needs to tick the enjoyment box.  If you LOVE to eat, as I do, then you need to find the approach that let's you love the eating process and love the results.
I have 3 questions to apply to any new approach to eating:
=> Is this something you can do for more than 30 days?
=> Is this a way of eating that can fit in with travel, holidays and major life events?
=> Does this way of eating educate you on what food keeps your body looking and feeling great?
So, if for example after 30 days of hanging on in there with a new diet you were unexpectedly jetted off to a country half a world away for a week long work trip – and for the sake of my imaginary little scenario they're putting you up in room with a fully equipped kitchen but not paying for your meals – and so, lets say you find yourself in a supermarket, in this new country looking to start from scratch with meals to prepare for the duration of the trip… Would you have any idea what to do?  Or would the 'whole diet thing' be on hold till you got back home?
Todays action step is in relation to how you think about your food.
To make it easier to succeed at the better not less game view your food as the best possible fuel for your body. Rather than something to be restricted or something to try and 'get away with' it's something to give your body.
You and your body are a team – it's about working together not fighting each other.
I hope I haven't lost you here – yes, I take this stuff seriously – I hate to hear how people 'can't eat this' or 'have to eat that' ….that's really not the language and not the mindset that will make eating great food easy. Once you focus on what is awesome about the food that will get you great results then eating more of that food will become easy.
Perhaps you can focus on how eating better food means:
=> you are setting an example you would love your kids to follow and each day it only gets easier
=> you have more energy and less bloating and less annoying cravings
=> you're losing fat and gaining confidence
Back to that action step for today: what I would love for you to do, for at least 7 days, is to switch your food focus to: What is the best possible fuel I can give my body?
That's it for me today I'll be back tomorrow with Thursday training where we talk fat loss moves to choose your curves.
If you liked this you'll also like: How To Maximize Your Daily Eating and Exercise Discipline.