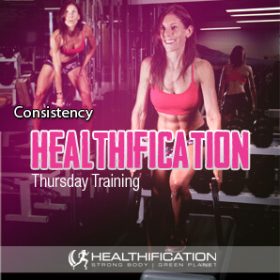 Podcast: Play in new window | Download
Subscribe: RSS
It's often the case that the unsexy advice gets you the sexy results.
That is 100% true in this first Healthification 'Training' show. The one thing that is going to give you the best results is not the perfect program, or the flashest gym – its certainly NOT the flashiest personal trainer!
It's plain old consistency.
Of course I have my most preferred, most effective and most efficient ways to train to get fit and lean – and I'll cover them all in future shows – however, there are limitless training approaches that will work, the only thing they all have in common is for any of them to work you need consistency.
So, easier said than done right?
When I first joined the gym I didn't stick with it.
I joined because my father said "Kate, it'd be good for you."  In hindsight I'm sure it was a tactic on his behalf to try and get me to cut back on late nights out and wasted mornings slept away.
The gym was just something I did from time to time for a while without a specific goal and my results reflected that level of effort and consistency… or lack there-of.
So I gave up.  
Until a couple of years later when I decided on exactly how I wanted my body to look and saw that everyone who already had 'that body' prioritised regular weight training.
Beyond a specific and compelling goal…
Here are 3 more keys to help you get and stay consistent with your training:
=> lock and load set training days and times.  This means you get to avoid that "will I, won't I" self negotiation that happens when you still have days left in the week to fit in your 2 remaining sessions.  I like to incorporate some form of moving 6 days a week as that's easy to NOT talk yourself out of.  One day is rest day and the rest are exercise days.  Whatever you choose, make sure it is a manageable amount to achieve on your busiest week NOT the super ideal schedule that is daunting and will never actually get done.
=> ensure your training is not dependent on circumstances beyond your control, like weather or a training buddy.  Or, if it is, sort your alternatives – before you need them!
=> choose a form of training that you enjoy or at the very least could learn to enjoy. My caveat is that initially you might not enjoy it, because initially you might not be good at it.  You can think of something you would like to be good at though… and you'll get there.  Or at the very least something you would like the results for being good at.  My point is you're fighting a loosing battle if you're naturally uncoordinated, don't like group exercise and prefer training first thing in the morning and you agree to attend Zumba in the evenings with your girlfriend.
Todays action step is: to lock and load a set, yet achievable training plan for the week to come.  If you have one already – that is awesome.
Were you consistent last week?  If you were, then go you, that rocks!  However, if you're consistently not hitting your training plan or if you don't have one yet NOW is your chance to make it happen.
Here are some links to some of my fav programs:
Bat wing free zone (quick shoulders and triceps work-out):
3 Keys to Trade In Your But's For Booty Love!
Fat Loss Moves To Choose Your Curves:
I hope you join me for the Frequently Asked Question show tomorrow, where I'll share: How To Start An Ideal Fat Burning Day.
If you liked this you'll also like: Consistency for Fat Loss v. Lean & Cut to Swallowed a Sheep!