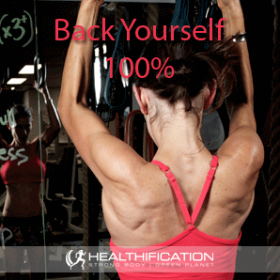 Podcast: Play in new window | Download
Subscribe: RSS
Do you have a value that drives everything you do?
You don't have to however it makes every decision easier. Mine is FREEDOM.
In today's show I want to dig deep with a concept that I recently heard Seth Godin discuss: The Desire For Freedom v. The Fear Of Freedom.
It's sounds absurd right?
Who would fear freedom? However as Seth describes its all too common to be a 'freedom dancer' to say you want freedom and then to recoil from freedom because of all it brings.
Whether it's the freedom to:
Stand up for what you believe to be true and speak out against what you know to be wrong.
Be vulnerable enough to truly connect.
Back yourself to achieve your huge goals and to engage in activities that matter.
To be the unique, weird, MAD contrarian that walks your own path and ruffles some feathers along the way….
Or of course it may be the freedom to rock around in a body you feel confident and congruent in 24/7.
At its core with freedom comes responsibility.
The ability to accept 100% responsibility is a prerequisite for success in the body gain game and I imagine in all else.
However there's more to consider… and that is why it's tempting to sacrifice freedom in return for NOT having to take responsibility.
For a start accepting responsibility means giving up on the secondary gain of what you've previously been able to avoid.
Secondary gain is that SECRET BENEFIT you get to a certain course of action or inaction.
=> Perhaps that you don't need to look stupid learning a new skill… By the way, if that new skill is lifting weights – you don't look stupid – I respect the fact that you're willing to get out of your comfort zone and make a start.
Or my personal to-work-on: I don't want to look stupid asking for help… if you can relate, my question to you (and ME!) is, Do you think the person who genuinely and respectfully asks you for help is stupid or are you  happy to help… and also you admire their ability to ask instead of staying stuck?
=> Maybe secondary gain is those convenience excuses you get to lead with and flaunt when something is getting a little uncomfortable… the "I just have to ask my boss, partner… second-cousins-sisters-dog!"
Or the most common convenient excuse: "I don't have time" which really means "I haven't taken responsibility for prioritizing how I choose to use my time".
=> Possibly secondary gain is even the camaraderie you have with other freedom dancers (perhaps loved ones and close friends) who recoil away from the responsibility that freedom would necessitate.
As easy as it is to bond over the cake you have to eat OR the exercise session you skipped in favour of after work drinks OR any number of seemingly-insignificant-responsibility-evading-actions your other option is to choose camaraderie with other responsibility welcomers.
I love Seth's description of freedom dancing…
It's like when you charge full speed ahead into your new gym program twice a day – like the Jive!
Or maybe you just tentatively and slowly flirt with a new approach to eating, a little less sugar here a little more green veg there – like the Waltz!
Perhaps you're hot and cold… crazy restrictive then binge-festing – like Hip Hop!
When you're on you're ON like a hip-hop dance crew in a freestyle dance battle …and then you're OFF, it's the other crews turn and you're in the land of the must-demolish-ALL-the-processed-carb-o-la-crap-o-la-NOW!
Or maybe you're the Wall Flower? Frozen with fear. Reactive to all that is happening around you rather than proactively ever stepping up.
Free of responsibility… not risking looking stupid or feeling uncomfortable or being outta place on the dance floor however is the wall flower really happy?
To move away from the dancing analogy – I think this little NON-dancer-unless-I've-had-10-PLUS-vodkas has exhausted it…
The thing with accepting responsibility is, it puts you in control.
Of course there are all those secondary gains to let go of and potential consequences to answer to. And you're never in control of circumstances or what happens to you… however accepting responsibility means you are always in control of how you respond.
And that to me is Freedom.
Or as Austrian Psychologist and holocaust survivor Viktor Frankl says: "Between stimulus and response there is a space. In that space is our power to choose our response. In our response lies our growth and our freedom."
To get actionable today, what is one aspect of your body gain goal in which you've been shirking responsibility? One thing in which you really can accept responsibility and enjoy being in control of your outcomes in relation to that one thing.
Everything counts.
Whether it's NOT sharing the family size meat-lovers pizza with your boyfriend and ordering your own meal instead…  or being the odd one out in the beer round at Sunday drinks or deciding actually you CAN get up half an hour earlier for exercise each day if you choose to get yourself to bed half an hour earlier each night.
Every one little positive step to take in relation to achieving your goal builds on the previous step and the path you're following leads to the freedom to rock around in a body you feel confident and congruent in 24/7.
I'm certain of it.
That's it for today in Healthification. I'll be back tomorrow with the Tuesday Tucker show and as requested: My Food Diary (part 1). I hope you can join me.
If you liked this you'll also like: Weight loss mindset: If I had to start again, this is what I would do.
If you're yet to share the Healthification love – just click here to zip over to iTunes and leave an honest rating and review. It'd help me out big time. With gratitude, Kate.