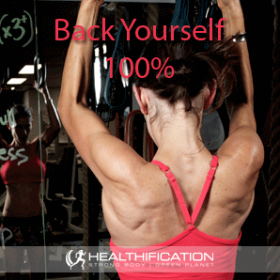 Podcast: Play in new window | Download
Subscribe: RSS
Have you heard of looking for the catch?
It's a concept I covered in the #103: show, 4 Common Patterns Keeping You STUCK… and basically to do it in abeneficial manner means to take what you can learn from someone else and implement it to enjoy similar positive results.
The NON-beneficial approach of looking for the catch is when you focus on all the reasons someone else can achieve something that are not applicable to you. You know those rubbish old excuses like: she's genetically gifted, she doesn't work, she doesn't have kids… has more time… more money… more discipline… more opportunity… MORE ANYTHING. Even – perhaps ludicrously – more motivating huge adversity to overcome!
In todays tucker show I'm sharing: Food Lessons NON-Body Competitors Can Learn From Those Who Step On Stage.
So whether you'd love to step on stage OR whether you're more like me and the con's of getting stage ready hugely out-weigh the pro's… there are still many lessons each of us can gladly learn and implement while still getting to enjoy our weekly wine and zero bikini posing time.
The first lesson may surprise you… let's roll with 4 Food Lessons From Body Competitors:
Lesson one: Focus on PROGRESSIVE CHANGES not a crazy-extreme approach all at once.
Long term your ideal body – and I mean whatever is ideal for YOU in your opinion not a judges – is about consistency.
Now as extreme as the food a competitor might eat 2 weeks out from competition may sound, they absolutely didn't start that way. They progressed over months. And they will work back in more flexibility after stepping on stage too.
The extreme approach, is an attempt to bully your body into shedding fat. And your body just won't be bullied. It's too smart for that. Emotionally extreme is unsustainable too. You're miserable and you have unrealistic expectations. When you give up everything you expect mind-blowing results… and when they don't come after a week or even 2, it's incredibly tempting to just give up.
The highest bang for your buck progressive change to start with in my opinion?
Build your meals around one ingredient foods. So start with Breakfast. Get it nailed before you move on. What is a one ingredient food you want to build your breakie around? It might be eggs or oats or leafy greens.
Lesson two: Be DELIBERATE and LEARN from the changes you're seeing or not seeing.
It's ok to include your fav food and drink in your eating plan. You can do it and still rock a body you love. However you need to be deliberate.
What doesn't work is resorting to rubbish food because you didn't plan. Or because you got over hungry. Or because everyone else is… you're feeling emotional… you deserve it after that day… you'll be extra doubly good tomorrow.
Your body is constantly giving you cues as to what works. It's your job to learn from them and adjust accordingly not try and muscle through regardless.
=> If you have an eating plan and you constantly can't stick to it then that plan needs some refining. The perfect plan you don't stick to is: USELESS!
=> If you're sticking to your eating plan and are genuinely too exhausted to ever have a strong training session then again that plan sounds like it needs refining. Or even structure one of your meals to be a little closer to training time.
=> If incorporating a daily sugar treat into your eating leaves you craving sugar non-stop then maybe you're going to find a cheat meal once a week easier to stick to?
=> If deligently sticking to the plan is not delivering any progress then you're going to want to make some further upgrades. Remember nothing too crazy-extreme, just the next progression.
Lesson three: NEVER SACRIFICE MUSCLE.
One of the toughest ways to lose weight is via severe caloric restriction.
To make it even tougher try and stick to severe caloric restriction via crappy processed food.
(you can't fit many slabs of pizza into your 1000 calorie a day allowance!)
To really up the tough-completely-unsustainble-anti on yourself try and stick to severe caloric restriction via crappy processed food with a skinny-fat-body that has cannibalised all it's sexy lean METABOLICALLY ACTIVE MUSCLE.
Lean Muscle Mass is the factor of your metabolism within your control. And Yes it is 100% within your control. No matter what your genetics you can preserve the lean muscle you have and also build additional lean muscle.
To as I like to say 'Choose Your Curves.'
The three important factors: that every body competitor takes super seriously are:
Eating lean protein at every meal and within 30 minutes of their weights session.
Lifting heavy weights consistently.
Recovery between weights sessions and in general, prioritising enough sleep. 
It sounds crazy simple. It is. However the number of people I've met that insist they are stuck with a slow metabolism and then are consistently inconsistent with the regular weights sessions, protein intake and sleep that would UN-stick their pesky slow metabolism.
Lesson four: Look Beyond The SCALE.
I actually don't mean look beyond the scale and straight to even more intrusive skin fold tests either. I mean focus on the daily actions you're taking rather than the number on the scale or the amount of fat that can be pinched for a skin fold test.
To even seeing your meal planning and exercise sessions as a goal within themselves.
That way you get a mini win each day by taking the right actions rather than risking taking the right actions and then getting disheartening to see the number on the scale is not yet reflecting the effort you put in.
Your get to stay consistent and stick with progressive changes that will deliver a sustainable result rather than freak out after a bad weigh-in and either enforce-extreme-restriction OR spiral into an "I've lost all hope – why bother" binge-fest.
To get actionable today, is there a lesson that jumps out at you as the most relevant to implement this week?
To recap that's:
Lesson one: Focus on PROGRESSIVE CHANGES not a crazy-extreme approach all at once.
Lesson two: Be DELIBERATE and LEARN from the changes you're seeing or not seeing.
Lesson three: NEVER SACRIFICE MUSCLE.
Lesson four: Look Beyond The SCALE.
That's it for me today. In tomorrows Wednesday weigh-in show I cover: Try v. DO. I hope you can join me.
If you liked this you'll also like: Debilitating shyness, big butt serenades, gym floor humiliation and the biz from hell… 4 weight loss lessons.
If you're yet to share the Healthification love – just click here to zip over to iTunes and leave an honest rating and review. It'd help me out big time. With gratitude, Kate.