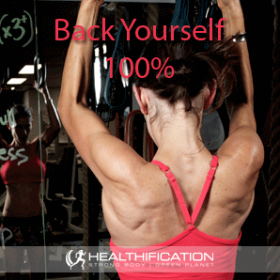 Podcast: Play in new window | Download
Subscribe: RSS
Each weekend as I structure my goals for the week to come there are several non-negotiables. The "I will 100% DO" actions and then also some optionals. Those things that it'd be great if I got done however they fall into the "I will TRY to do."
You know what most happens with TRY actions right?
=> I'll Try to go alcohol free till the weekend.
=> I'll Try to get to the networking group.
=> I'll Try to spend some time delegating more work to my virtual assistant.
In today's weigh-in show I'm calling foul on your (and my!) Try's!
Today: Try v. Do.
I'll take it so far as to claim a Try is more often: To Reason Yourself out-of-results.
And in contrast when you DO you: Decide Once.
You know I place a heap of importance on the messages the language you choose sends to your unconscious mind? Well TRY is just inviting your mind to come up with creative reasons as to why you don't need to make it happen.
Perhaps you feel like you're giving yourself room to breath, less pressure and that's just fine if your try actions really aren't that important. If they are the less vital actions that it's ok to not do then that's all good. As long as you're ok with the results you'll get for not completing your try actions then that's cool.
However there are certain things that must be DO – Decide Once – actions.
Certain actions that just cost you too much when you fail to do them.
Too illustrate my point, mums and dads: Do you ever Try to pick your kids up after school?
I'm guessing not. Either other arrangements have been made or you just DO it.
It's not an up for negotiation type of action.
One of the most common try actions I'd like to call foul on today is the old classic: I'll Try to get up earlier for a good breakfast and workout before work.
How much preparation do you put in to a try action?
Personally it's not much. I throw out a tentative old "Yeah I'll try" and then faster than you can say but-WOW-it's-so-tediously-boring-and-time-consuming I'm on to the next DO non-negotiable action.
Here's how to turn your try's into in DO's:
Step one: Imagine Anything You'll TRY To Do Is Really A "Yeah I'll never do that."
Does that sit ok with you? If it does then your try action really isn't that important. And that's ok. It's fine to let that try go.
However, perhaps it doesn't sit ok with you?
Maybe "Yeah I'll never get up earlier for a good breakfast and workout before work." sounds like something youdon't want to be stuck living the lack of results for for the rest of your life?
Ok, once you've decided then it's time for…
Step two: Set some solid boundaries / non-negotiable guidelines. 
When you Decide Once you're ok with positive constraints that help you commit and help build the habit. Stuff like:
=> Ditching any processed crap-o-la from your fridge, freezer and pantry.
=> Paying upfront for Personal Training or group training or a gym membership.
=> Locking in the set weekly exercise times that are non-negotiables appointments and not to be rescheduled for a client meeting or impromptu drinks or an attack of lazy.
I heard a potent example in a podcast this week that is applicable to Try v. Do.
It was Lewis Howes interviewing New York Times best selling author and Navy Seal, Eric Greitens on How To Fall In Love With Pain.
I'll link to the episode – which rocks – in the show notes for today.
Eric was discussing Hell Week. A week where the average seal sleeps for 2-5 hours over the total week. The toughest part, of the toughest week, for The Navy Seals which has the reputation for the toughest military training in the world. What struck me when Eric was talking about the hardest part of that brutal training was that he could count on one hand the number of guys that quit while they were DOING.
From 220 initial recruits 21 made it to the end.
Of the almost 90% who quit, the vast majority did not quit while they were doing crazy ocean swims or obstacles courses or log carries.
The vast majority quit while thinking about doing rather than doing. Their minds got the better of them during inaction.
It's so true right?
=> How often do you quit your walking to work routine mid way through your walk to work? It's way more likely to happen while lying all cosy in bed thinking about dragging yourself up and forcing yourself into that walk.
=> Equally how often have you slammed down your fork mid mouthful of lean protein and fibrous veg meal and declared "That's it! I'm done with this healthy eating jazz I'm dialing a pizza!" It's that much more likely to happen as you sit on the couch weighing up the energy and effort involved in making that great meal v. picking up the phone.
The time of the actionable today is 2-part.
ONE: I'd love you to decide on one persistent old Try action that keeps not getting done and just let it go. Decide Once that actually it's not that important and stop throwing energy it's way.
TWO: Now, with that energy you're no longer wasting on that Try action that isn't important – you guessed it – I'd love you to Decide Once on the action that used to be a Try however it really deserves – NEEDS – to be a DO.
The action that will cost you too much if becomes a "Yeah I'll never do that."
That's it for today. In tomorrows Thursday Training show I share my: Fav Work-out This Week…with a difference.
If you liked this you'll also like: Results yesterday v. Actions tomorrow (that equation doesn't work!)
If you're yet to share the Healthification love – just click here to zip over to iTunes and leave an honest rating and review. It'd help me out big time. With gratitude, Kate.