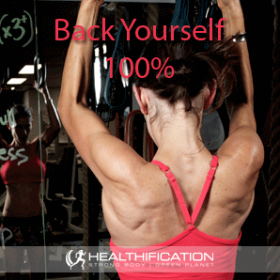 Podcast: Play in new window | Download
Subscribe: RSS
Do you want to be the norm?
I genuinely hope not. Whenever my clients tell me I'm "not normal" it sits just fine with me. If anything I see it as a compliment because normal really is not that appealing.
Here's what normal looks and feels like so far as your health and so far as the actions you don't take this long weekend to support your ideal health….
Normal jumps at any excuse to skip a scheduled workout or break a great eating routine.
"Its a public holiday – of course I'm not coming to gym!" or "Yes, I'm gluten free – except for hot cross buns… I love those things!"
Normal constantly gets sucked in by immediate gratification… and in doing so reasons herself right out of long term results.
Normal likes to follow the herd and as a consequence gets to experience the same disappointing results as everyone else.
In today's show I'm sharing: How To Stay Motivated Over A Long Weekend.
The first step is to ask yourself: Do I Want To Be The Norm?
I'm hoping we're on the same page and your answer is a resounding: NO!
If so here are 3 more steps to make it easy on you.
Step one: Get clear on the facts. You may have been kidding yourself previously as I have too.
That it's only a couple of days. What impact could that possibly have?
Well as I cover on The Reckless Weekend Eating show #098 a whole lot of impact!
A normal weekend may start Friday night and last Saturday and Sunday. So, at 3 meals a day that's 7/21 or ONE THIRD of your meals sacrificed to reckless weekend mode.
A LOVELY LONG WEEKEND can account for 10/21 meals in reckless weekend mode. That equates to a MASSIVE 48% of meals at the mercy of your weekend guidelines.
What sort of results can you expect to enjoy if you put in a good effort 48% of the time?
The more you deviate from your ideal eating and exercising routine the tougher you're going to find it to get back to that routine. Basically you've worked hard and eaten well for half your meals and you get to enjoy zero results.
That's got to be fairly UN-motivating.
Step two: Use pain as a powerful force to push you out of inaction and drive you to make the best decisions. And pleasure as the constant motivator to pull you forward one positive step at a time towards your goal.
Pain pushes you outta bed on for that early am run. It's the thought that not running means not being able to rock those ultra sexy jeans… or perhaps that you're going to find your next run that much more punishingly hard if you skip this one. Maybe it's that your word means nothing – since you gave your word to YOURSELF last night when you committed to this morning's run… and who can you rely on if you can't even rely on YOU?
Pain is often the stronger force to stir us into action. However you don't want to focus just on the pain. Long term you want to focus on how you want it to be. Pleasure is that constant supportive happy little companion that keeps you going each step of that jog or each rep of that workout.
Step three: Remove the friction. If you're anything like me you always assume you'll be more disciplined within a given situation than you really are. That the discipline fairy will float down and bestow upon you that ability to stop at one Shiraz, to decline the Lindt dark chocolate, to get up early after a late night… many Shiraz's and a good few dark chocolates andgo for a long run.
Now as much as I have faith in your (and my!) ability to change I also know that your past actions are a fairly good indicator of your future actions. If you want new and improved future actions then it's going to mean removing as much friction as you can.
Here are some common instances in which result eroding friction may try to force it's way into your lovely long weekend:
=> Friction is giving yourself options with when you exercise: "I'll either run tomorrow morning OR tomorrow afternoon." You know that all too often becomes tomorrow again and then tomorrow again AND faster than you can say Borrowing-From-Tomorrow-Is-Not-The-Solution you've reasoned yourself right out of results.
(I dedicate a whole show to Borrowing-From-Tomorrow in the #043 show.
=> Friction is having to prepare your own healthier meal option on the fly. That's when everyone opts for pizza after a busy day and you're faced with either planning your lean protein and fibrous veg based meal from scratch OR joining the pizza gobbling crew. Having at least a plan – or better yet – the basics ready to go makes it that much easier to in the pleasantly-exhausted-and-in-relaxation-mode-moment choose the better option.
=> Friction is being away and not knowing where the gym is. Or how you'll get there or what running track to take ORanything else that'll make you think twice before you hit your planned workout on autopilot. It might also be not knowing where the supermarket it or even the better choice cafe or restaurant.
I guess the overriding consideration that helps me stay fairly focused over a long weekend is that I know all too well how disproportionate the time you can take off is in relation to how much time it takes you to get back to how you're most comfortable.
I can easily chuck on a solid 3 kilos in a long weekend away. Which is not so bad if it only took me a weekend to lose that fat again. We both know that's not how it works though. Far from it.
To get actionable today and this step is applicable to either a long weekend or a normal weekend. After all I have no idea when you'll actually be listening to this. The thing is the vast majority of my clients tell me the weekend is where their good eating for the week gets derailed.
That absolutely does not need to be the case.
if you were to do a little audit of your meals over the weekend – lets say the most recent weekend – how many were close to ideal? How many were meals that reflected your body gain goal is a priority? 
Now you know I'm not the stats chick – I'm going to keep it simple and recommend 2 meals in the weekend that are off the ideal plan. That's the action step for today – or moreso the goal to work towards.
If it sounds a tad UNfun then I agree – to a degree – however here's the thing: You know what's even more UNfun? 
Working hard all week and having that effort… That energy… That focus and discipline AND those hours in the gym and the kitchen amount to a frustrating ZERO results because your weekend decisions demolished all the weeks work.
That's it for me today.
I'll be back tomorrow with the Tuesday Tucker show and: Food Lessons NON-Body Competitors Can Learn From Those Who Step On Stage.
If you liked this you'll also like: Travel tips to stay on track with your best health habits.
If you're yet to share the Healthification love – just click here to zip over to iTunes and leave an honest rating and review. It'd help me out big time. With gratitude, Kate.