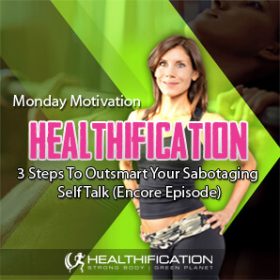 Podcast: Play in new window | Download
Subscribe: RSS
Todays encore episode is on, 3 Steps To Outsmart Your Sabotaging Self Talk. 
You know, Self Talk: that lil Gremlin that sits on your shoulder constantly degrading, downplaying and doubting.
Today I want to help turn your (and my!) Gremlins into Cheerleaders. Supporters.
It's a matter of stopping the downward spiral.
Of reframing (or finding a more supportive alternative) when you're tempted to fall into "I can't" or "Why does this always happen to me" or "What if they don't like me?"
The goal is to find the alternative that works for you. Ideally it's short, simple and applicable to any situation.
Mine is: "You've got this"
It works before a workout. And also before a Facebook live – Yes, Podcast friends I've just started live video on the land of Facebook!
It works as the alarm goes off at stupid o'clock and it's time to bounce out of bed.
It work when some unexpected challenge jumps in your way and threatens to overwhelm.
Onwards with todays encore episode, 3 Steps To Outsmart Your Sabotaging Self Talk. 
Here are the show notes for the original 123 episode Self Talk:
The Healthification podcast is proudly bought to you by the 30 Day Plant Strong Jumpstart. Over 30 Days create the MINDSET that will make your best #plantstrong choices simple and sustainable.
This 59 page PDF with daily supporting email series shows you how to create a fit, strong, healthy smokin' body while eating Delicious, Nutritious, Healthy Vego or Vegan food. For the 1st 100 people you also get UNLIMITED PERSONAL SUPPORT, motivation and accountability with 30 Days FREE access to the Strong Body Green Planet Community. Essentially you'll have your own vegan health coach for 30 days!
Learn more here:
If you liked this you'll also like: How Certainty In Yourself Helps Beat Weight Loss Overwhelm.
If you're yet to share the Healthification love – just click here to zip over to iTunes and leave an honest rating and review. It'd help me out big time. With gratitude, Kate.