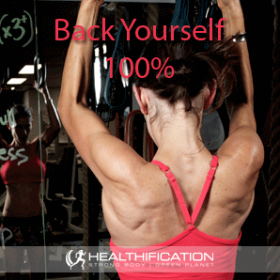 Podcast: Play in new window | Download
Subscribe: RSS
Todays encore episode is on, Back Yourself 100%. This is a life philosophy that was pretty hard won for me and as such now I hold it dear.
I remember the 3 and a half hour car journeys on skiing weekends away as a young teenager when dad would play Brian Tracy's 'How To be More Confident' cassettes (yes cassettes!) on repeat for my listening enjoyment. I found it excruciating at the time however perhaps a little sunk in… If I think back to the times in my life that I feel most proud of it's those challenging times when I stepped up and Backed Myself 100%.
I'm guessing it might be the same for you?
As I think about it now, Backing Yourself 100% is when you decide:
What you want most is more important than what you want desperately in this instant right now.
That your values and beliefs outweigh your ego and your comfort zone.
That your goal – Vision – PURPOSE is important enough to get up and try again after a failure. Again. And Again. And for limitless times AGAIN!
Onwards with todays encore episode, Back Yourself 100%.
Here are the show notes for the original 036 episode Back Yourself 100%.
The Healthification podcast is proudly bought to you by the 30 Day Plant Strong Jumpstart. Over 30 Days create the MINDSET that will make your best #plantstrong choices simple and sustainable.
This 59 page PDF with daily supporting email series shows you how to create a fit, strong, healthy smokin' body while eating Delicious, Nutritious, Healthy Vego or Vegan food. For the 1st 100 people you also get UNLIMITED PERSONAL SUPPORT, motivation and accountability with 30 Days FREE access to the Strong Body Green Planet Community. Essentially you'll have your own vegan health coach for 30 days!
Learn more here:
If you liked this you'll also like: How To Strengthen Your MINDSET.
If you're yet to share the Healthification love – just click here to zip over to iTunes and leave an honest rating and review. It'd help me out big time. With gratitude, Kate.