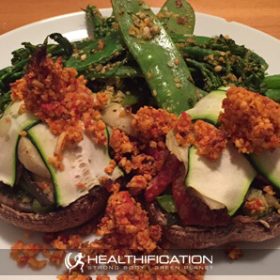 Podcast: Play in new window | Download
Subscribe: RSS
In today's encore episode I'm sharing How To Eat Less Dairy Without Sacrificing Protein or Calcium. 
The dairy industry tells you "you need milk and other dairy products for strong bones" however if this were true surely the countries with the highest dairy consumption would have the lowest rates of osteoporosis? It's just not the case and the authors of 'Eat Like You Care' can explain why so much more articulately than I can so I'll just quote them:
"Not only is cow's milk not by any means the only source of calcium, it's not the best. The body needs magnesium to absorb calcium and cow's milk does not have sufficient magnesium to support its level of calcium. This results in the accumulation of excessive calcium in the body and that can lead to the development of calcium deposits in our joints and kidneys.
The consumption of animal protein, including the protein found in dairy products, causes our blood to acidify, which results in the leaching of calcium from our bones and our eventually excreting it from our bodies. So the consumption of dairy products not only does not prevent osteoporosis but it can actually cause it!"
Here are a few awesome plant based sources of calcium:
Fortified almond, coconut, hemp and rice milks. Almonds, figs, sunflower and sesame seeds. Broccoli, kale and beans to name a few.
Now that sounds like the making of a fairly fab calcium rich smoothie to me! Some fortified almond or coconut milk, a tablespoon of almond butter, a stalk of broccoli, a handful of kale and then I'd say a little sweetness like perhaps a handful of iron rich raspberries and a scoop of protein rich plant based protein powder.
Onwards with todays encore episode, How To Eat Less Dairy Without Sacrificing Protein or Calcium.
Here are the show notes for the original 389 episode 5 Ways To Eat Less Dairy Without Sacrificing Protein.
The Healthification podcast is proudly bought to you by the 30 Day Plant Strong Jumpstart. Over 30 Days create the MINDSET that will make your best #plantstrong choices simple and sustainable.
This 59 page PDF with daily supporting email series shows you how to create a fit, strong, healthy smokin' body while eating Delicious, Nutritious, Healthy Vego or Vegan food. For the 1st 100 people you also get UNLIMITED PERSONAL SUPPORT, motivation and accountability with 30 Days FREE access to the Strong Body Green Planet Community. Essentially you'll have your own vegan health coach for 30 days!
Learn more here:
If you liked How To Eat Less Dairy Without Sacrificing Protein or Calcium you'll also like: 5 Ways To Eat Less Meat Without Sacrificing Protein.
If you're yet to share the Healthification love – just click here to zip over to iTunes and leave an honest rating and review. It'd help me out big time. With gratitude, Kate.