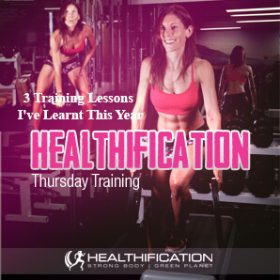 Podcast: Play in new window | Download
Subscribe: RSS
In todays training show I'm sharing 3 Training Lessons I've Learnt This Year
Let's get rolling straight into it…
One: Be open to new ideas. Give them a chance… knowing you're not locked in for life. If they work for you keep them – if not move on.
I'm a bit of a control freak. When I find what works I'll stick to it. Yes, I'm a consistency queen which generally rocks with exercise and nutrition however I can also get tunnel vision and ignore some potential improvements.
This year some of my fav new exercises came curtesy of hanging out with a team of trainers I respect and implementing some of their moves.
The key here, is not everything that works or feels right for someone else is going to rock your world – however it's often worth a try! No amount of box jumps I could ever see the boys at work suffering through will make me want to implement them into my training however these 3 did make the cut this year:
Single-leg '2' Kettle-bell Dead-lift.I love a barbell dead-lift. However I also have one weaker hammy that can cheat in a bilateral move and my balance is not a strong point so dropping my ego along with the weight and implementing this unilateral move has been a beneficial addition to my routine.
Standing Cable Bent Over Row.Again I love a barbell bent over row. Taking this move to cables is just a fun variation which allows for an awesome range of motion and whatever grip angle you want.
Elevated Hamstring+Glut Curl.Now I can't talk LOVE without mentioning gluts – my most fav body part to train! So anything new and tough is worth implementing… and this one absolutely is tough.
Two: Anything beats nothing. Like really anything… most often this year my Wednesday training consisted of 6 minutes of intervals on the treadmill.
In previous years I might have told myself it's so short I might as well skip it. My intention would be to throw intervals onto another training day however 98% of the time that would never happen.
Beyond the value in actually getting those pesky intervals done I've also learnt that even in a really busy day it's nice to know that you've taken that time out for you. Yep, even if it's just a fleeting 5 minutes doing your least fav exercise (!) it's still that bit of time you made happen to work towards your own personal goal.
For some anything beats nothing ideas check out show #034 on '3' 5-15 minute work-outs.
Three: Your lifestyle MASSIVELY effects your training… this is becoming more obvious as I get older!
I'm actually not referring to sleep and alcohol – they are super vital to manage however personally I'm going alright with them. If you believe you could do a little improving I cover SLEEP show #067 and ALCOHOL in show #010.
The enforced learnings I've experienced this year are more based on the time I spend behind a desk and a computer.
I'm guessing there's a really good chance you have some lifestyle induced: aches-pains-imbalances-tightness that are effecting your training.
I've got to be one of the more active people I know and I still get achy knees and a dodgy wrist.
Those are the tech terms (!) however it's my reality even though I walk to and from work every day and spend a good few additional hours a day on my feet.
I'm only behind the computer half my day and its really not cool on my body.
One part of the solution is regular stretching and foam rolling.
The second part of the solution a stand up desk. 
I'm going to invest in one as a little Christmas present to myself however I've been experimenting with a stand up bar these past few weeks. Basically that's just setting my laptop up at a bar I have which is a good height. It's interim, however it's been enough to sell me on the benefits.
You see I never get sore knees from low lunges or step downs or jump squats or even pistol squats. My knees are sweet with treadmill intervals too… the only time they ache is when I get up from sitting at my desk.
It's the same with my wrist, it's never when I do lots of of heavy DB presses or dips or push-ups… it's when I undertake some excruciatingly tedious and repetitive design or formatting task which involves too much tap-tap-tapping or click-click-clicking on the computer.
I'm going to link to a much more thorough article on WHY you may be experiencing this too below. Here's the article from one of my favourite resources: Mark'sDailyApple.com.
The short of it is that our desk jockey lifestyle – in which our hip flexors are constantly in a shortened, tightened position while our hip extensors are constantly being lengthened and weakened – is relatively new and unnatural territory for our bodies.
We were built to move. We function best when we move. Even our brain functions best when we move. For a quick example, when was the last important phone call you made? Perhaps a job interview or pitch… I know when I'm making an important phone-call I always stand up.
As a cool additional benefit extra calories burnt using a stand-up desk are estimated at between 20-30% more a day. Even as much as 50% in obese children. Now I'm always a little sceptical of exactly how accurate such estimates can be however I know it's going to utilise a noticeable amount more energy standing rather than sitting.
You can even find fun online calculators where you enter your weight, the hours you stand a day and the number of days you want to calculate for and it'll show you how much more you burn standing rather than sitting. Again, don't take it as 100% fact however if it's that little extra incentive to get less sedentary than that's got to be a good thing right?
Here's a link to one such calculator.
To get actionable today, how about giving a stand-up desk a go? 
I don't mean racing out and buying one, there are plenty of interim solutions to see if it's worst the investment for you.
Perhaps like a crate or 2 on top of your desk. Or even like my bar option… which makes me smile as it's a little sentimental. This was the bar that lived at home when I was a kid. Dad would make cocktails off it when my parents had dinner parties and later as teenagers my friends and I would siphon off a bit of Cointreau here, some Whiskey, Brandy, Creme de menthe or Kahlua there… all in all the little bar that is now a step in my stand up desk progression has contributed to some entertaining times… and some really viciously-rotten-tasting Rocket-fuel!
That's it for me today, big thanks to you for spending this time with me and I hope you can join me tomorrow for the Friday FAQ show where I cover, A Day In The Life Of An Effective Fat Loss Mindset.
If you liked this you'll also like: Debilitating shyness, big butt serenades, gym floor humiliation and the biz from hell… 4 weight loss lessons.
If you're yet to share the Healthification love – just click here to zip over to iTunes and leave an honest rating and review. It'd help me out big time. With gratitude, Kate.