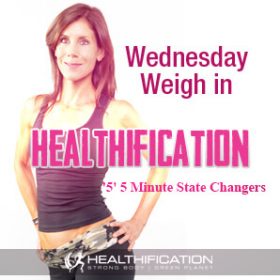 Podcast: Play in new window | Download
Subscribe: RSS
This morning one of my dear clients missed her training session with me. Her husband locked himself out of the house and she had to turn around (frustratingly from right outside the gym) and head home to let him in.
I hate it when a client misses a session. Mostly because if effects their results… also because I had at least 4 clients that would have taken that spot! So my state went from pretty awesome to a little non-awesome in around 5 seconds flat. And it got me thinking… how is it that we can reactively let our state get changed for the worse in as little as 5 seconds and yet we're perhaps not so practiced at pro-actively upgrading our state which can happen almost as quickly and easily?
It really doesn't take long for everything to change for the better or worse.
Like a few years ago when I was running to work for a 5.30am client… in the dark… downhill… with my clunky-old-heavy-weight-laptop on my back… and my foot caught on a risen bit of concrete to send me flying superman style all stretched out to impact with the concrete fairly damn hard! It seemed to happen in slow-mo however it was likely just 5 seconds which left me with a dodgy knee (and luckily nothing more) and affected my training for an annoying-less-lower-body-love few weeks.
Or when my boyfriend of 4 years' other girl-friend (of 8 years!) rang me. Life can really change. On a fairly huge level super quick.
In todays weigh-in show I've got: '5' 5 Minute State Changers for you to take for a spin the next time you find yourself in a less than ideal state. It's easy and natural to slip into an UNfun and less effective state. However you can get proactive about changing that state.
Remember motion create emotion… if your posture is all slumped and downcast – well you're likely not going to be feeling so flash-hot and positive.
The first option is the most obvious and the one that had me back in an awesome mood within 5 minutes today:
One: Do a 5 minute work-out. 
You guessed that one right? Of course you can do more however even just 5 minutes will do the trick. Even better get your work-out groove on to your fav training song.
If you don't happen to be at a gym (!) here's a 5 minute routine that needs zero equipment, just a timer.
I have 5 exercises for you. Perform each one for 20 seconds working and 10 seconds rest times 2.
Push up. 
So it looks like this, 20 seconds push ups, 10 seconds rest, 20 seconds push ups, 10 seconds rest and move on to,
Sumo in out jump squat.
Mountain climber.
Side plank with elbow to knee tap and hip dip.(20 seconds one side, 10 seconds rest, 20 seconds other side)
Oblique v-up.
Two: Spend 5 minutes on your gratitude's, goals and today's reference point for success.
There's no right or wrong – this will make you feel great however you structure it… however my preference is to write down 3 things I'm grateful right now, my biggest my compelling goal that I'm working towards daily and also something that I've done well today.
So that's a success… no matter how small we have them every day and they are way too easy to gloss over.
Three: 5 minutes of thanks.
So this is taking that gratitude a little further and actually expressing it to someone else. The fastest way to feel better
is to stop focusing on YOU and brighten someone else's day. It's so easy to do. I regularly practice this however I'd like to get even better at it.
Perhaps that's just a few thoughtful texts you send. Or perhaps it's a phone call you make to someone you love and appreciate. Maybe it's a card you write to say thanks.
Imagine if every slightly rubbish state we found ourselves in instead became an opportunity to make someone else feel really special and appreciated?
Four: 5 minutes cleaning your work-space.
Although you wouldn't always believe it if you saw the dishes multiplying in my kitchen mid-week or the gym gear on mass littering my bathroom… I do believe in the messy space messy mind mantra.
I really find it a little frazzling trying to work in mess so my desk stays orderly as does my computer desktop.
It's amazing how refreshing just 5 minutes of clearing the clutter can be. So get specific with the computer desktop one thing that works really well for me – and I didn't come up with this but can't remember where I heard it – is to just have my one main folder on my desktop (heaps of folders live in it however I just get to see that one folder and as an aside it's labeled with my primary goal right now)… PLUS, one other folder labeled 'Review.'
The 'Review' folder is for everything that I'm getting to that isn't worth filing or keeping long term and would otherwise live messily on my desktop (ruining the screensaver image I have that again relates to my current most compelling goal)… so it's mostly screenshots. Every once in a while everything in 'Review' that I haven't gone back to and filed (pretty much 100% of it!) can get trashed.
Five: 5 minutes ditching the refined crap-o-la from your fridge and pantry or the half used and expired stuff from your pantry or even your bathroom cupboard.
You can save your body from a lot of rubbish food in a mere 5 minutes! As a bonus you'll feel in control after making the decision to ditch that stuff. You know if it's there you'll eat it – at some point – so instead get proactive, take some personal responsibility and bin it.
So far as the unfinished, expired stuff – whether it's sauces or shampoo… there's something to be said for small steps that help us with the larger actions we're looking to get better at. Some of us and I'm absolutely speaking for myself are not great finishers. I'm pretty good at starting things… and even better at continuing things – however finishing is a strength I'm working on. I'll do 80% of the dishes and 70% of my washing – before I get distracted and move on.
As you can imagine this type of non-finishing behaviour is applicable to business too… and also to achieving your body gain goal. So, there in lies the value finishing the small tasks and throwing out the unfinished things you're not going to ever use.
We must be at the time of the actionable.
Today I'd love you to decide on one of these '5' 5 Minute State Changers that you're keen to take for a spin the next time you're in an unideal state. It's always best to decide before you need it – then all you need to do is swing into action rather than think and decide and potentially over-analyse.
Even better if you have a quick 'State Changer' that works for you please share it in the comments below.
That's it for today. In tomorrows Thursday Training show I share: 3 Training Lessons I've Learnt This Year. I hope you can join me.
If you liked this you'll also like: Getting Yourself Into A Right State For Fat Loss.
If you're yet to share the Healthification love – just click here to zip over to iTunes and leave an honest rating and review. It'd help me out big time. With gratitude, Kate.