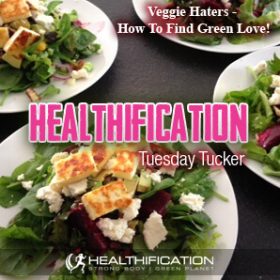 Podcast: Play in new window | Download
Subscribe: RSS
I'm sure I'm not alone with my memories of sitting at the kitchen table until I'd finished ALL my veg.
Often it'd become a battle of will power: unrelenting mum and dad versus super-stubborn-me… especially when it involved one of my more hated green critters, the common pea – which absolutely could not be scooped using my fork like a spoon (or shovel as dad would critique!) and rather had to be painstakingly stabbed or smashed against the backside of the fork.
Now that was tedious. Also pretty UNfun and equally UNyum.
Today's Tuesday tucker show is for the Veggie Hater.
If you avoid them, or see them as a necessary evil then today my goal is to help you find some green love!
Let's tick the WHY box first, as I imagine you no longer need adhere to your mum or dads favourite mantra: "because I said so!" and perhaps: "because they're good for you" is a little too vague.
Two things got me eating veg before I actually started to LOVE the taste:
A) They are super nutrient dense and as such help fight cravings. This is a strategy to put in place before you need it… and then like many a great strategy you won't need it. So to be clear, I agree, once you're in the midst of an "I-must-devour-chocolate-NOW" incident then it's not going to work to indulge in some delicious steamed asparagus instead!
However, when you include a variety of colourful veg in your day to day eating you will 100% find those pesky cravings for a sugar hit diminish. It's been my experience that those cravings actually disappear completely.  My body is getting the micronutrients it needs and it doesn't feel the need to assail me with demands for rubbish to try and plug up the holes in my diet.
B) They are filling yet have a low caloric density so you can eat generous serves and never feel guilty about 'blowing it'. I hate restriction. Who doesn't right? I actually love to look at at huge plate of food – and eat it – and waste zero energy feeling bad about what I've just demolished or ever wondering how it might adversely effect my body gain goal.
As much as lean protein and good fats are vital and carbs have their place too… the only food you get to eat to your hearts desire without ever censoring yourself, are fibrous veg. I really don't believe you can over do the veg.
Sometimes I astound myself at my serving sizes (!) however I stay my goal weight. For the emotional eater, this is a pretty handy discovery.
Before we get rolling with 3 Keys To Find Your Veg Love, I have a couple of quick considerations:
One: The REFRAME.
If you're in the habit of telling yourself (and others) how much you HATE veg or salad or any green rubbish… then that is something to change today. When you tell yourself something enough it becomes your reality.
So if you're up for a reality that includes some craving annihilating, energy giving and huge, generous, restriction-less serves of food then reframe your language and your expectations.
=> Perhaps you're yet to find that veg you LOVE however you know you will.
=> Possibly each new veg you try is a chance to power up your body with the fuel that helps it function best.
=> Maybe you love veg most for the way they help your body look and perform.
Two: Buy In SEASON.
You're setting yourself up for disappointment when you inflict that out of season rubbish that's been frozen for months and then presented in the 'fresh food' section of the supermarket… when really it's anything but.
If you're still building your veg-love then it's worth investing in higher quality. I used to believe that was more expensive but really it's an excuse. I now get a big organic veg box once a week and buy the majority of my other veg from the local market.
It's come down in price so it's really not more expensive – especially as I'm buying in season – and also it lasts longer… possibly that's because it's just been picked rather than hangin out on ice for however long!
Ok, so let's go with 3 Keys To Find Your Veg Love:
Key 1: DISGUISE.
In the early days this may be your best tactic. No need to force a plate full of steamed broccoli on yourself just because "you should." Should's really don't last.
So get creative and sneak in some:
=> Spinach or kale to your smoothie.
=> Grated carrot and zucchini in your spag bolognese sauce or burger patties.
=> Even use kale as a pesto base. Or zucchini as a hummus base. 
The key with all of these examples is your nutritious veg are being disguised by some other strong flavours. They'll be hidden rather than 'ruining' the entire meal.
Key 2: DIVERSITY.
Particularly in how you cook your veg. Now as we've covered I'm not a cook, however there's a lot to be said for some good quality olive or coconut oil, rock salt and fresh herbs.
If you don't like a veg one way it's absolutely worth giving it another chance another way. Top of my list:
=> BBQ. Perhaps this is party because I'm generally not the one in charge of the BBQ however for veg like eggplant, zucchini and field mushroom I can't go past the BBQ.
=> Roast. Oh snap …again I'm generally eating at someone's place when I'm enjoying a roast however it's a pretty delicious option. And Yes, those starchy veg like spuds, pumpkin and parsnip may dominate the roast however fennel, onion, tomato, beetroot and baby leeks also work really well. AND, my less favoured veg like peas and beans just seem to be easier to stomach when they're hanging out with crispy roasted friends.
=> Bake. This is my most common way to eat veg (besides raw). I like the anything goes approach here and it's perfect for cooking on mass.
=> Stir-fry. Your light and fresh option that can be taken any way you like it. It's only boring when you get set in your same old stir-fry routine.
The key with diversity is to mix your veg cooking styles. I'll often have raw, baked and stir-fried veg in one meal.
Or I'll load BBQ'd veg onto top of a couple of types of salad and add crispy baked brussels or kale crisps to finish. It doesn't take longer it just takes a little planning so that you're always making extra for that next meal.
Key 3: DIFFERENT COUNTRIES.
So this key is just for fun – if you're still struggling to find the veg love and if you enjoy the cooking process.
How about taking a veg world tour – from that comfort of your own home that is. No cook books needed – it's all online – the idea is to cook a different veg dish each week from a different country.
You'll have some winners and some washouts.
There will also be times when some creative substitutes are going to be to your body gain advantage.
Perhaps swapping out tofu for extra veg, potato for cauliflower and maybe adding more lean protein rather than a serve of bread or rice to pad out the veggie dish.
In just a quick google search I've found a tempting looking African Piri Piri Salad, a nutty Zimbabwe Greens that sounds interesting, an Italian Sautéed Swiss Chard With Parmesan AND some pretty delish looking Cauliflower Tortilla's.
It's almost enough to tempt me into some slightly more adventurous cooking.
To get actionable today if you're not yet a veggie lover than let's start with the REFRAME. 
At the very next chance you're faced with some of 'that green rubbish' I'd love you to reframe your language and your expectations. You don't need to be fake, it's just a matter of finding the way to view veg that makes you want to explore your limitless options until you find some you do love… or at least like.
That's it for today… in tomorrows Wednesday Weigh-in show I'm covering: '5' 5 Minute State Changers.
If you liked this you'll also like: Fibrous Friends: Quick and Easy Fat Fighting Vegetables.
If you're yet to share the Healthification love – just click here to zip over to iTunes and leave an honest rating and review. It'd help me out big time. With gratitude, Kate.