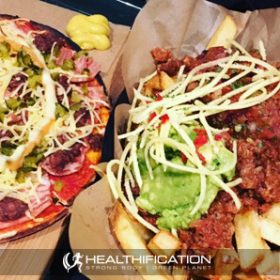 Podcast: Play in new window | Download
Subscribe: RSS
Today I'd like to cover one of the most simple, enjoyable and effective strategies to help you make the food decisions that support your best body.
And yet it's something we don't always prioritize.
Last week I set myself up for a day of non-stop-nibbling and continuous cravings. Even though I know better I found it super challenging to NOT over-eat.
Why?
My body was struggling to get through a day of normal work with less than adequate sleep. 
Today's tucker show covers: How A Lack Of Sleep Can Cause Over-eating.
Too little sleep affects both the hormone Ghrelin which stimulates appetite and also Leptin whose vital job is to send a signal to your brain when you are full.
So, lack of sleep can create the devastating combination of driving leptin levels down, so you don't feel as satisfied after you eat AND also causing ghrelin levels to rise which stimulates your appetite.
Your body is tired and it needs energy – from a good rest – however if that is not an option it'll crave quick UN-fix sugar type energy instead.
Roll on in powerful urges – constant cravings – to eat… that even if you give in to, do not satisfy. 
The scary thing is that many of us are getting less sleep than we would love multiple nights a week.
That means every single day has the potential to be a battle to avoid the rubbish food and drink you think might help drag you through the day.
And you want to power through the day fuelled by quality energy giving food rather than be dragged numbly through it by fake zero value food.
The double whammie is that on low sleep you'll find it even tougher to manage your normal daily duties… and as we've previously discussed you have a daily discipline quota.
If you're eating into your daily discipline quota just by dragging yourself out of bed… by pushing yourself through a work out… and by muscling through your most high priority work tasks…
How much is left over to use avoiding those tempting baked goods for morning tea? Or the 3rd latte? Or that bowl of lollies at reception?
That's why I rank enough sleep as a high value non-negotiable in your week.
Let's cover the lack of sleep situation from two angles.
ONE: The Facts and why you should avoid depriving your body of sleep whenever possible.
TWO: The Reality and what to do when life happens and you find yourself in a less than fresh day.
First, the Facts.
1. You're going to be less effective and less efficient when you're running on low sleep… both with work and with exercise. You'll take longer to produce inferior results.
2. Trying to out-exercise the excess food you consumed to get you through a low sleep day is a losing battle… I know I can demolish 500 calories at least 5 times faster than I can burn a mere 100 calories. It's dis-heartening. The numbers just don't and won't ever stack up when you try to undo the food you didn't mean to eat with the exercise you never wanted to do.
3. It doesn't take long running on low sleep before life and YOU just become really UN-fun. I get moody and irrational… things that don't usually and shouldn't upset or annoy me do. It's just not a good place to be.
Now, the Reality or DAMAGE CONTROL negotiating your next lack of sleep day.
1. If you're going to demolish extra food to give you extra energy then let it be good fuel rather than rubbish. Here are some good options:
=> extra eggs and veggie sides at breakie are fine… scrambled, poached or an omelette are all good options with as many one ingredients sides as you like. Have the second or third coffee as long as it's not some syrupy concoction or dairy and chocolate-fest.
=> walk right past those fresh baked rolls and choose a larger than usual salad at lunch… more veg and lean protein is not going to have you busting outta your jeans any time soon.
=> the same goes for dinner, go double up on your fibrous veg and add some extra protein… whatever helps you decline the stodgy-dodgy-refined-carbs… you don't need pasta or pizza or even rice because you're tired, they are for treats or if you're looking to 'bulk up' a bit.
=> some of the snacks I'll eat extra of are: protein pancakes, crispy brussel sprouts, kale chips, protein shakes, red capsicum – yep I slice and eat it like an apple and also cauliflower mash.
For any of these super basic recipes just check out this post >> Fat Loss Fuel:
2. Make it a rule to always start fresh the next day. How quickly you get back to your good habits and how ruthlessly you abort your bad habits is a key to your success.
3. When you're sitting at your desk wallowing in UN-productivity if at all possible how about getting yourself out for a refreshing walk instead? As much as we've all got ever-increasing to-do lists sometimes the best thing to do is to takes a step back – admit that you've hit the wall – and go take a break… preferably an active break.
This brings us to the time of the actionable… that's your time to think of that situation that regularly leaves you lacking in sleep and prone to over-eating. AND to now come up with both the strategy to help minimise the lost hours of sleep and also the better munching alternative to resort to in the event life and less sleep does happen.
Perhaps it's the goal time to leave that Wednesday night networking event so you can get enough shut eye?
Maybe it's a scheduled later start for the day after that night out that always gets big.
Possibly your best first step is ensuring your home and work are stocked with great fuel options and void of rubbish options?
That's it for today… in tomorrows wednesday weigh-in show I'm covering: How To Reset Your Metabolism.
I hope you can join me.
If you liked this you'll also like: How You Can Eliminate Emotional Eating.
If you're yet to share the Healthification love – just click here to zip over to iTunes and leave an honest rating and review. It'd help me out big time. With gratitude, Kate.