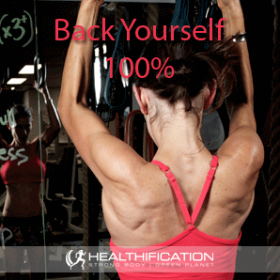 Podcast: Play in new window | Download
Subscribe: RSS
Did you have a favourite book as a kid? 
Perhaps one that your parents read to you like mine read The Hobbit and The Lord of the Rings or maybe a series that you got addicted to once you were finally able to read for yourself?
I've always loved reading – maybe that's daggy though it's absolutely me – learning to read was such Freedom… the opportunity to get lost in someone else's story at any time can be relaxing, indulgent, exciting and insightful.
You also have the opportunity to either GET LOST IN or CREATE your own story.
In todays show I'm focusing on why: You're The One Telling The Story… and whether your story is helping or hurting your chance to create the body and life you want.
To run with our book metaphor: are you the type of character you're like to meet?
The character you love in your favourite series is not the person that leads the charmed life right?
They face adversity, they make mistakes, they sometimes do really stupid things however I'm going to guess the character you're backing makes bold decisions to proactively create both their success's and their failures.
They are resilient and determined.
That is exactly how you get to be – at any point in your life – when you choose your own story.
The way your story is playing out today and how it will look tomorrow need have zero correlation to how it started. I honestly see it like one of those choose your own adventure novels – you read them too right?
Where it's: If you choose such-and-such turn to page 87 AND If you decide such-and-such turn to page 23.
To move beyond our book metaphor, what you decide at any given moment is going to have less to do with the situation presented to you in that moment and more to do with what you're making it mean.
The filters through which you're creating your story.
Here are 3 filters that you use everyday anyway and how they can either help or hurt your story.
Let's start with the background on your filters… and then I'll make it super specific to how you think, eat and exercise to get and stay in great shape.
As I covered way back in show #001 filters help you choose what to focus on from the 3 million bits of info that hits your 5 senses every moment. You filter 3 million down to 134 bits and then a further 7 chunks of info.
You have to – you'd go mad if you tried to process 3 million bits of info every moment.
What you filter in and filter out is based on your unique experiences, values and beliefs… or more so how you choose to interpret your unique experiences, values and beliefs.
Now when interpreting you're going to do three things, for better or worse:
ONE: You'll Generalise. 
=> This is when you say ALL salads are boring or ALL exercise is hard. It's not very helpful.
=> In contrast the generalisation that EVERY time you exercise it gets easier or EVERY time you eat greasy take-aways you feel sick and uncomfortable.
TWO: You'll Distort.
=> This is that classic all girls that lift weights are bulky with man bodies… you've distorted the reality into something highly untrue, and unlikely to compel you to lift.
=> In contrast how about declaring hot chips will go straight to my hips or soy makes my thighs flabby… these are also distortions however they are likely to leave you more inclined to take the beneficial action.
THREE: You'll Delete.
=> This is when you say you've never been any good at exercise or getting up early. You've deleted how awesome you were at elastics, bull-rush or dance and also how effortlessly you can bounce out of bed at stupid o'clock to catch a plane somewhere exciting.
=> In contrast the deletion that will serve you better is I never get sick or perhaps I never skip a training session… even if there is a time when you've been unwell or skipped a session the belief that this is not normal for you is only going to strengthen your resolve to live out your new story as the person who doesn't get sick or skip training.
Let's make today actionable… and it's a 3-part action step today. I have 3 questions for you:
1. What have I been generalizing that has been a convenient excuse?
2. What have I been distorting that has been sabotaging my efforts?
3. What have I been deleting that if filtered in would help me sculpt my ideal body?
I would love to hear your answers. Please let me know via the comments below.
Let's finish this show with a quote from Marianne Williamson, "Our past is a story existing only in our minds. Look, analyze, understand, and forgive. Then, as quickly as possible, chuck it."
I love this. It reinforces that the way you write your story from today onwards has nothing to do with the past.
It's a clear story board… and you're the one telling the story.
That's it for today. Thank you for spending this time with me, I appreciate YOU. I'll be back tomorrow to chat about: Lack Of Sleep And Over-eating.
If you liked this you'll also like: Smart Simple Weight Loss: Educate And Accelerate.
If you're yet to share the Healthification love – just click here to zip over to iTunes and leave an honest rating and review. It'd help me out big time. With gratitude, Kate