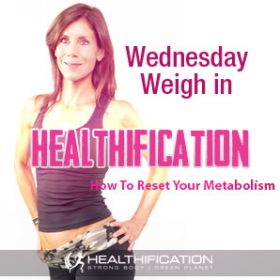 Podcast: Play in new window | Download
Subscribe: RSS
Could a self-assessed slow metabolism be stalling your fat loss?
YES, absolutely if you're resigned to that LIE and not doing anything to change it.
In todays show I'm weighing in on why ANYONE, irrespective of genetics, age, shape and fitness level can increase a sluggish metabolism. Today let's cover in 5 steps: How To Reset Your Metabolism.
Metabolism is the process of breaking down macro-nutrients – so proteins, carbohydrates and fats to provide the energy your body needs to maintain itself. This interaction between the number of calories you consume and the number of calories you burn… be it while eating, exercising, sleeping or whatever else is going to determine how your body looks in that whatever you consume that isn't needed for energy is going to be stored. 
So, rather than solely and restrictively focusing on reducing the calories you consume because…
a) that's no fun and
b) there's only so far you can go with it
…what you're looking to do instead is turbo-charge your bodies need for energy.
As easy as it is to blame genetics or age for your metabolism the truth is it's super-very-highly-likely that as the years have gone by you've gotten less active.
I know this is 100% the case for me. As a kid although my mum made awesome nutritious main meals there was always chocolate biscuits, chips and ice-cream in the house and I'd regularly have all 3 for afternoon tea when I'd come home from school ravenous.
I was a normal, healthy weight… however I also spent every single spare break at school racing around whether playing bull-rush or tag or whatever it was.
As I got less active – and stopped growing – I learnt I couldn't really get away with mass's of that food anymore.
Many years later when I swapped from full time personal training to owning a personal training business and a lot of desk time rather than on my feet time… again I noticed with disappointment that the food my active body powered through was now getting stored by my less active body.
So I made some upgrades. 
Let's get specific about those upgrades… if you've never had a crazy efficient metabolism or if it seems to have slowed over the years then here are the steps to take. I'm going structure each step in terms of the facts and also the MINDSET that will allow you to stick to the steps.
1. Lift heavy weights.
The facts: this is the most vital component in increasing your metabolism. Lift weights to add metabolically active lean muscle to your body. Muscle that sits there looking sexy and burning fat 24/7.
The mindset: think of weights and the protein you consume at each meal to fuel your lean muscle as the non-negotiable-absolutely-essential-foundation to your best body.
2. Eat right.
The facts: natural one ingredient foods require more energy for your body to metabolise. Protein is number one in this regard as metabolising it will utilise up to 30% of it's own calories. Next comes fibrous veg. Last comes processed sugars and fats.
The mindset: think of those fake and refined carbie fatty foods as clogging up your body… slowing you down… sucking your energy and bit by wobbly bit getting stored as stubborn ugly fat.
2. Change something, frequently. 
The facts: your body is smart – it gets progressively more efficient at doing the same things over time… Yes, even to the point where it is burning less calories.
The mindset: think of providing your body with the challenge that nudges it out of it's safe and boring comfort zone. Not every session – I get that sometimes you just don't have that extra in you – however if you're looking to progress your results then that will require progressing or just mixing up your eating and exercising.
4. Train efficiently – at a higher intensity.
The facts: it's not about how long you exercise for or how much you do. It's about how hard you work. After an intense session like a metabolic resistance training circuit or high intensity interval training your metabolism will stay elevated for longer AFTER you finish exercising.
The mindset: when you're tempted to go the mindless slow and steady option on the cross-trainer or indulge in big breaks between your weights sets think of all the fat burning potential you're saying no to if you do. The harder you work in the session the more fat you get to burn after the session.
5. Move more.
The facts: your body was built to move. Not purely in your structured exercise sessions it was actually built to carry you from place to place and to escape predators. It was also built to do this while eating natural one ingredient foods and likely while looking fit and functional rather than trying to attain the photo-shopped standards presented to us by teenage girls on magazine covers.
The mindset: see any opportunity to move more as your chance to treat your body how it was built to be treated… visualise your body powering through the awesome fuel you feed it and letting go of it's excess fat stores for good. Notice how active the people with the body you don't want are – not very right? – and also notice how the people who are in great shape prioritise moving more.
Let's make today actionable. 
The most important shift here if you have previously believed you're stuck with a slow metabolism is to trade in that old, unhelpful and UNTRUE belief.
Your metabolism is absolutely within your ability to change.
I'd love you to pick one of the 5 steps to start with today… if you want further details on exactly what to do I'm happy to help. Please let me know via the comments below.
That's it for me, I appreciate you taking the time to share the Healthification love with me again today. I'll be back tomorrow with Thursday Training and… Positive Constraints and The Gamification of Exercise.
If you liked this you'll also like: Can Cutting Carbs to Lose Weight Kill You?
If you're yet to share the Healthification love – just click here to zip over to iTunes and leave an honest rating and review. It'd help me out big time. With gratitude, Kate.