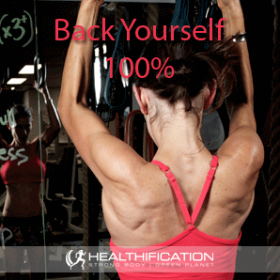 Podcast: Play in new window | Download
Subscribe: RSS
The Gamification of exercise is something I'm hearing more of recently… I guess the principle is you do what's FUN and if adding an element of gamification will make you more inclined to exercise then that's got to be a good thing.
If gamification does not appeal to you – that's cool me neither – so I'm also going to approach todays show from the angle of positive constraints… the constraints you add to your routine that will make you more inclined to get your exercise groove on.
So todays training show is covering: Positive Constraints and The Gamification of Exercise.
Basically anything that will help you do the exercise do!
Let's roll with some positive constraints first… and then gamify each one.
#1. I'm lucky enough to have a fairly massive positive constraint. I don't drive. I actually just can't pass the eye-sight test so I've always been a walker. I could have turned to public transport however I really hate public transport so instead I've always chosen to pay a little more to live walking distance from work.
I figure I save a lot on the cost of a car and excess cardio time anyway.
At times that was a 60 minute stroll and at times it's been an easier 20 minutes… the point is everything counts. If you drive to work you've got a heap of options so far as utilising this positive restraint:
=> perhaps you start to drive only part of the way. Or only on alternate days. Maybe you walk one direction and bus the other. Possibly you create the rule for yourself that weekend cafe catch-ups are walked to.
It's 100% your call how much of the car or the public transport you chose to use.
To GAMIFY: Track the steps your clock up each week via any one of 100 apps available now… compare how you rank with your friends or perhaps listen to an audio book or podcast whenever you walk and see how many books you can power through in a month… or podcasts in a week.
=> to make this more valuable aim to implement one thing from each book or podcast you consume. If you struggle with justifying time away from work to exercise – and you shouldn't as exercise makes you more efficient however I still battle this myself – then here is your opportunity to combine training body and brain.
#2. Lock and load a training time with a trainer, a training buddy, a group exercise session or even an SMS buddy. That's where you commit to the days and times you're going to exercise and SMS each other as you're setting off for the agreed session.
To GAMIFY: Add an incentive. Perhaps a prize to the person with the most completed sessions at the end of the month or if immediate feedback is more your style then perhaps a cash fine/charity donation each time you miss a session. This works both ways, you pay if you skip the session or maybe the other person pays to your charity when you don't skip your session.
=> to truly appreciate the change beyond yourself you're enabling donate to a charity that can give you a tangible result for each dollar you donate. So 30 walks in a month may equal $30 dollars your training buddy pays to your fav charity and that may equal… well I didn't know so I googled it and it appears a lot of charities now make it clear what you can give for your cash-o-la.
For example one of the first I found states $52 can buy a Veggie Patch. And I quote the website in saying: "You'll help a South African community beat malnutrition by planting a plot of beetroots, spinach, carrots, onions and potatoes." …however, I imagine you're going to want to do your own research to pick the charity that you trust and respect.
#3. Attach your exercise session to a habit you've already got locked and loaded. You can make anything mean anything. So in the same way that going to bed likely means brushing your teeth time… the days you start work after 7am can mean exercise time. Or the days you finish before 7pm. Maybe a canceled meeting can mean a bonus walk or perhaps TV breaks or slow to download apps mean time for some body weight exercises.
To GAMIFY: See how fast you can power through the session (so the same session completed in less time will up the training intensity) or how much more your can get done in the same time (will up the training density and intensity).
=> Perhaps create a work-out play list for a set period of time and see how far you can run in that time or how many weights circuits you can complete. Safety first however time wasting is what generally extends too many sessions. Those body weight exercises?
Pick a handful: perhaps squats, lunges, push ups and dips. Unless you want to go with burpees, mountain climbers, walking prones and star jumps… Commit to a handful of wasted minutes that occur for you each day within current habits (like your TV habit) or a current hateful bane (like being stuck on hold to your telecommunication provider) and match your new body weight exercise habit to that other habit you're already locked and loaded with.
By way of making this actionable I'd love you to pick one positive constraint or one gamification and trial it this week. There's likely stuff you're already doing that is working well and it'd rock to hear exactly what it is… let's share the love. You can do that via the comments below.
That's it for today, tomorrow I'll be back with the FAQ show: What To Do When Friends and Family Aren't Supportive Of Your Weight Loss Goal.
If you liked this you'll also like: Smart Simple Weight Loss: Prioritise v. Overwhelm.
If you're yet to share the Healthification love – just click here to zip over to iTunes and leave an honest rating and review. It'd help me out big time. With gratitude, Kate.