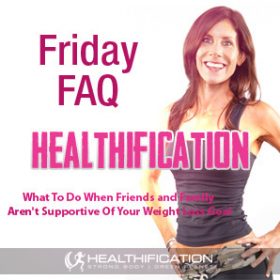 Podcast: Play in new window | Download
Subscribe: RSS
In todays show I'm going to draw on the experiences of my most successful clients over the past years.
Busy working mums and dads… party-girls and guys in their early 20's… ultra-driven young professionals and dear devoted grand-parents. People who have struggled with todays FAQ and found the solutions to work for them.
Although there have been many components of changing my body that I've found super tough… this aspect isn't one. I do selfishly focused a little too well.
Today I'm covering: What To Do When Friends and Family Aren't Supportive Of Your Weight Loss Goal.
If loved ones seemingly sabotaging your efforts or simply a lack of interest and support is something you've struggled with then I hope these 6 steps will help you.
#6 is my personal fav and really my main focus… however let's start with number one:
#1. Obvious yet often over-looked. Tell your loved ones how important achieving your goal is to YOU. 
Share what it will mean and how it will change your – and possibly their – life. This may feel a little confronting however it's all to easy to assume the people closest to you know what you thinking and feeling and how important something is to you. When maybe they don't. Be clear on what type of support you'd love and what exactly is best case scenario.
It's your responsibility to communicate this to them effectively.
#2. Teach your loved ones how to treat you by committing to the actions you need to take to achieve your goal. If you're going to bend the new rules you're setting for yourself then expect them to bust right through them… If they see you caving at the first hint of cake can you really expect them to trade Friday takeaway pizza for your first soggy cauliflower-crust version?
You're setting the standards so stick to them.
#3. Acknowledge that your actions will make them think of what they could – probably should – be doing and ensure you are a JUDGEMENT FREE zone. 
Your newfound focus is about you and your goals not your loved ones and their readiness or lack there of to make some positive changes. They may be fearful that you will out-grow them so this is the time to give them the feedback all of us would love to receive… that you're loved and supported and appreciated just the way you are.
#4. Minimize your time where possible spent with those who consciously, with volition, even after you've done steps #1-3 still insist on sabotaging your efforts.
This is going to be easier in some situations than others. However in any situation I would genuinely question the intentions of the person who sets out to make something important to you more challenging for you.
If this is too tough for you then you're going to have to get awesome at #6… curious? We're nearly there…
#5. Maximize your time spent with those who support and inspire you.
I actually don't believe this has to be face to face. Your support groups and mentors can absolutely be online or sourced through books and even podcasts… many of mine are. It is such a huge advantage we have in this time that connecting with the people that will support our progress is so easy… it'd be an absolute waste to not maximise that opportunity.
#6. Know that being held back by what other people think and do and project onto you is AN EXCUSE and accept 100% responsibility for your thoughts, your actions and your success.
You can reframe a lack of support as fuel. Or your can simply out-plan the difficult situations and minimise the instances in which you need to face these situations…
Here are 5 more rapid fire tactics:
=> when you're just starting out consider not putting yourself in the most tempting situations. Perhaps happy hour and half price pizza sunday at the pub… until you've got some momentum and some reference points for success that make you stronger.
=> ask your family what their most favourite treats are and buy only those on the list that you are least tempted by.
=> if you're all into the same treats ask them to save them for eating away form the house or at least to hide those treats where you won't see them.
=> do your healthy homework behind the scenes. So check out an online menu and pick the restaurant with great choices so your family and friends aren't stuck with you pouring over a menu or dragging them from place to place.
=> get creative with the meal options that work for you yet do not leave you're family feeling like they've been forced onto your diet. Maybe the yumbo pasta sauce that you have over steamed veg or Juliette zucchini and they can stick to regular pasta. Or the home made burgers that you have between portobello caps and they can stick to those dodgy old buns if they want… Or the baked fish that you have over cauliflower rice and yep, you guess it they can stick to the carb-fest if they choose.
Once you find the solutions that work for you you'll find it really is doable.
To make today actionable I'd love for you to decide on the positive influence you can turn to if you face some UN-supportiveness in the future. You can never have too much suppert right.
That brings us to the end of this week in Healthification and talking support…
Super huge thanks to you for your support and for sharing this week with me.
This week an extra big THANK YOU to iNneellaa from Japan who writes:
This has got to be the most motivational and effective podcast I have ever come across. It's short, because Kate gets straight to the point, so at the end of each episode you are left with a clear message and not information overload. I really like her down-to-earth, friendly and honest approach, which makes getting into shape seem doable and reasonable. It's also refreshing to hear aussie terms like "tucker" in connection with fitness instead of the typical sciencey-sounding BS and guru-speak!
iNneellaa you ROCK, thank you…I get bored with sciencey so I love that you're down with my approach!
If you liked this you'll also like: Stop, Start, Continue Action Based Weight Loss Goals.
If you're yet to share the Healthification love – just click here to zip over to iTunes and leave an honest rating and review. It'd help me out big time. With gratitude, Kate.