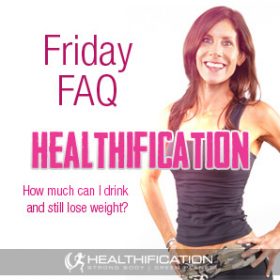 Podcast: Play in new window | Download
Subscribe: RSS
One of the most common questions I get asked is:
"How much can I drink and still lose weight?"
Well, it's more about effective guidelines rather than a set-in-stone rule.
Anyone who know's me will tell you I'm definitely a fan of (more than) the odd drink.
=> and I'll share with you The Best drinkies to NOT inhibit your fat loss soon…
First though, alcohol and anything else CAN be worked into your successful weight loss  – Fat Loss – BODY GAIN (!) regime. 
It's a matter of the opportunity cost.
A serve of alcohol will cost you around 100-150 Nutrition-LESS calories.  That's just the alcohol, it's double if you drink it with soda or juice.  So please don't.
If we take the lightest 100 calorie option, 1 wine/beer/shot is the same as;
=> 2 cups of broccoli or raspberries
=> half a small apple with 2 tsp. of peanut butter
=> one-third of a Snickers bar or one-third of a cheeseburger from McDonalds.
The reason I included those last 2 fake and nasty foods is to show you that if you eat that stuff it's going to have a lot more of a negative effect on your waist line than the odd drink.
(who eats 1/3 of anything???)
The balanced approach is – if you enjoy a drink – factor it in to your total weekly food intake AND don't let it be at the expense of nutritionally rich food.
The question to ask yourself:
If I drink this, What do I need to do with my nutrition?  What do I need to do with my exercise?
The fact is:
The most detrimental thing you do when you're drinking is Eat CRAP-O-LA Food…
=> Fatty, carby foods when eaten together create The Perfect Hormonal Environment for Fat Storage.
=> When alcohol is consumed your body will look to metabolize this 'Toxin' as a priority over anything else so it's much more likely that whatever you're eating will be Stored As Fat.
(so pizza and beer is the double whammy Perfect Fat Storing Combo)
Here are 3 ways to ensure alcohol does not derail your fat loss;
1. Only consume protein and fibrous veggies when drinking. Like a huge stack of veg  / salad with some protein pimps (nuts, seeds) or veggie patties and salad are awesome options… they are quick to make at home and veg is always available at any pub or restaurant you might just have to carry your protein pimps like I do!
2. It's worth the extra effort to consume the least damaging drink.  Walk to the other bar that still has low-carb on tap. Bother to go back and ask for a replacement when they give you vodka soda and cordial instead of fresh lime.
3. Plan your indulgences with alcohol as you do with food.  If it's a celebration dinner with lovely wine – enjoy that as your treat meal for the week.
The best of the best drinks?  Vodka, soda and fresh lime gets my #1 thumbs up.  Though any spirit with a no carb mixer is going to be a better option over most other drinks.
Red wine in moderation is ok as long as you factor it in to your total weekly consumption… the more you enjoy your wine the more awesome your food is going to need to be to get and stay in great shape… as such my food is pretty damn awesome because I really do enjoy my wine!
It's kind of a choose your battles approach – you can't have the body – the pasta – the dessert AND THE WINE… so which two do you want most?
Ok, there's no exact science to that last little guideline… however I can tell you it works!
Before we get to todays action step it'd be remiss of me not to mentioned my ex – no, not that ex… however I am talking about a relationship that didn't really work that awesomely for me… and that was my relationship with BEER.
Now as much as a cold beer with mates, on a scorching day, in sunny beer garden… is tough to beat… there really is not denying it – and I tried to deny it for years – however the fact remains beer is never your best-body friend. And neither is cider!
If you're not quite ready to make beer your ex than LOW CARB beer in moderation & factored into your overall caloric intake is doable… and a whole lot better than regular beer or cider.
Ok, let's jump into todays action step: it's out-smarting the downward spiral that can result from the meal choices you make while drinking.  The eating out choice is simple right – there is always an on the menu salad / veg option – it's up to you to both choose it, bring your protein pimps AND ask to hold the fries.
Todays action step is for your at home after drinking meal, I'd love you to come up with a super quick and easy meal to eat when you get home late and hungry and a little or a lot tipsy.
It's not take-out or toast… it's something like the deliciousness I share in my  7 DAY EASY VEGAN plan: build complete, healthy and delicious plant based meals that give your body all the vital macro and micronutrients it needs AND gives you all the supreme food joy with zero restriction you need
If you liked this you'll also like: How To Maximize Your Daily Eating and Exercise Discipline.
Thank you so much for your support! To rock even more – and share the Healthification love – just click here to zip over to iTunes and leave an honest rating and review. It'd help me out big time. With gratitude, Kate.