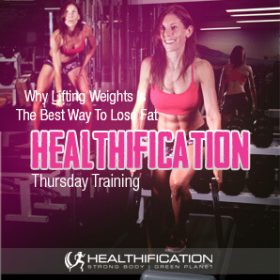 Podcast: Play in new window | Download
Subscribe: RSS
Ladies, lifting heavy weights will not make you bulky – bulk comes from a layer of fat over your sexy, lean muscle… and that results NOT from frequently lifting weights but from frequently lifting bad food choices to your mouth. In todays show we cover: 
Why Lifting Weights Is The Best Way To Lose Fat.
Lifting weights is a proactive approach to training. It allows you to change your body composition.
To Choose Your Curves!
Yes, it absolutely will blast fat… both during the session and after you actually finish training. Even more importantly, it will allow you to increase your lean muscle mass and this is the only way to increase your metabolism.
Muscle burns fat 24/7.  It's sexy – have I mentioned that yet?! – it's strong AND it's metabolically active tissue. … as opposed to fat, which just sits there doing nothing but slowing you down, squeezing you out of your fav clothes and eating away at your confidence.
The way I like to think of it is: Weights is like a passive income.
AND cardio is working for the man. Or lady. Generally just selling your time.
With cardio you get the result for the time you put in (at best) no more and actually, often less.
Weights, in contrast allows you to build the lean muscular body, that burns fat 24/7. While you're back at the office.  Out to dinner. Even while you sleep.
Like selling your time, the amount of cardio you can do is finite.
There is also the opportunity cost of what you miss out on when you're treadmill trudging for hours… and there are dismissing returns. The more you do does not mean the better result you get… more like the more you do the more you have to do… and who wants to have to do more cardio?  That's before you even take into account the cardio-carb-overfuel I mentioned in the fitter and fatter show.
With weights your body will not demand you refuel it with excessive amounts of carbohydrate.  Lean protein, good fat, fibrous veg and dependent on your goal some quality complex carbs AND a decent recovery are all it'll ask.
If you are the person that does enjoy cardio the fantastic news is that you can design a weights session to seem more like cardio and still enjoy the positive results of lifting weights… while getting that cardio buzz I've heard some people love.
Which brings us to the best of the best way to lift weights to lose fat… Metabolic Resistance Training.
MRT for short involves circuits of big compound movements performed with whatever you want – Body Weight – Barbells/Dumbbells – Kettle-bells – TRX – the possibilities are limitless… structured so opposing muscle groups follow each other with incomplete recovery between exercises.  These work-outs will leave you sweating, huffing, puffing AND getting stronger, fitter and leaner.
One more thing about the body that lifting weights builds…
A lean, fit, muscly body doesn't spit the dummy and inflate at one 'bad' meal. 
Or one off the plan weekend.  When you're consistent with your approach to lifting weights and eating clean, unprocessed food… it's like your body trusts you.  Yeah, that may sound funny… however it's absolutely been my experience.  Your body knows that a couple of skipped work-outs or cheat meals doesn't equal disaster… it's trusts that you'll get back to giving it good fuel and great exercise – because that's what you've been doing.
Here are 3 steps to optimise your fat blasting weights routine:
1. Focus and form. The mind-muscle link is now widely acknowledged so it's important to harness your focus in each and every rep of each and every set. Your ability to focus 100% on the muscle you are training will increase muscle fiber activation and maximize your results… so no texting while idling through 20+ reps on some 'inner thigh toning machine' that does almost all the work for you, ok?   Form wise – as much as I love to see people lifting heavy, it needs to be heavy with great form… or you're just short-changing yourself on results and risking an injury.
2. Frequency. A sweet spot so far as frequency that is effective and sustainable is 2-3 times a week.  1 is better than none… just… and I lift 4-6 times a week, however that's generally not necessary… dependant on your goal of course.  The main thing is to pick what's doable for you, and commit to it.  As tempting as it may be to skip a work-out it's going to be that much harder next time if you do… and that much easier next time if you don't.
Actually that's worth a whole show so next week let's look at: Why Struggle Street Is Your Most Important Work-out Of The Week.
3. Fuel. Your most important meal of the week is not Friday night dinner out… or family roast Sunday… or even cheat meal Saturday… it's the meal straight after your weights session.  So I guess that's meals dependant on how often you train, however the important thing is if you want to choose your curves and sculpt the muscle that burns fat 24/7 you need to give your body the fuel it needs after it pushes through a strong work-out for you.
A protein shake is the easiest option.  It's the only time I'll recommend fake food over one ingredient food.  It's just the easiest, quickest way to ensure your body gets easy to utilise protein.  Within 30 minutes of your work-out is ideal.
Your action step for today is to post a comment below to share:
What is your fav fat loss move to choose your curves?  Or, if you don't have one yet, what is the body part you'd most love to sculpt… let me know and I'll tell you my fav move for that body part.
I hope you join me for the Frequently Asked Question show tomorrow, where I'll cover something I get asked a lot: How Much Alcohol Can I Drink And Lose Weight?
I've done extensive hands-on research into this very question, its something I'm very committed to staying current with too… and I think you'll like my answer.
If you liked this you'll also like: 24/7 Fat Loss: Weights is like a Passive Income.
Thank you so much for your support! To rock even more – and share the Healthification love – just click here to zip over to iTunes and leave an honest rating and review. It'd help me out big time. With gratitude, Kate.