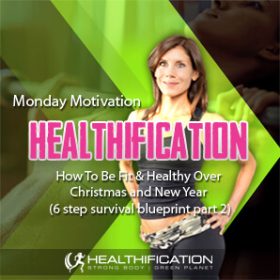 Podcast: Play in new window | Download
Subscribe: RSS
In todays show I share my fav step to help you be fit & healthy this Christmas and New Year.
In fact it's something you likely already excel at if you've been vego or vegan or for that matter followed any less than normal approach to eating for any decent period of time.
First a quick point of clarification. By normal I mean that average, common, path of least resistance type of approach to eating that leads to UN-fit, UN-healthy and UN-happy! I don't want that for you…
I want you to rock a fit, healthy and super confident #plantstrong body! In fact, I want you to do that 24/7 365 days without restriction or hours of tedious cardio. It's 100% achievable and sustainable.
It does take a willingness to be the odd one out on occasion. To embrace contrary.
Today is part 2 of:
How To Be Fit & Healthy Over Christmas and New Year (a 6 step survival blueprint). 
Here's the overview of the steps we covered in part 1:
Step One. Start on a PEAK.
Step Two. GRATITUDE.
Step Three. PLAN.
Now let's get rolling with steps 4 – 6.
Step Four. Set Your STANDARDS. 
Step Five. Be Proud To Be CONTRARY & Communicate Why Effectively.
Step Six. LOVE What You Indulge In.
Here is the complete blog post / blueprint: How To Prevent Weight Gain Over Christmas and New Year.
The Healthification podcast is proudly bought to you by my online community for Vego's and Vegans who want to create a strong, healthy body and also help eradicate inhumane and unsustainable animal agriculture.
If you liked How To Be Fit & Healthy Over Christmas and New Year you'll also like: 101 Ways To Cut Carbs When Eating Out.
And also: Why You Need To Be Proud To Be Contrary.
If you're yet to share the Healthification love – just click here to zip over to iTunes and leave an honest rating and review. It'd help me out big time. With gratitude, Kate.