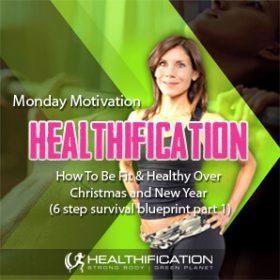 Podcast: Play in new window | Download
Subscribe: RSS
A few years ago I used to have a very different attitude to the holiday season. It was somewhat of a free for all. I'd really indulge and then I'd really pay for it. A week or two of gorgeous guzzling in Noosa with my family and I literally would not be able to squeeze into the jeans I'd left Sydney in.
"It's cool" I'd tell myself as I manoeuvred gingerly into an overly snug skirt.
"You deserve to relax once a year" I'd rationalise as I contemplated the restriction I'd now face with my nutrition and the punishment I'd endure with hateful cardio. Just to get back to where I started.
The thing is I don't want to start the new year back-tracking to try and retrieve the results I had last year.
I certainly don't want to start the new year Shiraz free or cardio dependant.
I want to rock into every new year feeling fit, healthy and super confident in my #plantstrong body!
If you do too, then todays show is for you! Today is part 1 of:
How To Be Fit & Healthy Over Christmas and New Year (a 6 step survival blueprint). 
Here's the overview of those steps:
Step One. Start on a PEAK.
Step Two. GRATITUDE.
Step Three. PLAN.
Step Four. Set Your STANDARDS. 
Step Five. Be Proud To Be CONTRARY & Communicate Why Effectively.
Step Six. LOVE What You Indulge In.
Here is the complete blog post / blueprint: How To Prevent Weight Gain Over Christmas and New Year.
The Healthification podcast is proudly bought to you by my online community for Vego's and Vegans who want to create a strong, healthy body and also help eradicate inhumane and unsustainable animal agriculture.
If you liked How To Be Fit & Healthy Over Christmas and New Year you'll also like: Bullet-proof Your Motivation To Exercise.
If you're yet to share the Healthification love – just click here to zip over to iTunes and leave an honest rating and review. It'd help me out big time. With gratitude, Kate