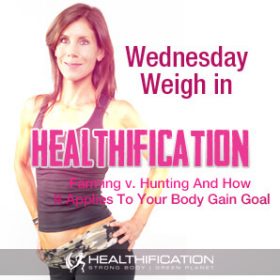 Podcast: Play in new window | Download
Subscribe: RSS
As a child I spent many a fabulous holiday at my grandparents farm.
I loved it. From playing with Boof the ever-loyal-super-dog… He was the only non working dog and I was amazed at his ability to catch leaves in his mouth… to feeding the chooks… actually I found the chooks quite scary… to going out in the ute to the back paddocks and seeing the wild kangaroos…
There was always something on the grow at the farm.
Today's actions would pay off not today however more likely next month or even next year.
The farm: is of course the perfect metaphor for your body gain goal. Or my business goal. In fact any goal that involves careful, diligent actions performed today to deliver a result in the future.
In today's show I'm covering: Farming v. Hunting.
The main question is, What seeds are YOU planting today for your body gain success tomorrow?
Let's get rolling with 3 ways to plant the seeds that will ensure your future body gain success. I'm going to go from least to most important.
ONE: Learning how to lift weights. Yes, I do believe there is something to be learnt. If it was simple everyone who stepped onto the weights floor would see a result.
The thing is. Like any new skill when you start to lift weights you need to stick with it beyond that awkward, uncomfortable, perhaps weak, unfit, UN-coordinated stage.
You also need to be consistent. To work at a high intensity. To focus each and every rep of each and every set. AND to fuel your body with both the protein and the rest and recovery it needs to build sexy lean muscle.
The thing with lifting weights it does not delivery an over night result. Surgery delivers an overnight result. I would argue that surgery does not build trust and respect with your body though. It's the beating it into submission or hunting approach.
TWO: Go2Meals. The even more important seeds to plant than exercise are the seeds you sow for futures awesome meals to some.
One of the common complaints I hear from people struggling to stick with 'healthy eating' is they are just sick of thinking about food all the time. If you don't have a system and routine that makes a few Go2Meals easy then eating healthy is and always will be hard!
It'll take more time, money and energy than it should.
I know you have more important, more urgent and just more FUN things to do than always be thinking about your next meal.
That's why it's worth investing the time up front – planting those seeds – to come up with several Go2Meals for each main meal and if you're a snacker, for snack time too. Your successful Go2Meal will be relatively quick and easy. It'll be affordable, accessible and enjoyable.
To give you some ideas here are links to 3 shows I did to cover Go2Meals for Breakfast, Lunch and Dinner.
THREE: The 6 Steps To Get Your MIND On Your Body Gain Team. Zero contest this is hands down the most important crop of seeds to sow. As you may have heard me say: If your mind is stuck you're wasting your time moving your body.
I'll cover each step in brief today however I'm currently devoting each Friday show to a step. This week in show #264 we cover: Part 5, in the series I call Smart Simple Fat Loss: Most Effective Strategies.
If you don't have the results you're seeking yet, then it's simply because you haven't been shown the tricks and tactics (the mind games you play with yourself!) to get your unconscious mind on your fat blasting BODY GAINING (!) team. Some people naturally hunt for the evidence that will support the attainment of their goals – and they find it.
Others of us need to work at it. One step at a time. Here are the 6 steps:
1). To define and get crystal clear on your health goal, your values & beliefs.
2). To align that health goal – and more so all the experiences achieving it will allow you and those you love, to experience – with the values & beliefs that guide every decision you make…  And to manufacture congruency where there may be energy zapping conflict.
3). To eliminate the limiting beliefs that have kept you safe… And kept you Stuck.
4). To educate yourself on what are the very best, most effective strategies to apply to your exercise, your nutrition, your thoughts, your language.
5). To uncover and model your own success strategies. Yes, YOU are your perfect model… And to also make use of other people success's (and failures!) to fast-track your results.
6). To prioritise your time so that the long term results you want to enjoy are never at the expense of short term indulgences or lack of preparation.
These are the 6 steps to creating a winning body gain mindset… and every time I see someone struggling to stick with the goal they say means so much to them, without exception one (or more often several) of these steps have been skipped.
If you dig this info yet would love some help putting it into action one step at a time… well you know I'm the actionable chick right? To get me on your team DAILY check out my online community: The Body Gain Lifestyle. 
Talking of actionable – it must be that time… to get actionable today, I'm going to return to the question I started today with: What seeds are YOU planting today for your body gain success tomorrow?
If your answer doesn't come easily then it's time to get planting with whichever step resonated most with you.
To recap those steps:
ONE: Learning how to lift weights.
TWO: Go2Meals.
THREE: The 6 Steps To Get Your MIND On Your Body Gain Team.
That's it for today. I hope you can join me for Fridays show: Smart Simple Fat Loss: Most Effective Strategies.
If you liked this you'll also like: How To Program Your Thoughts To Create The Fit, Lean, Healthy Body You Were Born To ROCK 24/7 365 Days.
If you're yet to share the Healthification love – just click here to zip over to iTunes and leave an honest rating and review. It'd help me out big time. With gratitude, Kate.